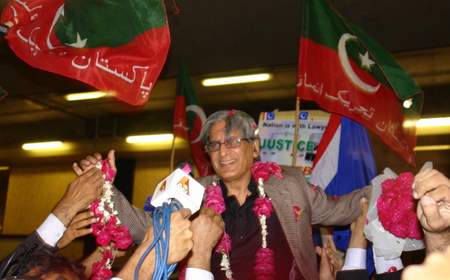 Related articles:
PPP suspends Ch Aitzaz Ahsan as member of Central Executive Committee (CEC)
You too Aitzaz Ahsan, the leader of the legal community?
Pakistan's left tilts towards right. Partners in crime?
Abbas Ather offers a critical perspective on Aitzaz Ahsan's relationship with Pakistan People's Party.
COMMENTS:
Wanderer said…
wonderful, much needed perspective on our "Lion" AA.
19 FEBRUARY 2009 08:53
Ahmad said…
Ather Abbas has lost his memory; though not surprising in this age group. How could the chief justice take notice of Benazir's Shahadat when he was already suspended and under house arrest?
19 FEBRUARY 2009 10:10
Raazi said…
@Ahmad
Good point. What do you think about other issues that Abbas Ather highlighted in this column?
19 FEBRUARY 2009 10:23
Ahmad said…
@Raazi
From this single blunder you can imagine how credible his other "facts" are! Baba ji has certainly got carried away in his love for "Zar"dari
19 FEBRUARY 2009 19:52
Raazi said…
@Ahmad
You are being disrespectful to someone who is much senior in age. Who do you think is 'mistake-free' in our journalistic or political arena? Can you give me an example, Mr. unbiased?
19 FEBRUARY 2009 20:01
F. Khan said…
Great articles. Abbas Athar rocks.
20 FEBRUARY 2009 08:19
Ahmad said…
@Raazi
Two wrongs don't make a right, Abbas Athar is misguiding us, twisting the facts as visible as a sun in daytime. You have to earn respect as a journalist. I didn't intend to attack on him personally, but like baba ji I got carried away probably. His channel "Express" also is part of media, he says deceived by converting thousands into millions. Lawyers movement is a hope for this nation, don't let it ruin.
20 FEBRUARY 2009 17:06