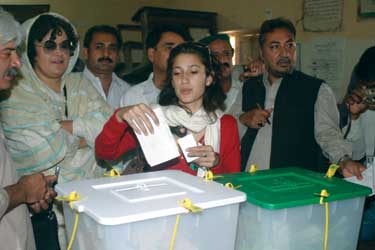 Contrary to the right wing propaganda that the PPP is a party of Bhutto worshippers, the party and its workers have on several occasions proven that they do not blindly follow any specific clan. Instead, they value individual characteristics of courage, political leadership, commitment and loyalty to the people's cause.
After the judicial murder of Zulifqar Ali Bhutto in 1979, the party elected Mrs Nusrat Bhutto as it chairperson. A Bhutto only by marriage, Nusrat Bhutto in fact belonged to a Hariri Esfahani family originating from Esfahan, Iran.
While in the male dominated culture of Pakistan, a male child is usually regarded as the legitimate heir of his father, the PPP did not choose Mir Murtaza Bhutto (Z.A. Bhutto's eldest son) as its leader. Instead, the party elected Benazir Bhutto as its chairperson.
In fact, when in 1993, Murtaza Bhutto decided to contest election against her sister's nominees on several seats of national and provincial assemblies, the PPP voters preferred Benazir Bhutto's candidates over her brother Mir Murtaza Bhutto. This is despite the fact that Benazir Bhutto was married to a non-Bhutto, Asif Ali Zardari, and was at least in this respect, Benazir Zardari.
Declan Walsh writes in Guardian:
Murtaza wanted to assume a senior role in her (Benazir Bhutto's) party, possibly the leadership – a demand in keeping with the patriarchal assumptions of the Sindh province's landlord classes. Benazir was having none of it. The rows multiplied, the rift grew deeper, and Murtaza formed a splinter party, which had little success.
After the tragic assassination of Benazir Bhutto in December 2007, the PPP's Central Executive Committee was once again faced with the question of finding a chairperson for the party.
It was however no surprise to the PPP workers that for the second time in the PPP's history (after Begum Nusrat Bhutto), the party elected a non-Bhutto, Asif Ali Zardari, as it co-chairman; another non-Bhutto, Bilawal Zardari, was elected as the party's chairman.
Why am I digressing into these matters? I intend to make two points:
1. The PPP values individual character and leadership. This is notwithstanding the fact if its chairman belongs to or does not belong to the Bhutto clan.
2. There are several Bhuttos, some of whom assume themselves to be leaders of national or international calibre (e.g. Mumtaz Bhutto and his son Ameer Bux Bhutto, Ghinwa Bhutto, Fatima Bhutto); however, in reality they posses neither commitment to the PPP's agenda nor people's trust. Therefore, such Bhuttos do not carry much importance in the PPP workers' eyes.
Recently I read the following statement by Fatima Bhutto in which she implied that President Asif Zardari was the killer of her father Mir Murtaza Bhutto.
Former Pakistan President Zulfikar Ali Bhutto's grand daughter, Fatima Bhutto, has charged 'uncle' President Asif Ali Zardari for orchestrating the murder of her father, Mir Murtaza Bhutto, saying the killers of her father are 'ruling the country at present'.

Speaking during her book 'Songs of Blood and Sword' launch function, Fatima described in detail her father's murder, which took place 14 years ago. Without taking Zardari's name, she said 'the man, who orchestrated the crime of killing her father, is presently leading the nation.'

Fatima and her step-mother Ghinwa Bhutto have often hinted that they believe Benazir or her widower Asif Ali Zardari had a hand in the killing of her father Murtaza Bhutto.

Though Benazir made several warm references in her autobiography, 'Daughter of the East', to her niece, Fatima believes her aunt tried to split the Bhutto family.
Source: ANI
What a shameful statement!
Fatima could have better consulted her only living aunt Sanam Bhutto who exactly knows (and has publicly stated) that killers of Murtaza Bhutto are the same people who had previously killed Murtaza's father Zulfiqar Ali Bhutto and who subsequently killed his sister Benazir Bhutto.
However, indeed Fatima is not willing to buy this story that the killers of her father are to be traced in the right wing military and civil establishment in Pakistan.
She also conveniently forgot that the real culprits are the same people who are alleged to have somehow influenced Fatima's real mother (Fauzia) and her mother's sister to act as the ISI's operatives. The Ziaist ISI's clandestine operation resulted in yet another personal tragedy for the Z.A. Bhutto family in 1985, i.e., the murder of Shahnawaz Bhutto, youngest brother of Benazir Bhutto. On July 18, 1985, the 27 year old Shahnawaz was found dead in Nice, France. He died under mysterious circumstances, and the Bhutto family (Begum Nusrat Bhutto and Benazir Bhutto) firmly believed he was poisoned. No one was brought to trial for murder, but Shahnawaz's wife Rehana was considered a suspect by the French authorities and remained in their custody for some time.
Here is an excerpt from Tariq Ali's article (who as we know is one of the most spiteful critics of Benazir Bhutto):
The young men [Murtaza Bhutto and Shahnawaz Bhutto] feared General Zia's agents. Each had a young daughter. Shahnawaz lived in an apartment in Cannes. He had been in charge of the 'military apparatus' and life in Kabul had exacted a heavier toll on him. He was edgy and nervous.

Relations with his wife were stormy and he told his sister that he was preparing to divorce her. 'There's never been a divorce in the family. Your marriage wasn't even an arranged one … You chose to marry Rehana. You must live with it,' was Benazir's revealing reply, according to her memoir.

And then Shahnawaz was found dead in his apartment. His wife claimed he had taken poison, but according to Benazir nobody in the family believed her story; there had been violence in the room and his papers had been searched. Rehana looked immaculate, which disturbed the family. She was imprisoned for three months under the 'Good Samaritan' law for not having gone to the assistance of a dying person. After her release she settled in the United States. 'Had the CIA killed him as a friendly gesture towards their favourite dictator?' Benazir speculated. She raised other questions too: had the sisters become ISI agents? The truth remains hidden. Not long afterwards Murtaza divorced Fauzia, but kept custody of their three-year-old daughter, Fatima, and moved to Damascus.
Furthermore, this fact is on the record that Fatima Bhutto caused utmost agony and pain to Benazir Bhutto through her ruthless and spiteful actions and remarks which she made to gain cheap popularity and attention. Benazir Bhutto was a very kind hearted lady; however, Fatima Bhutto's actions and words, on the converse, betrayed a hateful and hypocritical personality.
Only a few days before Benazir Bhutt's tragic murder in Rawalpindi, this is what Fatima Bhutto wrote and chose to publish to an international audience in the Los Angels Times:
Aunt Benazir's false promises
Bhutto's return bodes poorly for Pakistan — and for democracy there.
November 14, 2007

KARACHI — We Pakistanis live in uncertain times. Emergency rule has been imposed for the 13th time in our short 60-year history. Thousands of lawyers have been arrested, some charged with sedition and treason; the chief justice has been deposed; and a draconian media law — shutting down all private news channels — has been drafted.

Perhaps the most bizarre part of this circus has been the hijacking of the democratic cause by my aunt, the twice-disgraced former prime minister, Benazir Bhutto. While she was hashing out a deal to share power with Gen. Pervez Musharraf last month, she repeatedly insisted that without her, democracy in Pakistan would be a lost cause. Now that the situation has changed, she's saying that she wants Musharraf to step down and that she'd like to make a deal with his opponents — but still, she says, she's the savior of democracy.

The reality, however, is that there is no one better placed to benefit from emergency rule than she is. Along with the leaders of prominent Islamic parties, she has been spared the violent retributions of emergency law. Yes, she now appears to be facing seven days of house arrest, but what does that really mean? While she was supposedly under house arrest at her Islamabad residence last week, 50 or so of her party members were comfortably allowed to join her. She addressed the media twice from her garden, protected by police given to her by the state, and was not reprimanded for holding a news conference. (By contrast, the very suggestion that they might hold a news conference has placed hundreds of other political activists under real arrest, in real jails.)

Ms. Bhutto's political posturing is sheer pantomime. Her negotiations with the military and her unseemly willingness until just a few days ago to take part in Musharraf's regime have signaled once and for all to the growing legions of fundamentalists across South Asia that democracy is just a guise for dictatorship.

It is widely believed that Ms. Bhutto lost both her governments on grounds of massive corruption. She and her husband, a man who came to be known in Pakistan as "Mr. 10%," have been accused of stealing more than $1 billion from Pakistan's treasury. She is appealing a money-laundering conviction by the Swiss courts involving about $11 million. Corruption cases in Britain and Spain are ongoing.

It was particularly unappealing of Ms. Bhutto to ask Musharraf to bypass the courts and drop the many corruption cases that still face her in Pakistan. He agreed, creating the odiously titled National Reconciliation Ordinance in order to do so. Her collaboration with him was so unsubtle that people on the streets are now calling her party, the Pakistan People's Party, the Pervez People's Party. Now she might like to distance herself, but it's too late.

Why did Ms. Bhutto and her party cronies demand that her corruption cases be dropped, but not demand that the cases of activists jailed during the brutal regime of dictator Zia ul-Haq (from 1977 to 1988) not be quashed? What about the sanctity of the law? When her brother Mir Murtaza Bhutto — my father — returned to Pakistan in 1993, he faced 99 cases against him that had been brought by Zia's military government. The cases all carried the death penalty. Yet even though his sister was serving as prime minister, he did not ask her to drop the cases. He returned, was arrested at the airport and spent the remaining years of his life clearing his name, legally and with confidence, in the courts of Pakistan.

Ms. Bhutto's repeated promises to end fundamentalism and terrorism in Pakistan strain credulity because, after all, the Taliban government that ran Afghanistan was recognized by Pakistan under her last government — making Pakistan one of only three governments in the world to do so.

And I am suspicious of her talk of ensuring peace. My father was a member of Parliament and a vocal critic of his sister's politics. He was killed outside our home in 1996 in a carefully planned police assassination while she was prime minister. There were 70 to 100 policemen at the scene, all the streetlights had been shut off and the roads were cordoned off. Six men were killed with my father. They were shot at point-blank range, suffered multiple bullet wounds and were left to bleed on the streets.

My father was Benazir's younger brother. To this day, her role in his assassination has never been adequately answered, although the tribunal convened after his death under the leadership of three respected judges concluded that it could not have taken place without approval from a "much higher" political authority.

I have personal reasons to fear the danger that Ms. Bhutto's presence in Pakistan brings, but I am not alone. The Islamists are waiting at the gate. They have been waiting for confirmation that the reforms for which the Pakistani people have been struggling have been a farce, propped up by the White House. Since Musharraf seized power in 1999, there has been an earnest grass-roots movement for democratic reform. The last thing we need is to be tied to a neocon agenda through a puppet "democrat" like Ms. Bhutto.

By supporting Ms. Bhutto, who talks of democracy while asking to be brought to power by a military dictator, the only thing that will be accomplished is the death of the nascent secular democratic movement in my country. Democratization will forever be de-legitimized, and our progress in enacting true reforms will be quashed. We Pakistanis are certain of this.

Source: LA Times
The question is, why is Fatima involved in a dirty campaign previously against her aunt Benazir Bhutto, and now against her uncle Asif Ali Zardari. Whose game is she playing? Whose interests is she serving?
More importantly, how different is she behaving from other 'unworthy' Bhuttos, such as Mumtaz Bhutto and Mullah Asadullah Bhutto?
In the words of Guardian's Declan Walsh:
Fatima Bhutto is clever, sassy and savours the salty taste of Pakistani public life. She has two books under her belt, writes a punchy newspaper column, and, as a close lieutenant to her vote-seeking mother, is a politician in training…..And for what its worth, she even has the endorsement of Jemima Goldsmith. "At least she has some work experience," wrote Goldsmith, who was once married to cricket star Imran Khan, in last week's Sunday Telegraph. (Goldsmith's expertise in Pakistan, which she left several years ago, was less clear.)

Benazir clearly loved her niece – her autobiography Daughter of the East has several warm references – but Fatima believes she tried to split the family apart. Benazir disparaged Ghinwa as a "Lebanese belly dancer", and six months after Murtaza's death persuaded Fatima's biological mother, Fauzia, to return to Karachi to seek parental custody.

In life, Benazir was touchy about allegations that she bore any responsibility for Murtaza's death. Instead, she blamed the powerful intelligence services for engineering the killing to split her family. If she was right, the strategy worked spectacularly well. Last month Fatima sent around a link to a YouTube clip of a television interview. It showed Benazir being aggressively questioned about Murtaza's death, breaking into tears and storming out of the studio. "Her reaction is amazing," wrote her estranged niece in an acerbic tone.

But the Bhutto legacy is not at rest yet. Mumtaz Bhutto, the self-described head of the Bhutto clan, stirred the pot recently in suggesting that Fatima's brother, Zulfikar Ali, is the real heir to Benazir's title. But he is highly unlikely to take on the mantle, and Mumtaz's comments may be a product of his longstanding rivalry with Bilawal's father, Zardari. They are also a product of a bygone age – the succession of Bilawal and the bypassing of the bloodline proves that Pakistan opposition politics are about Benazir more than Bhutto.

Source: Guardian
In her own words (reported in Declan Walsh's 2008 article), Fatima Bhutto says:
"I don't believe in birthright politics. I don't think, nor have I ever thought, that my name qualifies me for anything. I am political through my writing."
You are lying, Ftaima. It is "Bhutto" in your name and the fact that you are a granddaughter of Zulfiqar Ali Bhutto and a niece of Benazir Bhutto which is keeping you in the news.
You are playing this dirty game very well, but your fate won't be much different from the (so called) head of the the Bhutto clan, Mumtaz Bhutto, who is deeply despised by the PPP workers and the Pakistani nation in general because of his hypocritical and opportunistic style of politics.
Birds of a feather flock together!
Related articles: https://lubpak.net/?s="fatima+bhutto