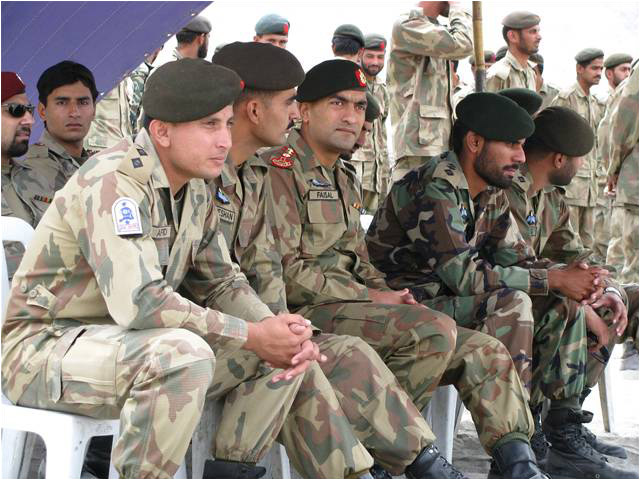 Related posts: List of non-Hazara Shia Muslims killed by SSP-LeJ-Taliban in Balochistan – by Marya Mushtaq
Is it Hazara genocide or Shia genocide? – by Musa Changezi
Source: Adapted from The News, 31 May 2012
QUETTA: Major Shafaat died a sad broken man. Abandoned by his institution. Betrayed by childhood friends. Forsaken by his hometown. His only fault was to have been born different. A man with a flat nose and chinky eyes. An ethnic Hazara, a Shia Muslim by faith. [Not unlike other areas of Pakistan, tThere is currently Shia genocide taking place in Balochistan by extremist Deobandi militants of Ahle Sunnat Waljamat (ASWJ) also known as Lashkar-e-Jhangvi (LeJ) or Sipah-e-Sahaba Pakistan (SSP) who are killing Hazara and non-Hazara Shias in Quetta and elsewhere on a daily basis.]
Major Shafaat lived a rich childhood frolicking up and down the Quetta streets with his Baloch, Pashtun, Punjabi and Hazara friends from school. Sect was not so much in question, ethnicity did not matter at all in those days. Friends were—well—just friends. He was lucky that he was able to fulfill his ambition to join Pakistan Army. There is a long tradition among his community to join army dating back to 1830s when Captain Jacob—of Jacobabad fame—recruited Hazaras for the First Afghan war. Musa Khan joined Hazara Pioneers Regiment in 1904 as a sepoy and rose to become Pakistan's Chief of Army Staff and West Pakistan Governor. Shafaat admired General Musa and Air Vice Marshal (Retd) Sharbat Changezi as his role models from his community.
Shafaat, now a major posted in Rawalpindi, volunteered to be posted to his hometown about three years ago. He thought he would be better off serving in Quetta—among dear friends and family. The city had changed drastically by then. He found his non-Hazara bosom friends avoiding him. Some of them even showed hostility. "I felt it was just because I had a flat nose and chinky eyes like most descendants of Mongol Khan, " he said visibly Irritated. Disheartened, he took a leave and got himself enrolled in Balochistan University's Mass Communication Department. He found the antagonism there even worse. It was a double jeopardy: Pashtun students aligned to Sunni (in fact Deobandi) parties saw him as a Shia outcaste liable, as their posters suggest, to be killed; Baloch suspected him as an army infiltrator who had been sent to spy on them. Here is the heart-breaker: He was not trusted even by his army colleagues back at the Inter Services Public Relations (ISPR) offices. He was kept out of the local intelligence loop. A new commandant had issued instructions not to let him see even the army's movement roster. He was absolutely dismayed.
Shafaat shared his pain with me while we were traveling the length and breadth of Balochistan during one of my earlier visits there a few months ago. In all we spent about 62 hours together but now it appears like an entire lifetime. I had requested the ISPR to give me an attachment so that I could visit army's remote outposts to get their side of the story. To my luck—came along Shafaat who was part journalist because of his Mass Communication degree. A highly sensitive soul, he was definitely way more knowledgeable and objective than your typical army officer. We travelled through Bolan Pass, Sibbi, Dera Allah Rar, Kashmore to Dera Bugti and back exploring some of the most explosive places in Pakistan. We had all the time during our long travels, sometimes 13 hours straight, to discuss Balochistan, particularly Hazaras.
We stopped by at Kolpur just outside the Quetta valley where, he told me, his ancestors had come as coal miners to escape the excesses of Afghan King Abdur Rehman in the 1890s against Shia Hazaras in order to purge Afghanistan of Shia Muslims. Kol means a cap in which they received their days' earning and Pur means abode—hence abode of the cap-wielding people. Even today, a majority of Hazaras works on menial jobs as miners and labourers. We saw in Mach coal mines down the way that they remain as sturdy and hard working as they were a century ago.
Shafaat was constantly receiving calls from his family. He laughed that his wife and children were worried not because he was travelling to such dangerous areas but because they feared he might be targeted as a Shia Hazara. While his sectarian identity (Shia Muslim) made him worthy to be killed (Wajibulqatl) in the eyes of ASWJ-LeJ-Taliban militants, it was easy to identify him as a Shia Muslim due to his ethnic features. "I don't blame them," I remember him saying, "such has been our life lately; I also fear the same every time my daughter goes to school or my wife goes to bazaar."
Relative to other Shias in Quetta, Shia Hazara are an easy target for ASWJ-LeJ-Taliban terrorists because they are easily distinguishable from the other ethnic groups because of their Mongol features. Over 700 Hazara Shias have been killed in the last decade, almost 200 non-Hazara Shias have been killed in the same period in Balochistan alone. Shias of all ethnicities are being killed in Balochistan and other parts of the country including in Parachinar, Gilgit Baltistan, Dera Ismail Khan, Karachi and other areas.
As many as 45 Shia Muslims, most but not all of them Shia Hazaras, died in Balochistan in the last 19 days. Last September, religious processions organized by Shia Muslims in Quetta were targeted twice killing around 50 people. Then came the Mastung carnage the same month. It is not just the staggering number of Shia Hazaras killed but the brutality that was shown by killers.
While some naive or ill-intended analysts try to misreport and misrepresent Shia Hazara killing as motivated by ethnic genocide, it is not an ethnic issue. Killing of Hazara and non-Hazara Shias in Balochistan must not be seen in isolation from the larger Shia genocide taking place in Pakistan since the days of military dictator General Zia-ul-Haq who with the help of Saudi petro-dollars and CIA expertise, developed a Jihadi-sectarian complex comprising Deobandi-Wahhabi militants who are vehemently anti-Shia, anti-Sunni Barelvi, anti-Ahmadi etc.
A bus carrying Shia pilgrims to Quetta was brutally assaulted. All the 26 men and boys aboard were taken out of the bus, lined up and shot, as their mothers, wives and sisters watched from inside. Unafraid, the assailants had insured that the highway was blocked on both ends when they conducted that ambush. Two more Hazara men were killed after being dragged out of their cars at a traffic light in Quetta the same evening.The total death toll for the day was over thirty dead and scores more injured. It was mourning for almost every other house among roughly half a million Hazaras as most of them are related through marriages.
Mamjor Shafaat said he too was sometimes seen as a suspect as many in the community blame the army. The argument goes that if the ISI can kill dump hundreds of Baloch, why cannot they get hold of a bunch of ASWJ-LeJ religious fanatics. "I am a suspect for me colleagues, my friends and my community," he said sadly. His family wanted him to move to Australia. Thousands of Shia Hazaras have moved to Australia and Canada in the last few years. Some take grave risks. Hundreds have died in containers, crossing borders, others in ship wrecks. Over 300 people died off the coast of Java last December, most of them Hazaras. So desperate are people from this cruelty that they are willing to take every risk to get out of here.
Shafaat was not the one to leave. He was too much in love with the Community that had held him in suspicion, the army that had disappointed him and Quetta that had scorned him. He was a proud Hazara, khaki as well as a Quettawal. Shafaat got a call while he was explaining his affection for the three. He turned suddenly pale. Another attack on Hazaras had taken place. Six were shot dead execution style while drinking tea at one of the many roadside stalls in Quetta. One of them was his relative. He almost fainted, sweating profusely. Being a small expert in cardiac symptoms, I could see it was serious. I got him a doze of aspirins and brain relaxants and requested him to "take it easy." Obviously, he was very sensitive about the whole thing. On my way back I also talked to his family to keep him calm and away from such news.
I got a call from his number 15 days later. A big 'hello' came out of my mouth, without realizing that it was his daughter. "So where's your dad," I chuckled. "He died today," she replied.
He was only 32. A noble honest man, but born with a flat nose and chinky eyes. Maybe he deserved to die because he naively believed himself to be a Pakistani. But in today's Pakistan, he was just a Hazara.