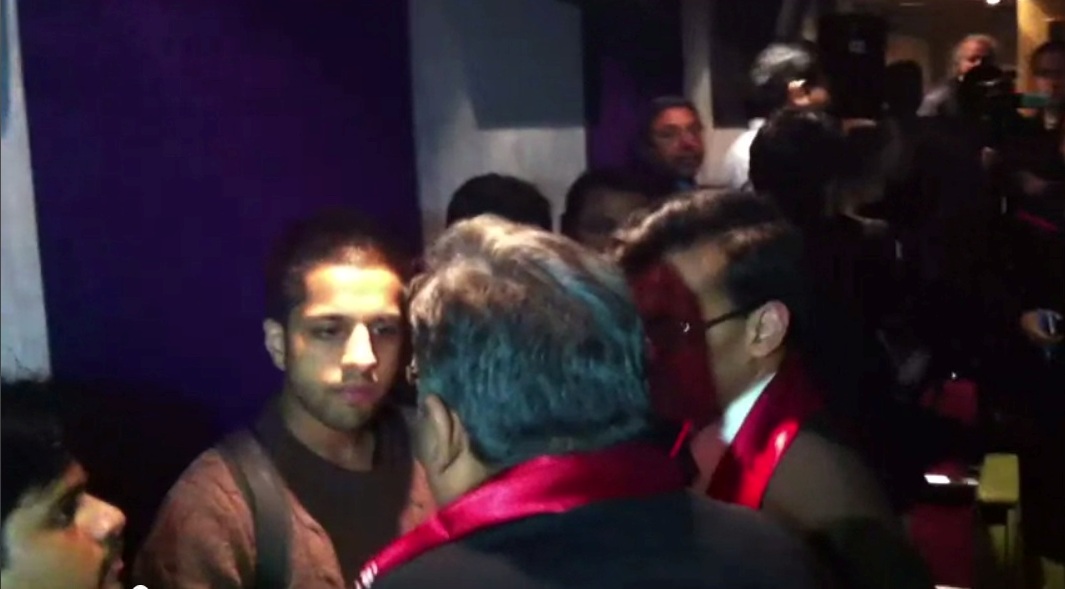 Related Posts: Pakistan's Chief Justice receives a dubious award in London, lauds his fictitious role in restoring human rights
#IftikharMental: Pakistan social media abuzz with insult for country's top judge
As a Reporter from Pakistan Analysis Team, I had to rush to Double Tree Hotel in Central London having heard the news that a Group of youth is going to protest over the presence of Mr Iftikhar Ch, the Chief Justice of Pakistan for receiving "International Jurists Award"
I had reported previously that the so called "International Council of Jurists" is just an Indian Legal Company and this award is nothing more than a "Self Satisfaction" for the Controversial Chief Justice.
Receiving Dubious Award: https://lubpak.net/archives/77856
ot-So-International Jurist Award for CJ Iftikhar Chaudhry – by Mohsin Shaharyar: https://lubpak.net/archives/76726
As I reached the hotel, my first thought was that "I am on a wrong address". The reason being that the Award Giving Ceremony had been turned into a "Wrestling Cage" with a number of youth shouting the following slogans:
Down with Thief Justice
One, two, three, four, Shia Killings No More
Iftikhar Ch Terr…..st
All the participants were stunned as every thing happened was beyond their expectations.
Although the dubious "award" was given and received with a half heart, literally the ceremony was over before it started!
I had a chance to have an interview with Mr Chakarwati, a Senior Member of International Council of Jurists and a very Senior Law Practitioner.
Mr Chakarwati amazingly said that:
"In my opinion, Iftikhar Ch does not deserve this award and it must be taken back from him"
I then conducted a few more interviews with some of the angry youth (the protesters against Shia genocide in Pakistan who were protesting against release of Jihadi-sectarian terrorists by CJ Chaudhry)
"Why are you being disrespectful of the Chief Justice of Pakistan"? I asked them
"Chief Justice"? asked a guy named Ali Hussain Naqvi
"He jumps at a Suo Motto Action on a frustrated lady's slap but closes his eyes firmly on pools of innocent blood of Shia Muslims being shed on daily basis in Parachinar, Gilgit, Karachi, Quetta, DIK and now Lahore as well"
Look Sir! A teenager showed me a piece of newspaper
"He is ordering compensation for the Lal Masjid terrorists who gathered Rocket Launchers, Hand Grenades, killed 11 SGS Commandos and a Lt Colonel as well and are now blowing up Mosques and Markets all over the country. But he never ordered any compensation for innocent Doctors, Engineers, Ulamas, Professors and women and children as well who are brutally killed by Lal Masjid's "Mujahideen", the terrorists of Ahle Sunnat Wal Jamaat (aka Sipha-e-Sahaba) and Taliban.
A clean shaved guy stepped forward and said:
"He is acting as a Pharaoh, a Lawyer gets his licence cancelled in punishment for saying just one poetic verse against Mr Ch, while a judge quotes a 6 page long poem against the elected Prime Minister and feels happy over it. Is it Justice?"
I was getting late for one of my appointments and as I wanted to quit, one of the guys held my hand:
"Our anger is that Media does not listen to us."
You would NEVER see this protest against the "Injustice" on Jang, Geo, ARY, or any other channel.
We would be too unhappy if Pakistan Analysis too ignored us"
I won't Sir! I smiled
"And finally we want to bring to the Media a Very Important Message", they collectively asked
"What's that?" I asked
"We had already protested against Mr Prime Minister on his arrival and our next target is PMLN who has become a "Sister" of Terrorist Group Sipah e Sahaba (ASWJ). And we shall take hard on "Taliban Khan" as well.
OK guys, let me go now before my Parking Ticket time expires, I murmured
Bye bye, see you again
Thank God, I reached home Safe and Sound from this "Award Taking Ceremony"
Mohsin Sheharyar is the Reporter of Pakistan Analysis in London
He is a Blogger as well and can be contacted at
Source: www.pakistananalysis.com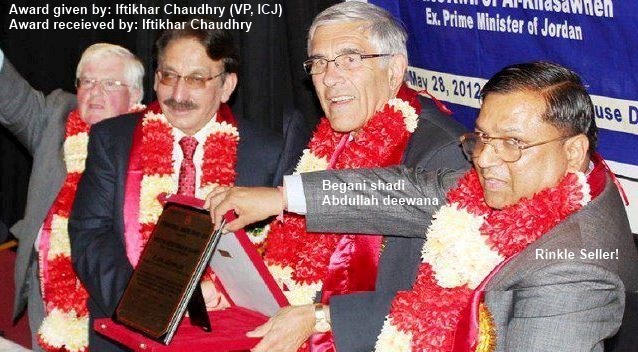 Update: 25 August 2012: Pictures from anti-Shia genocide protest in Italy
Source: facebook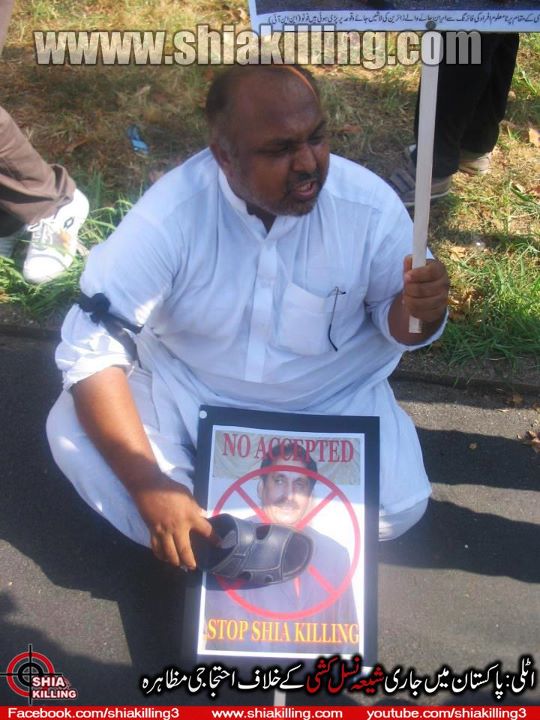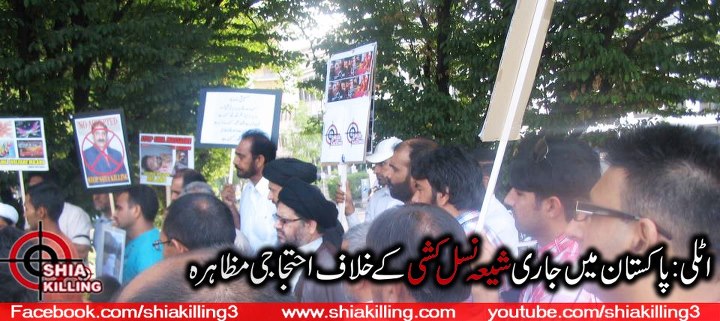 Update: Agar Ary News – Faisal Raza Abidi – 24th August 2012- Chief Justice Iftikhar Chaudhry is Pakistani version of Mullah Omar
Have you ever seen 300,000 people insulting a (biased) chief justice of their country?