We are concerned to learn that two noted "liberals" namely Raza Rumi and Marvi Sirmed have joined notorious Jinnah Institute, which is currently headed by ISI-mouthpiece Ejaz Haider. While Raza Rumi has joined the Jinnah Institute as a Director and Senior Policy Advisor, Marvi Sirmed is usually involved in moderating certain meetings of the Jinnah Institute and also in presenting and promoting its reports including the notorious Extremism Watch Report which misrepresented the persecution of Ahmadis and genocides of Shias and Pashtuns in Pakistan.
Founded by Sherry Rehman (known for her petition against "armed goons of PPP who attacked her house"), The Jinnah Institute is widely believed to be an extension of the Inter Services Public Relations (ISPR) and Pakistan army's Inter Services Intelligence agency (ISI). In the recent past, it has published numerous reports misrepresenting the Shia genocide and persecution and massacre of Balochs and anti-Taliban Pashtun at the hands of Pakistan army and proxies.
According to noted Pashtun activist and research scholar Farhat Taj, Jinnah Institute is the liberal face of religious bigotry in Pakistan.  Other writers including Dr. Mohammad Taqi and Kamran Shafi too have criticized various pro-establishment reports by the Jinnah Institute.
However, according to Raza Rumi, Director Policy and Programs, Jinnah Institute is attempting to promote an informed discourse on foreign policy in the country.
To be fair, Marvi Sirmed has not formally joined the Jinnah Institute (at least not to our knowledge), however, her participation in the Jinnah Institute's programs and propaganda is as objectionable as was PTI's vice president's participation in the rallies and meetings of Difa-e-Pakistan Council (DPC).
We really hope that Raza Rumi and Marvi Sirmed will review their decision to join or endorse those dark forces which are responsible for the murder of thousands of innocent Shias, Sunnia Barelvis, Pashtuns, Balochs and other persecuted groups.
We will keep an eye on the newly revived right-wing pseudo-liberal alliance (RPA) in Pakistani media which is in the main responsible for reinforcing and recycling the ISI-esque discourse and propaganda on issues such as Shia genocide, kill & dump of the Baloch, persecution and target killing of anti-Taliban Pashtuns and other similar crimes by Pakistan army and its proxies.
"Jinnah Institute's (JI's) excellent report 'Extremism Watch' maps conflict trends in Pakistan covering the period of September 2010 to September 2011. " (While Marvi refers to some definitional issues and room for discussion in the said report, she makes no mention of how sufferings of Shias, Pashtuns and Ahmadis have been misrepresented in the same report.) It is the same report which was criticized by Farhat Taj and other activists because it misrepresents Shias, Ahmadis and Pashtuns. http://pakistanblogzine.wordpress.com/2012/03/12/jinnah-institutes-extremist-watch-report-is-anti-shia-anti-ahmadi-and-anti-pashtun/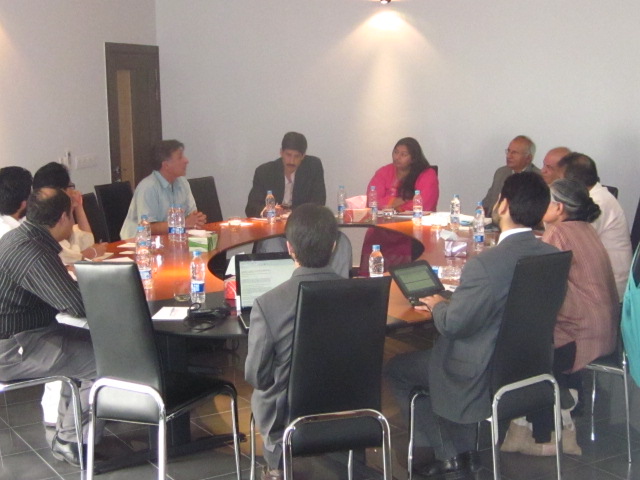 Specimen news report
Islamabad, April 20, 2012: Two years after the passage of 18th Amendment to the Constitution, there is little clarity on the sequencing of HEC's devolution to the provinces; and how such a transition will be managed needs to be seen, concluded experts at a roundtable organized by the Jinnah Institute. They were discussing devolution and the future of the HEC, as part of Jinnah Institute's Open Democracy Initiative. In his opening remarks, Raza Rumi, Sr. Policy Adviser of Jinnah Institute said that devolution presented new opportunities and challenges; however the Pakistani state was not deft at change management. The roundtable was attended by civil society activist, Tahira Abdullah and others and moderated by Marvi Sirmed. (Source)
Conclusion:
If you can't beat them, join them.