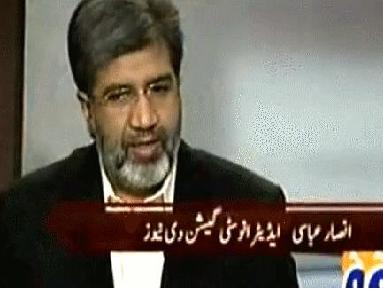 Dear Mr Latif Chaudhry
I am very pleased to read your column in daily Express in which you exposed the hypocrisy of notorious Taliban apologist Ansar Abbasi of the Jang Group (Jang/The News/Geo).

The so called "Jihad" of Ansar Abbasi against "Fahashi" (vulgarity) reminds me of Taliban's "Islamic" Government in Swat.
In one such episode of prostitution of Islam in the name of Islam, three so called Taliban Mujahideen entered a poor person's house in Swat and ordered him to marry his 3 daughters with them immediately otherwise get ready for dire consequences.
So when the Uzbek, Arab, Cheychen Taliban were capturing our daughters, this was NOT fahashi or vulgarity?
When these "Mujahideen" flogged a girl with two unrelated (Na Mehram) men holding her arms and her legs, it was NOT Fahashi, but a "Jihad"?
I still remember, Ansar Abbasi wrote a column in Jang stating the reference from "Surah e Noor" proving that his "Islami brothers" were doing all such excesses as per the injunctions from the Holy Quran
(He should have been charged of Tauheen e Quran, I believe)
When Medam Tahira (an agency tout) confesses to be a provider of call girls to Maulana Sami ul Haq (another agency tout), the father of the Taliban, it is NOT Fahashi?
Pakistan Army captures Taliban Camps and from every Camp, they find porn videos and sexu devices. This is NOT Fahashi? Why does Abbasi always hides it?
I am in the UK, the centre of Fahashi as per Abbasi's standards, yet the modest people here are more pious even than many Pakistanis. Is it PEMRA controlling them?
Yes, every Muslim is bound to keep modesty and refrain from fahashi, no second opinion on it; but at the same time, we have to see what one means to say "between the lines"
A story from Islamic history:
A man from Yazeed's army asked Hazrat Abdullah Ibn e Abbas (RA):
Oh the Son of Abbas, tell me is the Blood of a Mosquito impure (Najis) or Pure (Paak).
Ibn e Abbas replied
"Be the curse of Allah upon you and Yazid. You killed Imam Hussain (AS) the most beloved Grand Son of the Holy Prophet PBUH, mutilated his pious body, left him without burial and considered it to be Halal
and now you are asking me about blood of a Mosquito"
The same question I ask Ansar Abbasi
From Chilas to Quetta, Karachi, Parachinar, Mastung to Khuzdar, blood of innocent people is being shed in Pakistan's streets, mosques and houses; you are hiding it and intentionally diverting the attention by discussing issues like Fahashi, the SAME tactics as
our "Judiciary" is using by manufacturing the Memo Scandal or Waheeda Shah's slap.
I would further add that:
EVERY PROBLEM OF PAKISTAN INCLUDING ENERGY SHORT FALL, ECONOMIC
CRISIS, NUDISM, IS THE RESULT OF THE TALIBAN AND SIPAH-E-SAHABA'S TERRORISM WHICH COLUMNISTS LIKE ABBASI WANT TO HIDE AT EVERY COST AND THEY ARE PAID FOR IT.
Mr Latif writes:
"The nexus of terrorists and their supporters in the media is intentionally bringing this society to total destruction"
A personal request:
The job of a columnist is like that of Prophets; they do not say what people want to listen but tell them the facts.
They were stoned even but remained stick to truth.
It is too difficult to say the truth in a society where people like Hafiz Saeed, Mumtaz Qadri and Imran Khan are made "heroes" by their right wing supporters in the media.
Carry on your good work, Mr. Latif Chaudhry. Keep exposing Ansar Abbasi and other Taliban apologists in Pakistani media.