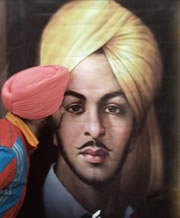 LAHORE: A large number of citizens, including students from various educational institutions gathered, at Shadman Chowk on Tuesday to mark the 79th martyrdom anniversary of Bhagat Singh Shaheed, one of the pioneers of the struggle for an independent subcontinent.
It was at this very spot the British rulers hanged Singh on March 23, 1931, for his role in the freedom struggle. Participants of the rally carried candles, banners and posters, demanding the preservation of historic places that had linkages to revolutionaries like Singh.
The participants mainly consisted of students from the Institute of Peace and Secular Studies, Punjab National Conference, the Lahore University of Management Sciences (LUMS), Beaconhouse National University, Punjab University, University of Engineering and Technology, Socialist artists front, National College of Arts, National Students Federation Punjab and several others.
Renaming: The participants demanded the government rename Shadman Chowk as Bhagat Singh Chowk, and in a token gesture, placed a plaque carrying details of Singh's heroics at the square.
Rights activist Saeeda Diep told Daily Times that citizens of Lahore had taken the initiation for the preservation of city's heritage by naming the square after Singh, and said the government should also rename Shadman Colony as Bhagat Singh colony, as he lost his life in a struggle for the independence of the subcontinent. She said the citizens had taken a significant step and would acquire other places like Bradlauch Hall from the government to convert them into a small museum or a library dedicated to the life of Singh. "The government has named cities and places after a number of foreigners, but it has failed to name a few places after a legendary person who received worldwide recognition and was the son of the soil. People wont tolerate this injustice anymore and that is why they have gathered here today," she added.
She said the ruling establishment might not like heroes like Bhagat Singh, Dullah Bhatti, Rai Ahmad Khan Kharal, Peer Sibghat Ullah and Kartar Singh for being those who challenged the authoritarian agendas of the establishment, but they were heroes of the people and they would not be forgotten.
A Hassan Abdal-based Pakistani Sikh, Taranjeet Singh, told Daily Times that he came to Shadman Chowk all the way from his city to mark the martyrdom anniversary of Bhagat Singh. He said Singh was the person who took up arms against the British and launched the freedom struggle taking along people of all colours and creeds, unlike political parties, which only talked about the people having similar ideologies. He said he had seen schools, colleges, colonies and other places named after Bhagat Singh in Canada, the United Kingdom, Europe and India, but it was unfortunate that Singh had been ignored by the people of his own homeland.
Source: Daily Times