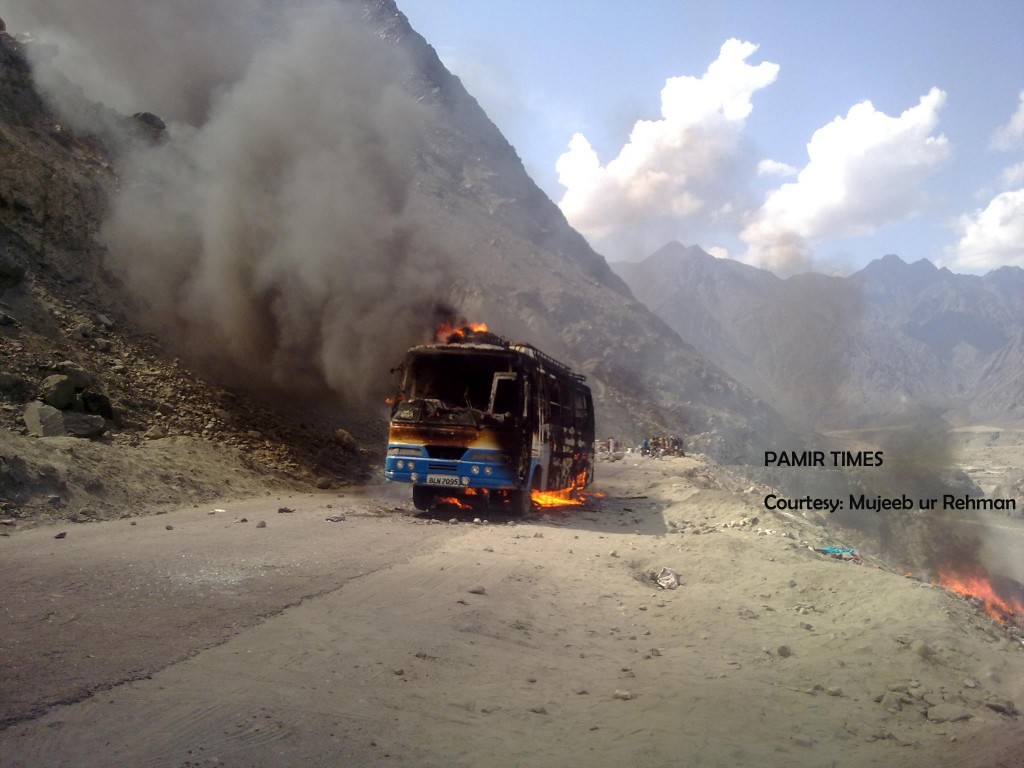 Gilgit-Baltistan: The potential 5th Province of Pakistan. History began from 1947, when the people of this prestigious mountainous region looked at the newly established state of Pakistan on the name of religions Islam. As matter of fact the strategic location of the region never allowed it to associate with Pakistan and had an easy access for all types of Business and other trades and traditions with Srinagar. But the people had a passion, will and spirit of Islamic ideology and they did not consider the geo-hazards and the powerful maharaja state and became Pakistani by their wish and will. But it is known to all that these never be streamed into national contour, making a lot of excuses by the Salafi Establishment of Pakistan. Look into the soul of these people, they never asked for, and consider themselves Pakistani just by carrying an NIC only.
1972, the first government of Pakistan People Party brought some hopes to the region by reforms and opening of KKH was another hope for the region to materialize their dream to be a Pakistani. Then the times came, when Zia ul Haq had come into power and a new regime of Islamic extremism was initiated. This extremism also affected the GB region and in 1988, the region was turned into an invading field by so called Islamic activists and Talibans. The target was the bare handed Shia population of GB. May I quote here that above 70% of Population is from shia school of thought in Gilgit-Baltistan and this community is always loyal to Pakistan. During Zia regime Shias were targeted all over the country. Likewise rest of country, GB was also affected and a big lashker was organized and invaded into Gilgit-Baltistan. Hundreds of villages along with livestock, agriculture fields and fruit trees were turn into desert by the laskar. Hundreds of killings were made only with the reason that these are Shias. Even this blood shed regime had not influenced to bring hater for Pakistan in the region. The communities took it as an international conspiracy.
People still had hope with Pakistan because now they had turn off the geographic obstacle as they were travelling through KKH and at least their socio-economical and educational difficulties were resolved. And they trusted that their political and constitutional issues also be settled down. But there was a factor that was not actually comfort about the loyalty of region with the motherland Pakistan, who was responsible for bloodshed in 1988. The same factor put his efforts with more intensity and a continuous sectarian clash was seeded in Gilgit-Baltistan, which not only sabotaged the social life but many of precious lives were lost in it. So far the majority of natives understood that all the evil branded activities were to keep the region out of the political and constitutional settlement. The positive attitude from the GBians was not a good sign for the haters of Pakistan. They never wanted that the hopes of masses had to be fulfilled. Their ambitions were stuck when the current government has announced a constitutional package which was off course a way to permanent settlement of constitutional issue of GB.
So the evil mind factor drilled to another options to detach the region form Pakistan. There evil thought stacked on KKH and they started to turn this life line of GB into bloodshed way. As an estimated count around 5000 people are travelling on KKH on daily bases and most of them are Shias because this is the only way to access Pakistan. In last couple of months 100s of killing from shia community was committed by the terrorist whiling travelling through KKH. Considerable KKH has an important role in stacking of the region with rest of Pakistan, people use to use it to access Pakistan. If it will not be safe, which it is at the moment, how come the people pass through it. If not pass, where do they go for their education, health services, and socio-economic sustainability? One better understand that why this life vein is trapped and made inaccessible and unsafe for people of Gilgit-Balstistan. The objective is to develop scare, so that the loyalty to Pakistan will supersede by the fear of survival in the masses of Gilgit-Baltistan. May be people will absorb this pushing for a while, but as a human nature this abortion cannot be long sustaining because it hurts the lifesaving needs of the society. You don't have political rights you may loyal, you don't have human rights you may loyal, but if you cannot breath how you be loyal and KKH is breathing line for people of Gilgit-Baltistan. We better know the worth of Pakistan government which is even failed to secure Gilgit city of 2 kilometers from terrorists, how come it possible to secure 600 kilometer KKH, which is now nest of terrorists. In this situation it is an emergent need to come up with solution to provide a lifeline to GBians at any cost, otherwise the brutal ideology may win to establish a second thinking in masses.