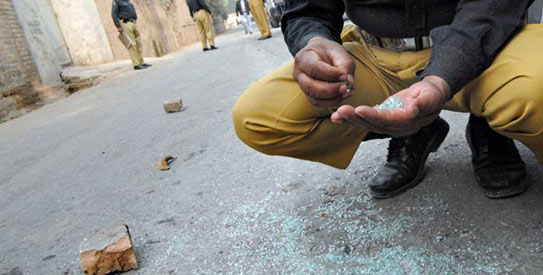 Related posts: We condemn brutal murder of Sunni Barelvi scholar in Quetta
Yesterday a religious scholar was martyred in Sariab Area of Quetta. Maulana Mohammad Qasim Sasoli was on his way to mosque, to lead Friday prayers when unknown terrorists shot him with multiple bullets and fled the scene. This is not the first killing of its type. In past few months, two prayer leaders have been shot dead. Molana Qasim belonged to Sunni (Barelvi) sect. The sectarian terrorists who are attacking Sunni Barelvi Muslims are also known to attack Shia Muslims. This is condemnable; government should bring the killers to justice.
Maulana Qasim was the father of my childhood friend. I know about Molana Qasim in great detail through my friend. Molana Qasim had been educated in the Madrasahs of Karachi, before settling in Quetta. He built the Noorani Mosque on Sariab road, years ago. He was disabled and used to go to mosque on this three wheel Motor Bike. He was a highly knowledgeable religious scholar and was well respected by people living in close proximity to his Mosque. He was never involved in making any sort of hate speeches against any other sect.
It's reported in many newspapers and news websites that Molana Qasim was provincial chief of Jamiat-e-Ulema-e-Pakistan (JUP). This is not correct, His nephew used to be the provincial chief, who is now a member of federal committee of JUP. Molana Qasim was a member of JUP and a staunch follower and supporter of late Allama Shah Ahmad Noorani, the founder of JUP. Many people, who don't know about the ground reality of this incident, have termed it as an instance of Shi-Sunni Sectarian violence, which is again incorrect. He was never involved in any anti-Shia affair. He belonged from Sunni Braelvi School of thought; therefore his killing can have a Deobandi-Brahelvi angle in it. It must be noted that militant groups in the main beloing to Jihadi-Deobandi sub-sect. Previously, another Sunni Braelvi Scholar, Molana Ifthikhar Ahmad Habibi, who also presented a religious TV program on PTV Bolan, was shot dead by terrorists couple of years ago.
According to Daily Times:
Talking to reporters, JUP President Abdul Qudus Sasoli said it was not the first time that the JUP leaders were targeted. Earlier, JUP leaders Iftikhar Habibi, Rafiq Sasoli and Maulana Kabir Qambrani had been killed in target killings.
Balochistan is now a conflict hit region for well over 6 years. Trend of sect-based target killings has also started in Balochistan due to complete absence of any controlling authority. Quetta has become the center stage for the massacre of religious scholars and leaders. Just like previous precedents, killers of Molana Qasim, most probably will not be apprehended. This will motivate the killers to kill more such people as there is no one to put a check on them. There is simply no existence of state apparatus to protect the lives of civilians. It's all because of the ongoing military operation and the person responsible for all this mess is none other than former dictator Pervez Musharraf and those who are continuing his legacy in the current government and army establishment.
The assassination of Molana Qasim is a tragic loss for people of all communities. He was a peace loving and knowledgeable religious scholar, having nothing to do with militancy or sectarianism. His assassination and the free movement of his killers will further alienate people from believing in rule of law. If his killers are not arrested then definitely, this will breed more religious extremism. Government should do maximum endeavors to arrest the perpetrators of this criminal act, rather than blaming foreign intelligence agencies. Blaming foreign hand is the easiest way out for government to escape from responsibility.