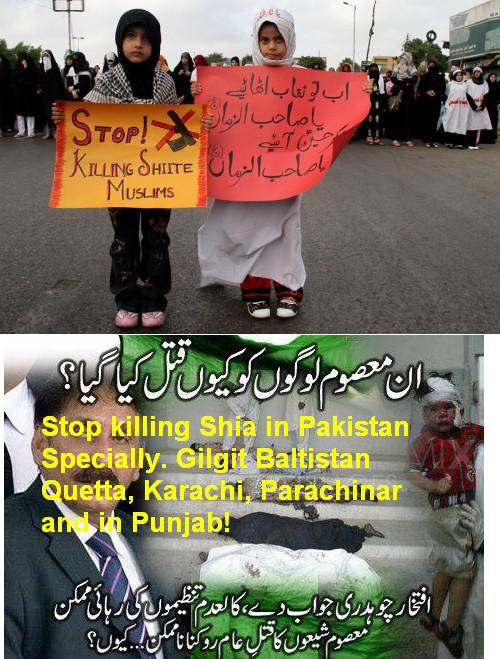 In the last 48 hours, at least twenty Shia Muslims have been killed in Pakistan by Jihadi-sectarian militants suspected to be supported by Pakistan army.
According to reports, on Tuesday 3 April 2012, a group of militants belonging to banned Jihadi-Deobandi outfit Ahle Sunnat Wal Jamaat (ASWJ, previous name Sipah-e-Sahaba Pakistan) stopped several buses on the Karakoram Highway near the Chilas area, pulled out at least seventeen Shias and gunned them down. The massacre took place in Bonar Das area near Chilas city. Six buses were set on fire, while two were pushed into deep ravine in River Indus.
About two dozen Shia men are still being held hostage by ASWJ militants in Chilas. A number of local religious scholars and leaders of Diamer have safely returned around 200 passengers, who had reportedly been kidnapped on their way Gilgit. There are also reports that a round 2 dozen Shia Muslims are still in the hands of the terrorists who killed 15 Shias today.
On Tuesday afternoon, unidentified gunmen stopped a passenger bus in the Bonar Das area of Chilas and ordered the people to get off and then sprayed bullets on them. Seventeen passengers picked out by the gunmen were killed, and their attackers later pushed the bus into a river, local media AAJ reported.
On March 28, police in Gilgit detained a leader and some supporters of a local Sunni group on their alleged involvement in firing at a rally held on March 4 by a rival Shiite group in protest against the killing of 18 Shiite Muslims, which left three people including a soldier wounded.
Superintendent of Police Jamshed Khan and two policemen were injured in the attack.
The violence erupted during a strike called by the ASWJ (a Jihadi-sectarian group supported by Pakistan army but rejected by Pakistan's majority Sunni population) to press the government to release their leader Mullah Attaullah Saqib arrested by police on March 28. He was accused of firing at a rally of Shia Muslims last month injuring three people, Urdu channel Dunya TV said. According to sources, ASWJ was observing a shutter down strike on Tuesday when unknown men hurled hand grenades at Ittehad Chowk that injured two policemen and a civilian. The grenade attack, suspected of being engineered by the ASWJ to cause Sunni-Shia violence, initiated clashes between ASWJ militants and police that later killed four people and injured 45 others. The army was called in later in the afternoon to quell the violence. Hours after the curfew was imposed in Gilgit, reports came in about clashes in the neighboring city of Chilas, some 50 km south of Gilgit.
Yesterday, ASWJ militants had issued a call to kill Shia Muslims in all part of Pakistan.
On February 28, a Gilgit-bound passenger bus from Rawalpindi was stopped by unknown gunmen in Kohistan, a district near Gilgit. The gunmen, reportedly dress in army uniforms, ordered all the Shiite Muslims on the bus to get off and then sprayed bullets on them, leaving 18 killed on the spot. An anti-Shiite group "Jundullah" (alias of ASWJ) later claimed responsibility for the attack.
Over the years, Pakistan has seen a series of sectarian attacks targeting the country's Shi'ite minority, which makes up about 15-20 percent of the population. Although most Sunnis and Shi'ites coexist peacefully, ASWJ-SSP Jihadi-sectarian militants are known to enjoy tacit support by Pakistan army's spy agency ISI.
In a separate incident in South Western city of Quetta, two Shia Muslims were shot dead by ASWJ-SSP militants on Macangi road on Tuesday, 3 April. According to sources, ASWJ militants armed with sophisticated weapons barged into a medical and a shoe store on Mecangi road and opened fire at the people present there. The victims received fatal gun shot wounds in the head and chest, and died on the spot. The assailants managed to escape on a motorbike after committing the crime. Their bodies were shifted to Provincial Sandeman Hospital for autopsy where one of the bodies was identified as Akbar Ali, resident of Alamdar road, an area dominated by Hazara community. A heavy contingent of police reached the spot soon after the incident and cordoned off the area. "It could be an incident of sectarian targeted killing as both the victims were Shia Muslims and belonged to Hazara community," an official said.
It is the fourth incident of sectarian targeted killings of Shia Muslims during the past couple of days in which more than 20 have fallen victim so far.
In the coastal city of Karachi, ASWJ-SSP militants have reportedly killed at least four Shia Muslims in last two days.
That brings the total number of Shia Muslims killed in the last two days to more than 20.
World Shia Fourm (WSF) urges rights activists and media to refrain from using misleading terms such as Sunni-Shia sectarian violence and ethnic violence, which serve to misrepresent state-sponsored Shia genocide in Pakistan.
WSF also urges Pakistan's Shia organizations and leaders and human rights activists to exert maximum pressure on the following: Pakistan government (federal and provincial), judiciary, and army. In particular, ISI's links with Jihadi-Deobandi militants including those belonging to ASWJ-SSP are hard to ignore.
Source: World Shia Forum
http://www.youtube.com/watch?v=j8TaMZzWuGI