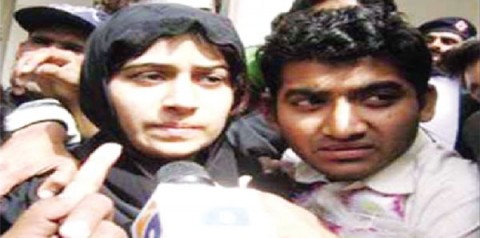 We at LUBP have always condemned all sorts of religious persecution and violence against Pakistan's oppressed groups in the strongest possible terms. Meanwhile, the religious persecution of "the infidels" (read non-Muslims) by the fanatic mindset continues. It is not uncommon in Islamic Republic of Pakistan that minor girls and even married women from non-Muslim communities are kidnapped and then converted to Islam.
There is a huge number of cases of abduction and forced into a Muslim marriage. Incidents of kidnapping, forced marriages and conversions of religious minorities have increased; the girls belonging to minority religion are forcefully converted to Islam and married to Muslim men. The increase in the number of reports of Hindu girls being kidnapped or made to convert to Islam has sparked concern from the Human Rights Commission of Pakistan (HRCP).
During the last 64 years the situation of religious minorities in Pakistan like the general conditions in various fields has remained a matter of serious concern and the Islamic state has not taken steps which could improve the status of minorities and protect their beliefs and life.
In February 2012 in a similar incident, Rinkle Kumari was abducted in Mirpur Mathelo, a small town in Sindh.
The relatives of the Rinkle alleged that a Member of the National Assembly, Abdul Haq alias Mian Mitthu, was backing the kidnappers and had pressurised the local magistrate to get a decision in their favour, ignoring the written testimony of the kidnapped girl. They also said they had taken refuge in a gurdwara in Lahore after receiving threats from the kidnappers and influential Muslims of the area.
The girl's father, Nand Lal, is a teacher at the Government Primary School at Yorlund in Ghotki district. He told the Daily Times that Mian Aslam, the son of the local Parliamentarian, and his friend Naveed Shah kidnapped his daughter from his house last Friday.

Rinkle had passed the matriculation examination and arrangements had been made for her marriage, he said.

Initially, the police station in Mirpur Mathelo refused to register a case against the kidnappers though an FIR was lodged following a protest by Rinkle's relatives.

Rinkle and one of the alleged kidnappers, Naveed Shah, were produced later before Magistrate Hassan Ali Kalwar.

Rinkle denied that she wanted to convert to Islam and said she wanted to live with her parents but the judge sent her to a women's home and Shah was handed over to police on a one-day remand, Nand Lal said.

Mirpur Mathelo police, which is under "influence" of the Parliamentarian, presented Rinkle before a magistrate on Monday, Nand Lal said.

"The magistrate immediately handed over the girl to Haq's men, without asking the parents to appear before the court," he added.

He said a large number of armed men were standing outside the court to bar Rinkle's family from entering the room.
Giving details about the night when Kumari was "abducted", her uncle, Daya Ram, said in the early hours of February 24 this year, Kumari was supposed to meet Naveed Shah, believing that he would be alone. But Shah was not alone and accompanied by armed men, who abducted her and took her to Bharchundi Sharif, where she was forcefully converted to Islam.

"She did not leave home out of free will. If she had, why was one of her shoes at the home's entrance and her dupatta outside? She was kidnapped by armed men, who barged into the home," Ram told Pakistan Today.

He further said on the morning of February 24, he reached the Mirpur Mathelo police station and had an FIR registered against Naveed Shah.

On the same day at 1 pm, Kumari's family received a phone call from MNA Haq's son Mian Aslam Shah, who told them that if they wish to meet the girl, they should come to his residence.

However, Ram claimed, the family told him that they do not wish to meet her at his residence and would instead want her brought to the DSP's office or the Hindu Panchayat Hall, where she can talk with them freely. However, both these options were rejected.
On Sunday, President Asif Ali Zardari directed authorities to investigate the kidnapping and sought a report from the Sindh government.
Mr.President called for "transparent and expeditious investigations" in the matter and for action in accordance with the law, regardless of the influence and status of anyone involved in the abduction.
The mainstream media highlighted Waheeda Shah Bukhari's case too much and the Chief Justice of Pakistan Iftikhar Muhammad Chaudhry has taken suo moto notice of that incident but ignored Rinkle Kumari's abduction, forced conversion and marriage, so no remedy available for non-Muslims . We at LUBP also point out media's bias in ignoring minorities issues.
Mr. Kapil Dev rightly pointed out in his article that:
"The honorable chief justice often quotes in hearings, that corruption cases have brought a bad name to the country, but did the CJ even notice that forcible conversion and persecution of minorities also contribute to the country declining image."
The following is the full text of opinion piece, "Rinkle Kumari was Hindu last month" -by Kapil Dev.
For many years, I was convinced that Sindh is the most liberal and secular province. I thought that minorities were more secure here because of the history deeply rooted mysticism. But that was until I became familar with teenager Rinkle Kumari's tragic tale. One, amongt many, whose story needed to be told.

While most of us know Maya Khan and Veena Malik how many of us know Rinkle Kumari of District Ghotki, Sindh? She was picked up from her home and then forced to convert to Islam just a few days ago? How many of us are even aware of these incidents taking place?

Nand Lal, the father of the teenager, who is a teacher at the Government Primary School Yarlund, Ghotki, along with his family members has taken shelter at Gurdwara, Lahore as he received threats from the local influential people.

While according to some reports Rinkle coverted to Islam of her own free will (now Faryal) Rinkle's family says, that a local leader is supporting the kidnappers and had pressurized the local magistrate to conclude with a decision in their favour, ignoring the plea in the written testimony of the kidnapped girl.

For many, it may be good news as a Hindu girl has 'embraced' Islam and has become an addition to the Ummah. Some may also believe that by getting her convert to Islam, one of them might get a berth booked in the Heaven as well, as it is generally perceived or believed.

Rinkle is not the only girl who has been a victim of such inhumane and unlawful treatment. There are 20 to 25 cases every month and around 300 cases per year. These young Hindu girls are abducted by influential people and converted to Islam against their will. Most of them take shelter in madrassas to avoid the backlash from society. In fact this is one of the main reasons that Hindus, particularly from upper Sindh, are migrating to India in bulk every year is because they are unable to bear the brunt and subsequent embarrassment in the society when their abducted daughters return as converts to Islam.

Except a certain section of media, these issues are hardly highlighted in mainstream media, the reason being the right-wing news policy of most of the media houses and growing commercialization.

Supreme Court Chief Justice, Iftikhar Muhammad Chaudhry (who took suo moto notice on the confiscation of two bottles of alcohol from actress Atiqa Odho) seems to have no time to have take suo moto notice or even notice of the forcible conversion of young Hindu girls. The honorable chief justice often quotes in hearings, that corruption cases have brought a bad name to the country, but did the CJ even notice that forcible conversion and persecution of minorities also contribute to the country declining image.

Moreover, over two dozen legislators belonging to religious minority have not been able to make their voices heard regarding a remedy for the grievances of their community. The reason for their voices have reached deaf ears and continue to be ineffective can be found in a quote by a Hindu parliamentarian who stated, "We are selected members, not elected."

Though, I am an ardent supporter of democracy and democratic values, minorities in Pakistan were more secure during dictator, Pervez Mushrraf's term, than in this government in which Punjab Governor, Salman Taseer and Federal Minister for minorities, Shahbaz Bhatti, were killed.

In recent incidents like Rinkle Kumari and the case of three Hindus being murdered in broad daylight in Chak, Shikarpur, a few months back, the Sindhi nationalists have supported the Hindu community. In comparison, the members of the ruling PPP and other parties, only make hollow speeches. Those who have read the Constitution refer to Article 20, 25 and 39 in an effort to purport to their fellow parliamentarians that the minorities were enjoying equal rights, as stated in the constitution. But an issue that concerns the minority community most is that of forcible conversion of their youth and abduction for which there is no law.

So if there is no law addressing this issue is it okay for the issue to be overlooked?

Is there anybody drafting a law that will guarantee protection and freedom of religious belief?

The answer, unfortunately, is simply a 'no'.

I am a Hindu writer and cannot help but wonder if my words have any weight at all and if so then, would they be effective enough to initiate any substantial change? I hope so, but I believe not. There is a dire need to speak up by the so-called liberal and secular elite. Forget about Maya, Meera and Veena. Wake up and hear the unheard calls for help. Someone please speak up about Rinkle Kumari.

She is the one in need of attention.
Hindus in Pakistan have demanded immediate action against forced conversions of Hindu girls in Pakistan. The leaders of the Pakistan Hindu Council appealed to the Pakistan government at a press conference.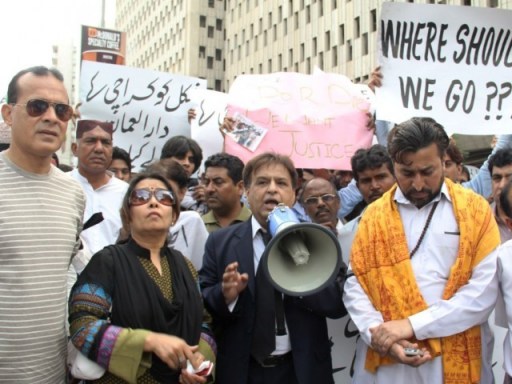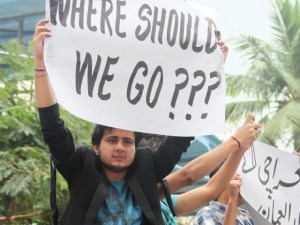 The executive council of Sindhi Association of North America Canada Chapter is of the view that it is well planned act of aggression and intimidation against peace loving Hindus of Sindh to scare them and make them feel un-secure in their own motherland and force them to leave the land of their birth by the religious extremist groups.
MIRPUR HINDU GIRL KIDNAPPED- PRESS CONFERENCE