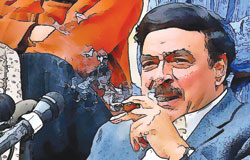 The prophesier of doom whose all predictions have proven wrong in the last four years
By Adnan Rehmat
Nobody calls him just "Sheikh", or "Rasheed", or even "Ahmed". It has to be "Sheikh Rasheed". But that's just on TV programmes. In real life, and sometimes in newspapers, he is more often than not referred to as "Sheeda Tully" — "the Rasheed who rang the bell." The nom de guerre sits well on him for he is the bad boy of politics who many right-of-centre types like because when he is in power he styles himself as one from the lower social ranks who braved the odds to seat himself in the cabinet where irrespective of their religious leanings usually only the super rich sit on decisions. Or when in the opposition, he is the politico who is always prophesying the doom of the left-of-centre types that represents more a wish than a transformation.
But he is even better known as the politician who is always badmouthing democracy in the style of an above-reproach elder who knows best. Except that he doesn't know best. His predictions of doom for both the governments of Asif Zardari's Pakistan People's Party at the centre and Nawaz Sharif's Pakistan Muslim League-N in Punjab have proven wrong despite the four years in which he has the chance to come right. Nor did Husain Haqqani turn an approver as he had predicted famously. Once the beloved of his electorate, between 1985 and 2002 he was elected, usually by big margins, as a member of the National Assembly each time a general election was held, which was six times.
The beginning of the end of his political career was the 2008 elections where he was routed by his erstwhile PML-N of Nawaz Sharif when constituency outsider Javed Hashmi — who himself has recently ditched the party to join Imran Khan's tsunami politics — beat him by a massive margin. His defeat was complete in by-elections the same year when Hashmi, who also ran from Multan and chose to retain his seat from his home constituency and vacate the Pindi seat.
Two successive losses on home ground was a stigma so big to Sheikh Rasheed that he had announced ahead of the by-polls he would take the hint and quit politics if his electorates didn't want him. No luck for his electorates. Of course he went back on his words. Which is not too surprising after his big lie in the 2002 general election — the last one he won.
Many now believe he won because he had promised during the campaign trail as an independent candidate that he would 'offer his win' to Nawaz Sharif and PML-N both of whom he betrayed by supporting their ouster — the military led by General Musharraf. After winning, he not only did not keep his word, he joined Musharraf's cabinet first as information minister and then as railways minister. Many now believe that his defeats in 2008 are his punishment from his electorate who handed PML-N both victories from his constituencies.
Sheikh Rasheed has always been a colourful character mixing populist rhetoric with the idiom of the street, which borders on the crass. He is famous for his tongue-in-cheek political one-liners that aim to demean opponents in the style of folk jesters — indeed his most infamous poisonous one-liners about Benazir Bhutto, which he repeatedly uttered in the 1990 elections campaign trail are unprintable here. This kind of forked syntax has helped keep him in the public consciousness with a big helping hand by the expanding television current affairs sector of the past five years.
Indeed such is the "value" of his style of growly opinion that takes below-the-belt digs at opponents that he actually gets talk shows audiences. He is one of three people who guarantee instant ratings high on TV talk shows — the other being Imran Khan and Marvi Memon. It suits both parties — the talk show becomes hit with him on show and he gets to stay in public limelight thanks to the channels.
Without the channels to give him the 'oxygen of publicity', as they call it, Sheikh Rasheed would have faded in 2008 along with his Awami Muslim League party which is a one-man army. Which is ironic because all his life he has reserved special scorn for "tanga parties", as he called them — political groups that are or have been essentially one-man shows. But in the "one man army" that his personal political philosophy represents the key word is not "one" or even "man", it's "army". For he is an unabashed defender of "mulk ki afwaj", "Pak army" and "hassas idaray". Whether he is a conscientious believer in these tainted institutions is debatable, but what is not is that his electoral constituency is where the military headquarter (or "GHQ", another 'holy' word that his diction is peppered with) is based. He is therefore "technically", if not politically, beholden to be voice of the army.
The other link that weds him mortally to "Pak afwaj" and their worldview and to his politics is his Kashmiri origin and the military's Kashmir projects. He has his roots in Srinagar, the capital of Indian-administered Kashmir and is known for his unabashed support to the anti-India uprising in the Himalayan valley that is disputed between New Delhi and Islamabad. While many residents of his hometown Rawalpindi are openly aware of his patronage and facilitation of groups linked to armed resistance in Kashmir, it really came to media limelight when the Indian government denied him permission to visit New Delhi in 2004 after pro-independence Kashmiri leader Yasin Malik said that Sheikh Rasheed's residence and farm house has been used by militant organisations. He is also on record as saying his dream is to visit Srinagar to offer prayers at the graves of his forefathers once Kashmir is free (from Indian administration).
He has also tried his hand at being a writer. He is the author of Farzand-e-Pakistan, the self-styled "son of Pakistan", a nod to his other self-styled nom de guerre Farzand-e-Pindi, or the "Son of Pindi". A more apt title would be "son of a gun" for the jihadi worldview he espouses. He is reportedly now working on a second book tentatively titled, Sub Achha Hai, or "All is Well", an acerbic take, no doubt, that all is not well in Pakistan. No doubt because he thinks he is not in the parliament, Pakistan is paying for being thus amiss.
Sheikh Rasheed also thrives in the macho nature of his electoral constituency — it is after all a martial milieu being the seat of military power and being the conservative capital of a conservative north Punjab. That he has never married also lends him another rarity in politics putting in a stark contrast with his former close aide and leader Shahbaz Sharif. He also matches his theatrical personality with a grand fireworks show come every August 14, the Independence Day, at probably Rawalpindi's most recognized historical landmark (other than the drab and inaccessible GHQ), the Lal Haveli — his beautiful ancestral mansion, that glistens in the heart of Rawalpindi as the other landmarks in the locality crumble in slow motion. His principal source of income is stated to be silk business, which probably is one of the reasons that make him a smooth operator.
These days he merely comes across as someone so dejected with Pakistan's future that he curses the intelligence of Pakistanis who vote for "looters and plunderers" again and again. Along with Imran Khan, he is one of those few politicians who actively campaign against an elected parliament, a democratic coalition dispensation and how the "conspiracies" against the country and the armed forces are bringing us close to doom.
Sheikh Rasheed conveniently forgets that he is one of the few politicians in active politics that served not one but two military dictators, so his sermons on "true democracy" are redundant. His sorry Awami Muslim League is making him sorrier since in a one-man party you can only talk to yourself. The cure, much as he would like to think is not carrying on with his ageing vitriolic rhetoric whose exoticism wore off 15 years ago but maybe joining Imran Khan's tsunami project. That way at least he would represent the fig leaf of convoluted "change" that he thinks he represents.
Source: The News