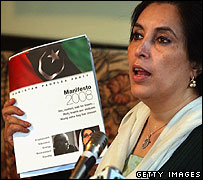 Related :Pakistan Democracy Review 2009 -by Humza Ikram
Pakistan Democracy Review 2010
Did PPP implement its vision of Roti, Kapra, Makan? – by Raja Asad Abbas
Benazir Employees Stock Option Scheme – by Saad Hassan
Stellar yet sadly affronted accomplishments of PPP Government – by Dr. Zaeem Zia
Some Unforgiven Crimes of Asif Ali Zardari -by Raja M Asad Abbas
'Gift of Life': An important step for the lives of millions of Pakistanis – by Hafsa Khawaja
Why the PPP government is good for Pakistan – by Fauzia Wahab
Benazir Model Village – Sinawan – Splendid execution
The politically asexual 'good governance and corruption mantra' and the PPP's ideology – by Ayesha Siddiqa
Pakistan Peoples Party has always contested general elections on the manifesto of Roti Kapra aur Makan (bread, clothes and house); they have always been criticized for not implementing their Mmnifesto but indeed to the extent they have implemented their manifesto, none other could have done with such limited resources.
The Manifesto which was given in 2008 by Pakistan Peoples Party was the same given by Shaheed Zulfikar Ali Bhutto with a little amendment (education, employment and electricity generation). Pakistan Peoples Party under the leadership of Asif Ali Zardari won the 2008 elections following the the vision of Shaheed Benazir Bhutto. After the formation of government in April 2008, Pakistan Peoples Party has been totally committed to their Manifesto.
Now let me briefly describe the implementation of Roti Kapra and Makan; and the steps taken by the government in pursuit of this goal.
1. BENAZIR INCOME SUPPORT PROGRAM (BISP)
The government started an Income Support Program in 2008 to uplift the economic position of the poorest of the poor, under which monthly aid of Rupees 1000 is given to the poors. To make the scheme effective, a poverty survey was ordered in all the four provinces to identify the real deservers
This program helps over 5 million families in whole of the country which is the real implementation of the manifesto.
2. BENAZIR WOMEN SUPPORT PROGRAM (BWSP) (by the Sindh Government)
The Sindh Government under the directives of President Zardari has started another program to support poor women in Sindh. Under this Scheme at the moment there are almost 1 million beneficiaries, in whole of the province which will prove beneficial not only for women but also for their families.
3. Waseela-e-Haq Scheme
Under the visionary leadership of co-chairman Asif Zardari, the PPP led government is working upon another project named as the Waseela-e-Haq Program under which a sum of  0.3 million is distributed  among 781 families in different districts of Pakistan every month. None of the families is repeated again (President Zardari recently distributed  a sum of 0.3 Million in 35 thousand families in the Provinces of Sindh). It is an ongoing scheme in all the 4 provinces of Pakistan.
4. Benazir Basti Scheme (BBS)
In order to provide houses to the poor, the PPP led government is building up 10,000 houses in different districts of Sindh. The work started in Septembver 2009; in the first phase more than 2500 Houses have been completed and 400 of them have been distributed to the deserving people.(President Zardari distributed the keys among the beneficiaries on 28 Jan 2010.) Another similar scheme namely Shaheed Benazir Apna Ghar Scheme is also in its phase of completion which was inaugurated by President Zardari on 25 December 2010.
5. Allotment of Lands to Peasants
The Government of Sindh has distributed 43800 acres of land to landless peasants in the first phase while 53000 acres of land is being distributed under the second phase; a total of 25 acre land is given to one family for the uplift of the family while fertilizers are also provided to them with some financial support at a scale of 4 acre area to uplift their family.
6. Goths Given Lease
Different Goths have been given lease which will prove beneficial for the residents as they will be given the basic needs of life
7. Benazir Tractor Scheme
Under this Scheme tractors have been given to farmers on a subsidized rate; a total of 50 % subsidy has been given to deserving farmers in various parts of the country.
8. Reinstatement of Sacked Employees
The PPP led government reinstated the employees who were sacked on by the previous governments (of Mian Nawaz Sharif and General Musharraf) due to political differences, but the Zardari government reinstated all of them; now they are once again able to lift up their families.
9. Permanent Employment for Contract Employees
All employees of various government departments who were working under contracts and who could be dismissed by their employers on short notice, have been made permanent employees; their pays and other benefits have been increased.
10. Employment to the Youth of Pakistan
The PPP led government is committed to provide employment to the youth of Pakistan. In the province of Sindh, more than 70,000 personnel have been employed in the Government Services while over 130,000 have been employed in Federal Government Services which is a major step taken by the government with very limited recourses
11.Benefits for Government Employees
The Basic Pays and other allowances of all government employees have been substantially increased  in 2010; 50 % basic pay while 15 % of the Allowances were increased, making a total of 65 % just within a year.
12. Benazir Employees Stock Option Scheme
The PPP led government has made more than 500,000 workers a share holder of their respective institutions, thus implementing Islamic equality and socialism. They have made 12% employees as share holders in their institutions.
13. Pakistan Watan Card
An amount of Rs.20,000 has been given to every flood effected family in the first phase while the remaining Rs.80,000 will be given in the Second Phase.
14. Benazir Apna Rozgar Scheme
Deserving people have been given rickshaws to earn their living; numerous of other projects have been started under this Project
15. Benazir Sehat Card
Under this Scheme, more than 65,000 families have been given a medical Insurance of Rs.25,000 per person.
16.Generation of Electricity in National Grid
More than 3,000 MW of electricity has been introduced in the National Grid through different Power Plants (HILO POWER PLANT, Nishat, Korangi, JIMPER, Chasma, NAUDERO, Turkish Rental etc)
17.Inauguration and Completion of Dams
Small and Big Dams have been inaugurated and completed in the country such as Drawat Ghabir Winder BASHA Dams etc ; some of them are already operating such as Gomalzai, Lal Bhakar Dam, Deh Allah Bano and Others
18.Education
IT Universities, Engineering Universities, Medical Collages have been started in all of the country for a Prosperous Pakistan, just an example is the Lyari Medical Collage
19.Infrastructural Development
For the betterment of common people, the development work have been done to a great extent. Provincial and National Highways have been constructed all around the country with flyovers, underpasses, bridges etc, and the construction and rehabilitation of roads in different districts, which will play a positive role in a common people's life.
20. Allotment of Plots to Homeless Poors
The Government of Sindh has planned to distribute 50,000 plots to poor and deserving homeless people.
There is a famous tale from Arabia, known as Laila Majnoon, that some one said to Majnoon (the lover) that "Teri Laila kaali hae" and Majnoo replied "Teri nigah nahi dekhne waali hae". In short those who love PPP do not need any further reasons to love it when they can see its tangible services to the poor, and those who hate PPP will not be impressed by the data provided in this article. The above explanation is only for historians and neutral observers; we at LUBP are only setting the record straight.