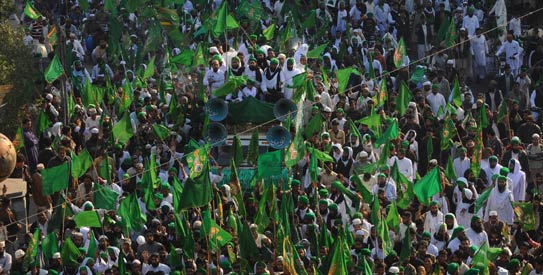 Multiple attacks have been reported on 5 February 2012 on the Eid Milad-un-Nabi (12 Rabi-ul-Awal) processions in various cities in Pakistan including Mansehra, Gujranwala, Gojar Khan, Mirpur, Khairpur and Karachi.
Eid Milad-un-Nabi (birthday of the Prophet Muhammad pbub) is celebrated all over the world not only by Sunnis, Shias and Ahmadis but also by non-Muslim communities (e.g., the banner in the above picture conveys felicitations to Muslims from Pakistani Christians, Hindus and Sikhs).
Great example of Shia-Sunni unity was observed in Karachi on 4 February 2012 when Sunni (Barelvi) and Shia Muslims prayed together at the Imambargah Ali Raza. Shia Muslims also offered complimentary drinks and refreshments to the Sunni participants of the Eid Milad processions in Karachi, Lahore and other cities.
However, certain extremist factions of Saudi-influenced Deobandi and Wahhabi sects consider the celebration of the birthday of the Prophet (pbuh) as a deviation (biddat) from pure Islam. There is, therefore, no surprise that every single Islamic channel is celebrating the birthday of the Prophet Muhammad (pbuh) except Zakir Naik's Saudi-funded Peace TV and another Saudi-funded Islam Channel. Sunnis, Shias, Ahmadis, Christians etc are celebrating the Prophet Muhammad's birthday, however, for Zakir Naik and Saudi mentors, this never happened.
It's a fact that militants such as JuD (radical Salafis-Wahhabis) and SSP (radical Deobandis) do not celebrate the Eid Milad-un-Nabi (pbuh) and deem it fit to attack the Sunni and Shia Muslims celebrating the Milad. Last year, at least eight people died in February 2010 when SSP-LeJ-Taliban and JuD-LeT terrorists attacked the Eid Milad processions in D.I.Khan and Faisalabad. Here is the link to the news reports: https://lubpak.net/archives/6484
The following link shows how extremist Deobandi (SSP-LeJ) and Wahhabi (JuD) groups have been attacking majority of Sunni Muslims in Pakistan (Barelvis) to implement their specific sectarian, violent version of Islam: https://lubpak.net/archives/tag/attack-on-barelvis
The following news report from Dawn TV (5 Feb 2012) shows fresh incidents of attacks on Sunni (Barelvi-Sufi) Muslims by extremist Deobandis and Wahhabis in 2012.
Can a Muslim attack another Muslim celebrating the birthday of the Prophet Muhammad (pbuh)? Is it not an act of blasphemy itself to stop innocent Muslims from remembering and paying homage to the Prophet Muhammad (pbuh)?
Who will stop the Saudi-funded, ISI-sponsored SSP-JuD militants from their ongoing violence and terrorism in Pakistan? Who will ban Peace TV, Islam Channel and other hate TV channels which are fast converting Pakistan's moderate Sunni Muslims into radical Wahhabi-Deobandi bigots?
Source: Pakistan Blogzine