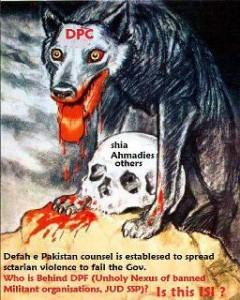 Dear Muslim brothers and sisters  (This message is not intended for liberal fascist Rafzi-Sabai-Qadiani-Baloch RAW-ians)
I want to share with you my continued education.
I have now come to accept that in order for Pakistanto be Islamic Welfare State as envisioned by Hazrat Imran Khan, Maulana Fazlur Rehman, Sunni Tehrik and other Patriotic Punjabi Puttars, pious brothers will have to choose their statement depending on the pitch.
For example, to Hindu baniya Karan Tharpar, Hazrat Imran Khan had to be very careful of what he says about JuD (http://www.youtube.com/watch?v=vMYkVFlzJ-c ).  The Brave man that HIK is, he stood by the downtrodden and weak Islamo-Marxist Kashmir Liberating Jamaat Dawa.  This pious group are the current favourites to conquer Dehli and do Spartan-style langar of Nihari, Galawatti kebabs, Mutton Biryani, Chicken Karhai, Halal Lobister Thermidor, Halal Merlot and Halal Heiniken for the poverty-stricken generals of Pak Fauj.  I request that Halalling contract be awarded to by my friend's nephew who might have been a pop evangelist.
Imran Khan's principled stance on Jamaat-ud-Dawa (http://bit.ly/xYvbJ6) stands in stark contrast to hypocrite witch Benazir Bhutto's stance on the Taliban, which was exposed by HIK here: http://bit.ly/A9mO58
In the first Difa-e-Pakistan rally, HIK (Hazrat Imran Khan) did not attend directly but sent a representative from PTI (http://bit.ly/uAMevE ). In the next DP rally that was taken to defend Pakistan from the imperialist goals of Qadian/Rafzi/Yahood-o-Hunood lobby (http://bit.ly/xfkPzq and http://bit.ly/zd9YRw) , PTI was careful to maintain an even lower profile. HIK has been advised by Chacha Morpheous, aka, Hazrat Gen. Hamid Gul, to be careful so as to maintain popularity with the Mummy-Daddy activists (http://www.youtube.com/watch?v=Sd-PSTH-npI ) and Jinnah-Secularist PTI jiyalas.  Liberal fascists do the blasphemy of accusing HIK of double standards – chilax ok – He is just doing Taqqiya!
This is why HIK was an immortal cricketer; he knew how to play on every pitch. He knows when to praise Jinnah, when to quote Iqbal and when to invoke the era of Caliph Hazrat Muawiya; which he has said to have done at Jamia Ferozia recently.  His sometimes direct and some times tacit support of the Difa-e-Pakistan rally must be applauded and must be emulated by every pious Punjabi, oops, Pakistan Puttar.  Here is my supplication to Pious Pakistan Puttar army:
"O Ye Generals and pious Syeds of the Pak Fauj,
Please reward HIK with 2/3 mandate in next elections as you rewarded your now forgotten son, Nawaz Sharif in 1997
And as you rewarded MMA in 2002
O Ye Lords of the Supreme Court
Please release us from the Sindhi-Balochi Hindu-Rafzi domination of the Bhutto-Zardari fascists
As you released us from them in 1979"
Speaking of Difa rallies, has anyone noticed how liberal fascists like Nadeem Paracha, Marvi Sirmed, LUBP, Al Ufaq (http://alufaq.com) , Pakistan Blogzine (http://pakistanblogzine.wordpress.com/) talk about rights of those who are oppressing revulotionary anti-imperialist groups like Jud, JM, SSP-LeJ-ASWJ.  They cry for these well funded RAW-Mossad agent Minorities (http://bit.ly/xOFY4t) but never cry for the death of great leaders like Hakeemullah Meshud, Illyas Kashmiri, Abu Mustafa Yazeed and Baitullah Meshud from drone attacks. Only blessed PTI jiyalas like Isfundiar Kasuri and Meera Ghani have the courage to raise an outcry on the murders of the great leaders of Taliban and Al Qaeda.
Excluding the Judiciary, Jamaat-e-Islami,Sipah-e-Sahaba,Pakistan Army, Taliban, ISI, PML N, Jamaat-ud-Dawa, MQM, PTI (Imran Khan group), Lashkar-e-Jhangvi, GEO, ARY, Aaj, Samaa, Dunya etc –  there is no one else to support the point of view of these brave PTI workers.
Mr. Isfundiar Kasuri's show, Washington Report, was axed for supporting the Pakistan Army point of view on Kerry-Lugar Bill and for supporting Lashkar-e-Jhangvi's point of view on drones – It was not axed due to lower ratings.  Everyone knows that the Pakistanmedia is under the autocratic rule of PPP and no one can dare critisize them.  For that matter, no one in our media industry can dare support or praise our under-funded Army and powerless Judiciary.
The Judiciary has served Pakistanwith distinction and has always taken the hardship route by supportingPakistan's true heros- Hazrat Ayub Khan, Hazrat Zia ul Haq (RA), Hazrat Musharaf and Hazrat Kayani.  If it was not for our Un-corruptible heroic Supreme Court, anti-imperialist Islamo-Marxist rebel, Malik Ishaq would still be behind bars.
Just few days back, one liberal fascist group was talking about some lawyers being killed (https://lubpak.net/archives/70235)  inKarachi. Shame on them for not realizing that these lawyers were possibly against His Lordship, Hazrat Chaudhary Mohammad Iftikhar (RA).  They were also insulting the human rights of great Islamo-Marxist anti-imperialist Malik Ishaq.
Here is my translation of the works of great Islamic poet- Abu Sufyan Gajjanpuri:
"Now when I was a young boy
At the age of five
My Mamo said:
I was the greatest thing alive"
This is sung to all children of noble Punjabi blood to inculcate humility which is an essential trait of our oppressed nation.  This is why I can relate to under-previliged socio-Marxist Islamic cricketers like HIK.
HIK grew up in a tiny corner of the crowded, clausterphobic Zaman Park slums; a few metres of land liberated by his working class uncle, General Burki and his father's collegues in the powerless, efficient and un-corrupt bureaucracy.
This was the land that has once been stolen from the descendants of Hazrat Mohammad Bin Qasim and Sultan Shah Mahmood Qureshi-Ghaznavi by perfidious Sikh-Hindu venture capitalists in the 6th century Hijri. However, with limited resources at his disposal, the undefeated General Burki approached the Evacuee Property Trust Board and liberatedZamanPark from the dark savages.  He then settled the Burki-Niazi clan here. They lead a hard, under-privileged existence and slowly rose up to lead various cricket teams and public departments on the basis of pure merit.
No one can accuse Imran Khan of benefiting from nepotism, cronyism or any other traits under the corruption umberella. Every Pakistani knows how Imran Khan was denied his place in the cricket team from 1964-1971.   Back then, he was bowling at 150 miles per hour.  In a 1969 match of Aitchison vs. the Rest-of-the-World-11, 16-year old Imran Khan took 36 wickets in a single innings and scored 10,000 runs in the match as well. Then too he was denied a place in the team by Hindu-mother RAW agent, ZAB.
General uncles tried but dictatorial ZAB overruled them just like he did when he coerced them into Bengladesh to fight against the Mukhti Bahini Titans.  By sending Pak Fauj against the Titanic forces of evil represented by Mukhti Bahini, Bengali socialists, women and Hindu sorcerers, ZAB ensured that they would lose so that he could install his dictatorship to replace the Basic Democracy of Field Marshall, Hazrat Ayub Khan.
This is why only a Patriotic Aitchisonian is fit to kaptaan the Islamic Welfare State of Pakistan.
Yeh karahi chicken karahi hai, yeh karahi mein hi khaoon ga
Tum kitnay burger chupao gay, har ghar say Toru niklay ga
Syed Riaz bin Al-Malik Hajajji