[poll id="8″]
Pakistan army revives Al-Shams and Al-Badr in the shape of Difa-e-Pakistan, JuD and SSP
Dear Pakistan army, just relax and open new Fauji fertilizers and other similar corporations with our money; Malik Ishaq of Sipah-e-Sahaba/Lashkar-e-Jhangvi  (also known as Ahle Sunnat Wal Jamaat) is enough to defend the country, congratulations!
Here are some pictures from the ISI-sponsored Difa-e-Pakistan conference, a union of anti-Shia, anti-Ahmadi, anti-Barelvi, anti-Christian, anti-Hindu Jihadi-sectarian parties (SSP-ASWJ-LeJ, JuD-LeT etc). The convention was held in Multan on Sunday 29 Jan 2012.
Just as Pakistan army used Islamo-fascist paramilitary fanatics (Al Shams, Al Badar, affiliated with Jamaat-e-Islami) to murder thousands of innocent Bengalis in East Pakistan, Pakistan army is using patent killers and haters of Hindus (Lashkar-e-Taiba, JuD), Shias, Ahmadis and Christians (Sipah-e-Sahaba aka ASWJ or LeJ) to enable further massacre and harassment of innocent Pakistani citizens.
Related Posts: Imran Khan's message to the Defence of Pakistan rally in Lahore – by Hakim Hazik
Imran Khan's PTI joins banned terrorist groups in pro-army rally in Lahore
Credits for pictures: Express Tribune
Caption: M. Baloch
Videos:
Malik Ishaq's hate speech
http://youtu.be/-oJgLiUiJbw
Ahmed Ludhianvi's hate speech

In Capital Talk (30 January 2012): MNA Sheikh Waqas and Hamid Mir admit that Difa-e-Pakisan is an ISI-sponsored platform for a terrorist organization
http://youtu.be/j_2Y1g-snxg?t=10m15s
Related posts: Pakistan's military state enables further Shia killings in the name of Difa-e-Pakistan
Defence of Pakistan Council or Union of Shia Killers?
Malik Ishaq, a most dangerous man
….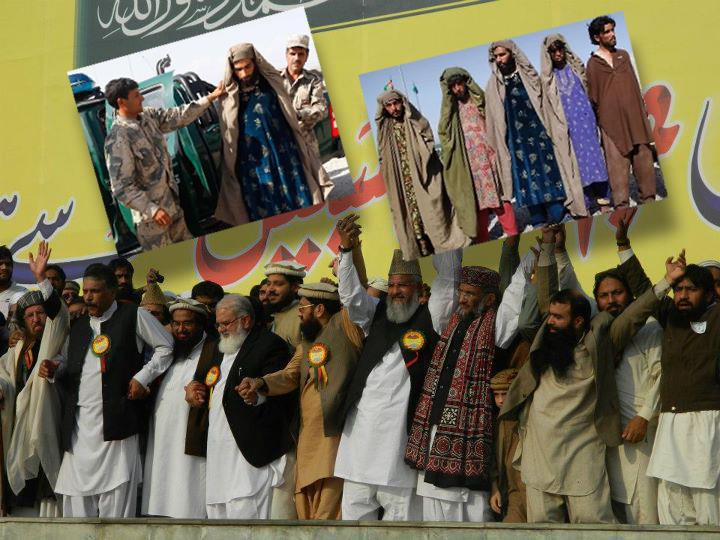 ——
Maulana Tahir Mahmood Ashrafi was one of the first people, along with Ahmed Ludhianvi, to meet and greet Malik Ishaq after his release from Kot Lakhpat Jail. Malik Ishaq has personally confessed of killing at least 100 Shia and Sunni Barelvi Muslims.
Watch this video after 6:20, will give you an idea of how Tahir Ashrafi justifies and rationalized Shia genocide in Pakistan.
Refer to this clip of Al Qaeda/Lashkar-e-Jhangvi leader Malik Ishaq spreading hatred against Shia Muslims in Kabirwala, Pakistan (19 June 2012):
Malik Ishaq's speech in Kabir Wala on 19 June 2012
http://youtu.be/8ZXuWocTPB4
Malik Ishaq released on the orders of the Supreme Court
Malik Muhammad Ishaq, LeJ chief, killer of hundreds of Shias, was released from Kot Lakhpat Jail on Wednesday, 14 June 2011.
Malik Ishaq's speech on 9 August 2012 – Says he will always say Kafir Shiaf (Shias are infidels)
http://youtu.be/milmwgYOc9Y?t=15m
Ahmed Ludhianvi explains (January 2012) his two aims of joining the Difa-e-Pakistan Council: (1) to bring the ASWJ-SSP in the mainstream politics; and (2) to defend Pakistan from USA, Israel, India and Iran.
http://www.youtube.com/watch?v=zVj9TKzFtkk
Maulana Muhammad Ahmed Ludhianvi speaking in Difia e Pakistan- Conference Multan
http://www.youtube.com/watch?v=ZgCA3AN5m5w
We have previously explained that Shia-Sunni proxy war term is often used by Takfiri terrorists and their apologists to enable and rationalize Shia genocide. In recent past, another camouflaged Takfiri Canadian Tarek Fatah (known on Twitter as #TakfiriTarek and #CanadianZarqawi) uttered similar remarks in which he apostatized the Prophet Muhammad's beloved uncle Hazrat Abu Taliba (father of Imam Ali) and blamed Shias for their own genocide.