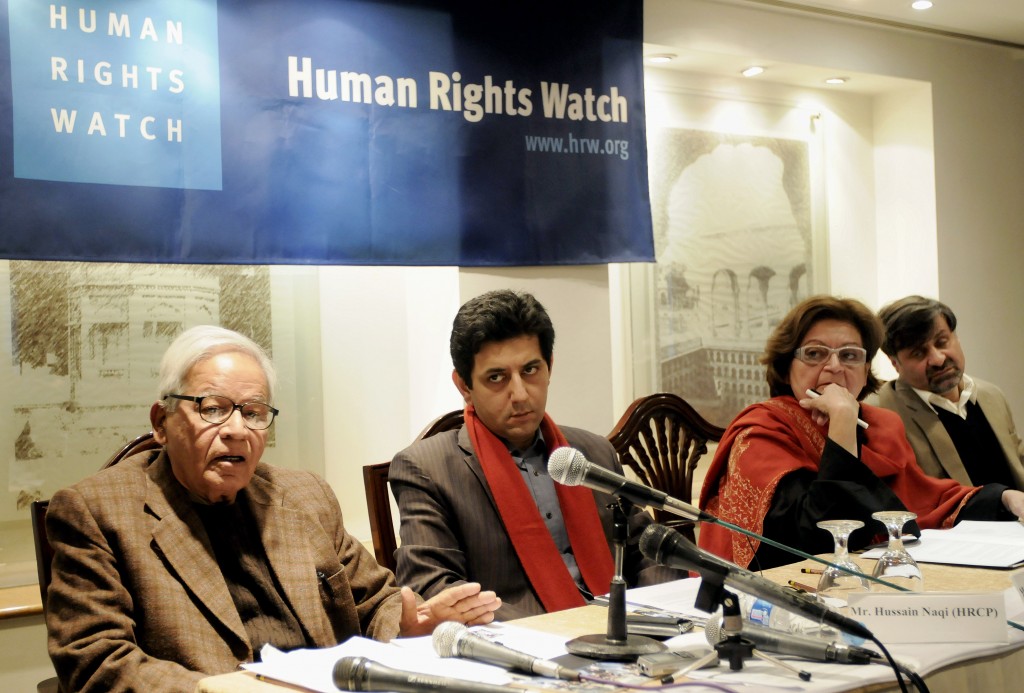 Related posts: HRW is concerned about the fear of judicial over-reach in Pakistan: Interview with Ali Dayan Hasan
AHRC appeal: DG ISI Gen Shuja Pasha must be prosecuted for hatching conspiracy against democracy
Critical readers of Pakistan's politics are aware that it is not only Pakistani generals but also their loyalists in judiciary and media (commonly known as Teen Jeem, i.e., Jenerals, Judges, Journalists) who work in a coordinated fashion to implement anti-democracy conspiracies.
Only a day ago, Jehangir Hafsi in his post on LUBP highlighted the Teen Jeem's role in the sham and loaded proceedings on the so called memogate where biased judiciary has openly sided with the military establishment in showing its contempt for the Constitution and the elected government. Mr. Hafsi prophetically wrote these lines:
In the following days, the third component (after the Generals and the Judges) of the 3-Jeem trifecta, the journalists are likely to spring into action to defend this coup-in-progress. Journalists, from both the right-wing hypernationalist Urdu Press along with their more sauve pseudo liberal and urbane counterparts from the English press, will defend the indefensible; a controversial unconstitutional order over the Constitutional rights of the parliament.
Lo and behold, we did not have to wait for too long.
The attack surely came from the third component of Pakistan military establishment's 3-jeem mafia. As expected, it came from the usual quarters, i.e., English press. In the following editorial of The News (of Jang Group), the editor's tone is clearly shaped by the tone of the ISI (Pakistan's spy agency with known influence in the media) in its criticism of Human Rights Watch's pro-constitution and pro-democracy stance.
Memogate verdict

The News, Editorial

Saturday, December 31, 2011

The Supreme Court of Pakistan has done what was largely expected and generally demanded by all parties — the petitioners, the defendants and others impleaded in the Memogate case: a high-powered judicial commission to sift truth from fiction and to put the blame where it lies, if it does. The commission ordered by the SC with three high court chief justices and with full back-up support of the administration, police and experts in forensic and criminal investigations has enough time to complete the job, basically of verifying and authenticating or rejecting the evidence submitted by US businessman Mansoor Ijaz and getting all the records of messages, emails and telephone calls from both ex-ambassador Husain Haqqani and Ijaz. This is all that the SC commission is supposed to do; there is hardly any room for criticism of what the SC has ordered. But the issue is not being taken by the government and the political establishment at its face value. There are continuous efforts to politicise, even scandalise, the case. The matter has been portrayed as a clash of institutions with the military and the ISI on one side and the elected government on the other. Husain Haqqani's lawyer, Advocate Asma Jahangir, has even complained that her client has become a sandwich between the two and could be made a sacrificial goat. A highly unexpected player to jump into the fray has been the internationally respected Human Rights Watch, which has almost blatantly accused the Supreme Court of trying to subvert the civilian rule by taking up a case which it claims does not fall in the court's domain. It is not clear why the HRW has arrogated to itself the right to decide what does and does not fall in the court's domain, but it appears that a lot of lobbying effort, and much more, has been pumped in to muster support for the 'civilians' from any willing hand.

What would have been a simple case of determining if any Pakistani hand was involved in conceiving, drafting, dispatching and following up the Mullen memo has been turned into a matter of survival for the civilian government. The ISI and the army leadership saw a challenge to national security and thus probed it, initially, to find that the matter had enough substance to merit a full inquiry. That has been turned by the civilians, God knows under what fear, into a sort of revolt against the elected leadership. The political parties saw the issue as an opportunity to capitalise upon and took it to court, which had no choice but to hear the case, especially after the army and the ISI took a strong position and found something deeply suspicious, a conspiracy against the military establishment. Now the matter has to be sorted out and it is hoped that the political set-up will extend full support including all the administrative and government muscle to get the verification of the evidence — from Canada, the UK or wherever. If roadblocks were created in the way of investigation, the suspicions of complicity would run deeper. All should let this matter be resolved in a smooth and amicable manner, and let it reach its logical conclusion. http://thenews.com.pk/TodaysPrintDetail.aspx?ID=85066&Cat=8
While we don't know who exactly wrote the above editorial, we know for sure that Mir Shakeel-ur-Rehman is the Editor-in-Chief of The News, Shaheen Sehbai is the Group Editor and Ansar Abbasi is the Investigative Editor. We also know that Najam Sethi (former caretaker minister in Farooq Leghari's cabinet) is the political advisor of the Jang Group and Geo TV, and Beena Sarwar is affiliated with Mir Shakil as an office bearer of Jang Group's so called Aman Ki Asha project.
We hope that the above named persons will clarify their position on this unwarranted criticism of the Human Rights Watch. The News' editorial is clearly pro-military establishment and pro-judiciary in its tone. One jeem is endorsing and defending the other two jeems, does it surprise anyone? If it is is a crime to support democracy and sovereignty of an elected parliament, then HRW is indeed guilty of this crime as are other conscientious persons and organizations, e.g., Asma Jahangir, Ayaz Amir, Asian Human Rights Commission etc.
What exactly was the crime of HRW? Here's a copy of the press release published in Daily Times on 31 Dec 2011:
State institutions must act within ambit in memo case: HRW

LAHORE: The Human Rights Watch (HRW) on Friday called for all arms of the state to act within their constitutionally determined ambit and in aid of legitimize civilian rule as the memo case proceeds.

In a press release issued, the rights group said, "Justice must both be done and be seen to be done. Pakistan desperately needs a full democratic cycle and a peaceful transfer of power from one civilian administration to another. Should this process be derailed, the constitutional safeguards and legal rights protections created since 2008 may suffer irreparable damage." The group said it had long been a supporter of an independent judiciary in Pakistan and advocated for the restoration of the judiciary ousted by Musharraf in Pakistan and abroad. "But we have also expressed our concern about the fear of judicial over-reach and unwarranted intrusion into the affairs of the legislature and the executive," the group said. The press note said that HRW has noticed a tendency for the courts to find themselves embroiled in matters that they would not otherwise be an appropriate forum for, and we hope the courts will reflect on this perception. "Any perception of discriminatory treatment against one party must be speedily addressed. All parties to the memogate affair must understand that a legal dispute cannot be made the vehicle for truncating parliamentary or presidential terms through the backdoor or as a mechanism for subverting civilian rule," the group noted. It termed the memo gate as a litmus test for all actors – particularly the judiciary and the army. pr http://www.dailytimes.com.pk/default.asp?page=2011%5C12%5C31%5Cstory_31-12-2011_pg7_13
While Daily Times was neutral and objective in its publishing of the HRW's press release, Mir Shakil's The News was most biased and dishonest. This is how the HRW's press release was published in The News:
HRW jumps into memogate in controversial move

News Desk (The News)
Saturday, December 31, 2011

ISLAMABAD: The otherwise neutral and objective organisation Human Rights Watch on Friday took a highly objectionable and partisan position against the superior judiciary of Pakistan accusing the Supreme Court of indirectly "truncating parliamentary and presidential terms" and "subverting the civilian rule."

A statement of HRW said that it had noticed a tendency for the courts to find themselves embroiled in matters that they would not otherwise be an appropriate forum to consider.

Ali Dayan Hasan, the Pakistan Director of Human Rights Watch (HRW), in a statement issued after the SC verdict to set up a judicial commission in the memogate case said: "All parties to the memogate affair must understand that a legal dispute cannot be made the vehicle for truncating parliamentary or presidential terms through the backdoor or as a mechanism for subverting civilian rule."

The highly controversial HRW statement said….

http://thenews.com.pk/TodaysPrintDetail.aspx?ID=11389&Cat=13
However, The News' editorial was not an isolated piece of attack on HRW and its director Ali Dayan Hasan. There is clear evidence that Jang Group is part of an active, malicious campaign (in most likelihood designed by Pakistan's military establishment, ISI in particular) to harass HRW and other pro-democracy and pro-human rights organizations and individuals.
For example, former Chief Justice of Pakistan was approached by Ansar Abbasi's assistant Ahmad Noorani (a co-moderator of PML-N's pkpolitics.com) to retrieve extremely acontextual and critical comments about HRW and its director Ali Dayan Hasan. Justice Saeed uz Zaman Siddiqui is the same judge who had led a judicial coup against Chief Justice Sajjad Ali Shah in 1997 and later on he was a (failed) presidential candidate for the PML-N, the same party whose chief petitioned the current Supreme Court on the memogate after due consultation with General  Pasha and Mir Shakil-ur-Rahman. This is what that disgraceful judge (who received millions of rupees in bribe from Nawaz Sharif's emissary Rafiq Tarar to lead a judicial coup against Justice Sajjad Shah in 1990s) says about HRW:
Ex-chief justice raps HRW for interfering with SC

Saturday, December 31, 2011 (The News)

ISLAMABAD: Former Chief Justice of Pakistan Saeed-ul-Zaman Siddiqui has strongly criticised what he called an attack on the integrity of Pakistan's state institutions like the superior judiciary by a foreign organisation working in Pakistan under the cover of human rights, writes Ahmad Noorani.

"No one can be allowed to attack the sanctity and integrity of the state institutions or scandalise them," he told The News while reacting to the controversial statement issued by the Human Rights Watch (HRW) criticising the SC verdict in the memogate case on Friday.

Justice Siddiqui said that the sentences used in the press release are a direct intervention into the internal affairs of Pakistan and no such organisation could be allowed to extend its comments to this level.

He said that Supreme Court should take immediate notice of such dirty attacks and that too by a foreign American-funded organisation. The HRW Pakistan Friday issued a highly contemptuous press release minutes after the announcement of judgment in memo case, apparently backed by the PPP government, attacking national institutions, judiciary and army and alleged that there is a perception that judiciary is discriminating against the civilian government.

The human rights organisation having its headquarters in New York directly maligned the institution of judiciary over a case which is still under hearing of the Supreme Court. Referring to memo case, the press release of HRW "instructed" the Supreme Court that "justice must both be done and be seen to be done."

Again while referring to memogate, HRW advised the apex court that "legal dispute cannot be made the vehicle for truncating parliamentary or presidential terms through the backdoor or as a mechanism for subverting civilian rule." It further says, "In a sense 'memogate' is a litmus test for all actors – particularly the judiciary and the army."

While a nine-member bench of the Supreme Court heard arguments from both sides and declared unanimously that the issue of memo is maintainable for hearing and the apex court is the right forum for its hearing, the HRW taunts the apex court by declaring: "HRW has noticed a tendency for the courts to find themselves embroiled in matters that they would not otherwise be an appropriate forum for, and we hope the courts will reflect on this perception."

Clearly a direct intervention into internal issues of Pakistan and especially on an issue subjudice before the Supreme Court of Pakistan, the American-based organisation has simply attempted to malign the state institutions, legal experts said.

In a situation when the person who is alleged to be the central character of the whole memo issue, Husain Haqqani, has said that he has no problems with any inquiry or investigations, HRW, became furious and blasted the apex court minutes after the judgement on memo case was announced.

Ali Dayan Hasan, Pakistan Director of HRW, who issued this press release, while talking to The News denied having met President Zardari or any of his lieutenants during last few days.

"No one from the government approached me to issue this press release and it was issued by my organisation considering the fears and threats to constitution, democracy and human rights in Pakistan," Dayan said.

The News has reliably learnt that Dayan has close links and has been meeting with top men of the present regime. It was also being said that he had issued this press release on directions of the federal government. Dayan strongly denies both these contentions.

http://thenews.com.pk/TodaysPrintDetail.aspx?ID=11390&Cat=13
Not may know that Ahmad Noorani, the News correspondent tasked by Jang and ISI to attack HRW is a former affiliate of Sipah-e-Sahaba, a case was registered against him in April 2000: http://www.scribd.com/doc/18788799/Sectarian-Case
Ahmad Noorani is a junior assistant of The News' investigative editor, Ansar Abbasi (who is known for his links with the ISI and the ISI-backed judges). Not unlike the Harvard educated Jamaatia homophobe, Ahmad Noorani too is a co-moderator of ISI's website pkpolitics.com): http://mohtasib.wordpress.com/2009/08/29/the-illegitimate-relationship-between-ansar-abbasi-ahmed-noorani-and-pkpolitics/
Outcomes
The intended outcomes of the military establishment/ Jang Group's campaign against HRW are as follows:
1. To harass the HRW and other human rights activists and organizations to stop them from supporting the democratic government and the sovereignity of an elected parliament;
2. To defame and discredit the neutrality and objectivity of HRW and other human rights groups;
3. To create a culture of silence on military establishment and judiciary's excesses against democracy;
4. To pre-empt any criticism of the forthcoming judicial coup against the elected government on the behest of the military establishment;
5. To add to existing xenophobia against the USA and foreign-based NGOs.
Example: Here are a few examples of hate comments posted on The News website by various affiliates and apologists of Pakistan's military establishment:

Reader Comments
the reaction of this so called HRW has made it clear that these so called HRW is the enemy of Pakistan, their object is to protect the interest of infidels countries and defame only Pakistan. this HRW never spoke for the rights of the muslims any where in the world. US & india has massacred millions of muslims but this HRW never condemned.

Fakir Hussain Rana
Pakistan
http://thenews.com.pk/TodaysPrintDetail.aspx?ID=11389&Cat=13

HRW sponsors anti establishment /anti Pakistan forces in our country and all 3rd world countries not towing the lines of international players. Asma must have sought help of HRW to pressurise apex court which she always does to meet her own vested interests. This time HRW stance has been given any heed by the Court and media.

sajjad
Pakistan
http://thenews.com.pk/TodaysPrintDetail.aspx?ID=85066&Cat=8

This is how this American institutions interfere in other countries affairs and then claim to representing people, who has given them the mandate to represent people of Pakistan. We should remember what these NGOs did in Sri Lanka and as soon as they were asked to retreat, Sri Lankan army over powered tamils tigers. We should be wary of them.

Masud
Pakistan
http://thenews.com.pk/TodaysPrintDetail.aspx?ID=11390&Cat=13
We demand:
1. Jang Group's Editor-in-Chief Mir Shakeel and his senior employees and advisors must offer an unconditional apology to the HRW and refrain from further harassment of HRW's officials;
2. Jang Group must refrain from supporting Pakistani generals and pro-general judges in their designs against democracy;
3. Pakistan army, in particular ISI, must clarify its position on the harassment of HRW and other human rights groups and activists. Given that Pakistan's elected government is unable to protect its own leaders (Governor Taseer, Shahbaz Bhatti etc) from ISI-sponsored Jihado-sectarian terrorist, we demand Pakistan army to make adequate security arrangements for officials of HRW and other human rights organizations;
4. Pakistan army must publicize, without any further delay, the results of its investigation into Saleem Shahzad's murder case in which Ali Dayan Hasan of HRW was an important witness.
We condemn ill-motivated attacks on HRW by ISI-backed journalists in Pakistani media, particularly the Jang Group.
We condemn Teen Jeem's (i.e., generals and their loyalist judges and journalists) conspiracy against an elected government.
We commend HRW's principled stance on the memogate and the judicial over-reach into the parliament's domain.
We support @humanrightsasia (Asian Human Rights) and Ali Dayan Hasan's (HRW) principled stance on the sovereignty of elected parliament.
We request all journalists and bloggers to condemn harassment of Asian Human Rights Commission, HRW, Asma Jahangir by the ISI-backed journalists.
Pakistani generals are responsible for the ongoing massacres of the Baloch, Pashtun, Shia, Ahmadi, Christian and other oppressed people. We urge all human rights groups and activists to registers legal cases against Pakistani generals and pro-army judges in all countries across the world.
We hope that Mir Shakeel-ur-Rehman's political advisor Najam Sethi will condemn Jang Group's unwarranted attack on HRW. We also hope that another Jang group's affiliate Beena Sarwar and other senior affiliates of Mir Shakil will condemn their boss's campaign against HRW.