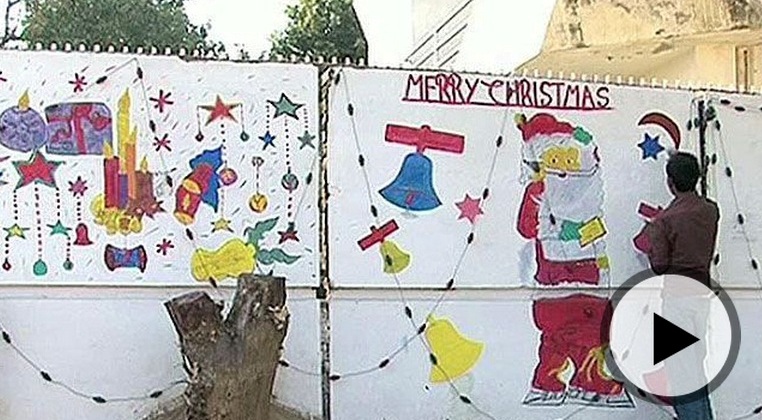 ISLAMABAD – In one of Pakistan's poorest neighborhoods Christmas lights are going up while artists paint holiday scenes on concrete walls. The decorations do little to mask the trash and sewage that litter the ground.
"Life is tough here," complains Stefan, a 30-year old Christian from one of Islamabad's largest Christian slums.
As Christmas nears, Pakistan's roughly three million Christians are preparing for the birth of Jesus after one of their most difficult years ever.
"People are jobless. We are in trouble," said Stefan who says as security has worsened in Pakistan, many NGOs have left the country –leaving many Pakistani Christians unemployed.
Christians, who make up roughly one percent of the Pakistan's 170 million people, have long been a poor and a marginalized community.
In recent months though life has become more difficult. [Carefully manufactured by Pakistan army and its Jihado-sectarian proxies] As anti-Americanism has spread, Pakistani Christians have been harassed and persecuted by religious extremist [ISI-backed Lashkar-e-Jhangvi, Sipah-e-Sahaba terrorists] who associate them with American and blame them for the US drone strikes.
With every new Pakistani American quarrel, Christians feel more and more alienated from their country.
"Christians are facing more challenges as compared to the Muslims in Pakistan," explains Saleem Safi, a Pakistan journalist and author.
At times the abuse has turned violent. In March the Taliban shot and killed Pakistan's Minister for Minorities, Shabaz Bhatti, a popular Christian political leader [a central leader of Pakistan Peoples Party, whose various leaders have been killed by Pakistan army and proxies in the last three decades].
Still despite the challenges [not unlike Pakistan's Shia Muslims, Ahmadi Muslims, Hindus and other oppressed groups], Pakistanis Christians have proved to be a resilient community and as Christmas nears they refuse to allow their problems to ruin one of Christianity's most important days.
"Yeah there are lots of problems," Imran. "But we forget all that when Christmas comes. We forget all that."
http://youtu.be/HqR3cWPj01U