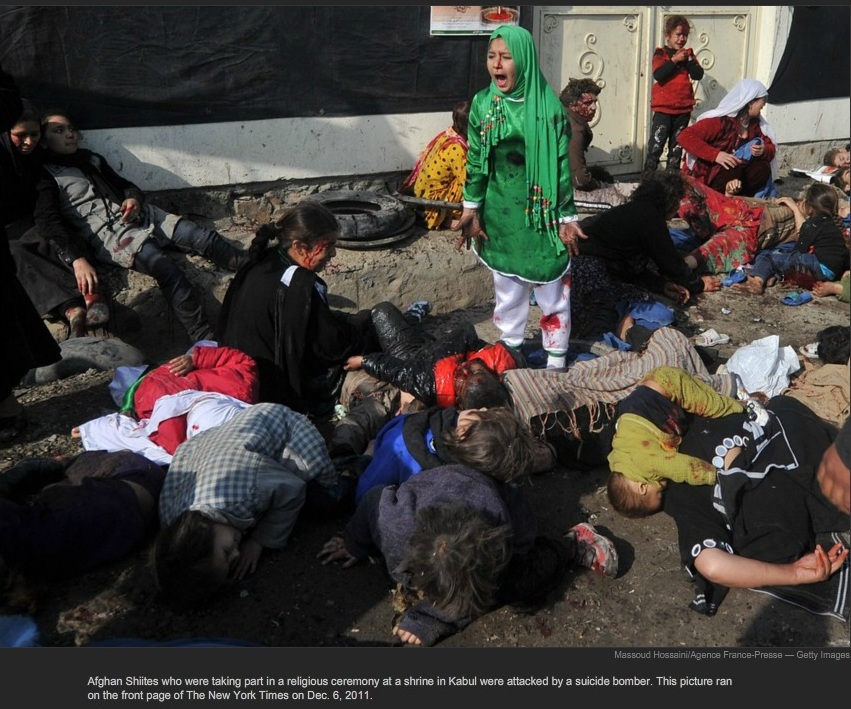 A number of well coordinated attacks clearly targeting Shia Muslims in Kabul, Mazar-e-Sharif and Kandahar have killed at least 58 Shias in Afghanistan. A Pakistani anti-Shia group Lashkar-e-Jhangvi has accepted the responsibility of the attacks. (Source)
A spokesman for an Pakistani extremist group called Lashkar-e-Jhangvi al Almi claimed responsibility in a phone call to Radio Mashaal – a Pashto language radio station. Lashkar-e-Jhangvi, (LeJ) is a murderous anti-Shia group founded which acts act as surrogate for Taliban and al-Qaida. The Pakistani Taliban has its roots in anti-Shia violence, and LeJ acted as the training ground for its leader, Hakimullah Mehsud. LeJ maintained training camps in Afghanistan under the Taliban regime but has not mounted attacks in Afghanistan in recent years. The group is believed to be supported by Pakistan's spy agency, ISI. The group also claimed responsibility for the massacre of 29 Shia pilgrims on a bus in Pakistan's Baluchistan province in September, and an attack on an Ashura procession in Karachi in 2009 which killed 30 people. Earlier this year, the Pakistani courts freed Malik Ishaq, one of LeJ's founders. Ishaq had faced dozens of murder charges but the courts said there was lack of evidence – his group had allegedly killed numerous witnesses who may have testified against him. (Source)
LeJ is one of several aliases of the Sipah-e-Sahaba Pakistan (SSP) or Ahl-e-Sunnat-Wal-Jamat (ASWJ), a group with known links with Pakistan's military establishment. Recently, its chief Malik Ishaq, a confessed killer of more than 70 Shia Muslims, was released by Pakistan ISI-backed judiciary. According to a recent statement by Human Rights Watch "Some Sunni extremist groups are known to have links to the Pakistani military and its intelligence agencies." It is, however,  a fact that LeJ-SSP does not represent majority of moderate Sunni Muslims. In fact, it represents its Saudi-ISI masters.
The attacks on Afghanistan's Shia Muslims mourning Imam Hussain highlight the terrifying vision of Pakistan's foreign policy elite who favour a return to Taliban rule in Afghanistan,  as per the recommendations of the USIP-Jinnah Institute report.  Towards this end, the ISI has undermined the elected government by first entrapping Hussain Haqqani and forcing a replacement with the more plaint, Sherry Rehman of the Jinnah Institute.
The undermining of the PPP government by pro-Taliban policians like Imran Khan (PTI) and Nawaz Sharif (PML N) has been facilitated by a politically-biased Judiciary which has also done its best to release Lashkar-e-Jhangvi mass murderers.  These developments are carefully caliberated to ensure that the security establishment's goal of "Strategic Depth" is revived and those who disagree with the Taliban are removed from the scene.  The recent boycott of the Bonn Conference (widely believed to have been dictated by the security establishment) is also linked to the attacks on Shia muslim mourners in Afghanistan.
Furthermore, contrary to Pakistan pro-establishment media, the mass murder of Shias is NOT a sectarian conflict. The tragic attacks on Shia mourners of Imam Hussain, the Holy Prophet's grand-son, in Iraq, Pakistan and Afghanistan are part of an ideology whose manifesto is very clear as per this letter of the Lashkar-e-Jhangvi.
Operating under different names such as Lashkar-e-Jhangvi, Sipah-e-Sahaba, Taliban, Jaish-e-Mohammad, Jundullah, these terrorists share a common ideology as well as logistical patronage and financial support.  Mercenaries move freely from one group to another and this nexus is responsible for not just the mass murder of Shia muslims.  The same groups also target Ahmedi Muslims, Sunni Muslims (both Barelvis and anti-Taliban Deobandis) and Christains.
In the deadliest incident today (Ashura 2011), a suspected suicide bomb struck a shrine packed with Shia mourners of Ashura in the capital, Kabul, killing at least 54 people. Another blast struck near a Shia mosque the northern city of Mazar-i-Sharif at about the same time, killing four. A third attack on Shia Muslims was reported in Kandahar in which five persons were injured.
Ashura is the climax of Muharram, the month of mourning for the martyrdom of the Prophet Muhammad's grandson. The event is celebrated by Shia and Sunnis with respect and devotion to the family of the Prophet Muhammad. However, Saudi Salafis/ Wahhabis and the Saudi-ISI affected extremist Deobandis in Pakistan and elsewhere consider the Ashura event as un-Islamic.
Though Taliban have in the past massacred Afghan Shias in Mazar-e-Sharif and Bamiyan, there is not much precedence of such attack on Shia Muslims' Ashura gathering in Afghanistan. Therefore, the current attack has all the hallmarks of similar attacks by ISI-SCP backed LeJ-SSP terrorists on Shia Muslims in Pakistan. Taliban's Haqqani Network has close links with SSP-LeJ, both groups are currently besieging Toori Shias of Parachinar with the help of Pakistan's ISI.
Afghan President Hamid Karzai spoke of the unprecedented nature of the attack, saying it was "the first time that, on such an important religious day in Afghanistan, terrorism of that horrible nature is taking place".
The near-simultaneous explosions happened at about midday (07:30 GMT). In Kabul, the bomb went off near a gathering of hundreds of Shias singing at the Abu Fazal shrine. Fifty-four people were killed in the blast, said health ministry spokesman Norughli Kargar, while 150 were injured. The bomb which exploded near the main mosque in Mazar-i-Sharif was apparently strapped to a bicycle, and went off shortly after the Kabul blast. Balkh province Deputy Police Chief Abdul Raouf Taj said the device exploded as a convoy of Shias, shouting in celebration of Ashura, passed by, AP reported. At least 4 Shias were killed and 20 were injured. Elsewhere, police said at least three people were wounded by a motorcycle bomb in the southern city of Kandahar, the Taliban's heartland.
The attacks come a day after an international conference on Afghanistan's future was held, in the German city of Bonn. Pakistan boycotted the conference, after a Nato attack killed 24 of its troops at a checkpoint near the Afghan border last month.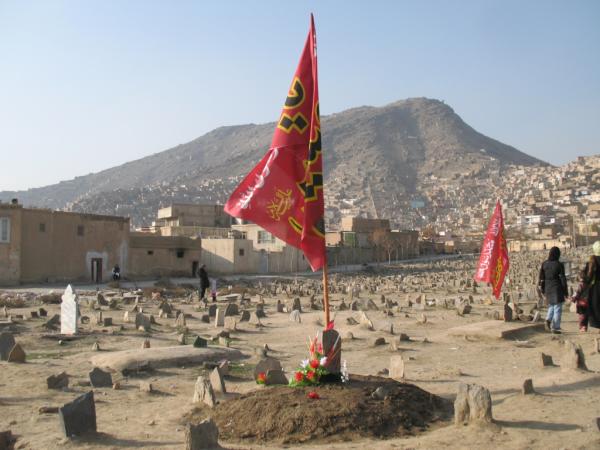 Sources:
http://www.bbc.co.uk/news/world-asia-16046079
http://www.bbc.co.uk/urdu/world/2011/12/111206_afghan_blast_ar.shtml
http://www.nytimes.com/2011/12/07/world/asia/suicide-bombers-attack-shiite-worshipers-in-afghanistan.html?_r=2&hp