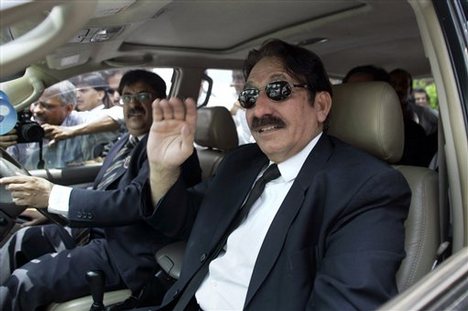 Dear Chief Justice of Nawaz Sharif, Jang/Geo Group and all those who hate to see democracy in Pakistan,
I hope that you have some sense of seriousness in yourself. Some writers have begun terming you a "monumental failure" for you chose to take a difficult path for your self restoration but then made a hash of the opportunity that was handed over to you. You have played to the galleries just to earn brownie points from all democracy and PPP haters and done everything in your capability to side with those who have left no stone unturned to make Pakistan a sorry state. You have sided with the right wingers in politics and media and openly given refuge to the terrorists who are wreaking havoc with the country. You have been one sided in trying to give yourself a heroic stature and ridicule anyone who could have been in your way.
But as they say, "Sayyana Kawwa, Guu Khaye", you are doing everything to make the proverb true on yourself. There is a long list to give for your inactions  and misactions, but your judgment on a Mian Nawaz Sharif and PML-N led constitution petition in relation to the "memogate" is nothing but laughable and ridiculous at best. You have quoted in your judgment "The News" as a credible source and also not been honest that the issue was first raised by none other than Imran Khan in his jalsa on 30th October in Lahore possibly at the behest of people whom you are going to use for bringing your godfather, Nawaz Sharif back to the throne.
Also you are not disputing the reports related to Husain Haqqani's resignation which were aired on the media and are quoting media reports verbatim but later on you and your learned bench members say  that "We are told that the Prime Minister of Pakistan has also announced that the Parliamentary Committee on National Security will probe into the matter. We do not know the mandate of the Committee. However, we have been informed that as far as this Committee is concerned, it has no constitutional backing, i.e. it has not been constituted under any provision of the Constitution." Can one dare to ask you that while you asked the Attorney General present if he was against the probe or not, but you nor any of the "learned" judges could ask him about what the Parliamentary Committee would do and under what clauses of the constitution it has been established?
Reading about quoting Article 5 and Article 6 of the constitution being quoted by the court is nothing but a sick joke on the people of Pakistan. weren't you one of the judges that gave Pervez Musharraf three years to set things in order? In my opinion, you aided and abetted a military takeover, shouldn't you be tried under the Article 6 of the Constitution?
Also it is most funny tp read in detail how much you care about the emoluments and TA/DA that will be accorded to your and your godfather Mian Nawaz Sharif's blue eyed boy,  Tariq Khosa. You didn't mention that he be paid unlimited fuel and his traveling be in first class and stay at minimum 5 star hotels having rack rates of USD 500 a night with breakfast and dinner covered. You are ordering such things, why doesn't the Supreme Court bear these expenses? This is called "Halwai kee dukaan pay, dada jee kee fateha!!!"
And please do a little fact checking than just giving an order: the person you should have cited in your order was "James Jones" and not "James John" mentioned thrice (point 1 and point 6) in your order. And by the way, your another blue eyed supporter i.e. The News has corrected the mistake in their report calling him "James Jones". Please get Mohamed Mallick or Ansar Abbasi to proof read your orders.
Thank you,
An Aggrieved Pakistani