It seems the Pakistani politics and the powers in the background still rely on the proverbial "masala formula" followed by Bollywood and Lollywood movies. The "masala formula" of Pakistani politics involves two main political parties along with a few who want to be in the big league, have the Pakistan Army that plays the role of a disapproving family head and the ISI as the villain that tries to create storms and create alliances and uses the media for propaganda purposes. Other institutions that also have a starring role is that of a judiciary that provides entertainment ala Johnny Lever or Ismail Tara style. The formula worked at least four times in 1990s and with a little bit of changes, it did deliver the goods in the first decade of the 21st Century. The success of Pakistani politics "masala formula" was not that all lived happily ever after, but that the politics moved from one pole to another with not many ends being achieved.
Things are not the same anymore. One should give credit to the slowly but increasing maturity of the main political parties in the country i.e. PPP, PML-N, MQM and ANP and also to General Pervez Musharraf who did at least three things right: hold elections in 2002 on time (at the culmination of 3 year period by SC), allow for the parliament to complete one full term even though we saw three prime ministers in office and then also hold the 2008 elections on schedule. With one parliament completing its full term, and another almost four years into its term, we are seeing a major shift in attitude. At least the politicians are realizing that completing terms isn't bad, in fact it is good. It gives you a moral high ground and you can ask for reciprocity from other parties in the pool. If this parliament completes its term (InshaAllah), our belief in the adage  "Winning once is a fluke, Winning twice is a streak", will get stronger. The parliament needs to win. Parliament wins, democracy wins.
In our opinion, there are two groups which are not understanding this changing reality and we don't blame them because they stand to be the losers because of this change. We are talking about our dearest ISI and the Media.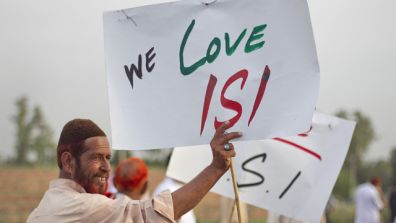 The notorious ISI comprises of proverbial "Smart Alec(s)". They think of themselves to be very smart and intelligent, which unfortunately, they aren't. 2011, has been a manifest year of their smart and intelligent operations.  From security lapses that have led to killings of important political personalities like Salmaan Taseer and Shahbaz Bhatti to the Raymond Davis Saga to the mother of all lapses Osama Bin Laden operation in Abbottabad to the Mehran Base capture, to humiliation from a local government in China that blamed Pakistan for terrorism in restive town of Kashgar,  the list just doesn't end. On top of this, our ISI organizes demonstrations with placards like "ISI is the best agency in the world", "We love Pak Army and ISI" and uses their influence in the media to face-save themselves. Realizing that their smartness and intelligence is too much for their own liking, they revert back to what they are doing best. Creating discontent in the political system. From building up a paper tiger in the form of Imran Khan  to creating discontent in parties ranks, this is what ISI does best. The recent Husain Haqqani-Mansoor Ijaz Saga is yet another manifestation of the intelligence of our ISI. They are using a bigger and well documented foe (Mansoor Ijaz) to get rid of a lesser and under control adversary (Husain Haqqani). A lot has been written about this issue, so we don't want to waste our time further. The reason why it would stand to lose from the continuation of the system and completion of terms would be the dilution of their influence. If everyone starts waiting for "Saadi baari" and is content with the electoral system and its results, then how will they create discontent?
The media is in our opinion a bigger evil! It comprises of "nadaan dosts", who have no clue about the realities of a changing world and still rely on using slander and sensationalism for their popularity and eventual blackmail. Though it can't be proven, but the media's rank and file does comprise of people who toe the line of the ISI. The modus operandi is simple: get leads from the ISI, create propaganda and then create discontent. The Media Military Alliance is at times more dangerous than the Mullah Military Alliance. We also believe that continuation of the system and completion of parliamentary terms will help in diluting the media's influence in Pakistani politics. All through 1990's and between 2007 and 2009, they were the king makers and breakers. Remember Kamran Khan was the most influential "Investigative Journalist" in the 1990's? Shaheen Sehbai's pieces were most read. Mujeeb ur Rehman Shami's columns were read by opinion makers and made case against the political class. If this parliament completes its term and the daily painted doomsday scenario doesn't arrive, who will then believe them. This is the biggest fear facing our media. One never knows, they may even resort to an "aayat-e-kareema khatam" to get rid of this parliamentary system.
Though a lot of people are talking about change, it is wishful thinking rather than objective analysis. Any change that comes in on the back of ISI and Media circus is no change at all. People also have to realize that the times have changed. We are no more in the 1990's. The people have much more access to information and propaganda can be seen through. If the current parliament completes its term in 2013, we shall be inclined to write a detailed"Obituary of the Media-Military Alliance". Look for this space in the end of 2013.