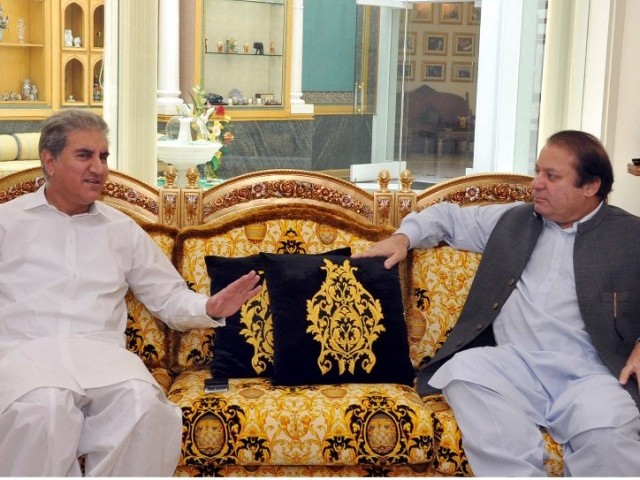 Shah Mahmood Qureshi who recently resigned as an MNA and a member of the CEC of the Pakistan Peoples Party after having been overlooked for the position of Foreign Minister of Pakistan is keeping two political parties of tenterhooks and giving impetus to the right wing media to speculate what will be the impact of his movement on the fate of Punjab and Pakistan's politics. Come 27th November, 2011, he will apparently conquer district Ghotki where he will address a crowd of "millions" and announce his future course of action.
The Pakistan Tehreek-e-Insaf is already feeling cheated after no less than Imran Khan announced on a TV channel that Shah Mahmood Qureshi will be joining his party. Later on the statement turned into Imran Khan's "hope" that Shah Mahmood Qureshi will be joining his party. Shah Mahmood Qureshi who is a smart operator has kept his options open and decided to check on his chances with PML-N and has met Mian Nawaz Sharif in their Raiwind mansion on 22nd November, 2011.
We all know where Imran Khan is getting all his impetus and strings moved, but Mian Nawaz Sharif has to be careful and choose between a steadfast friend and a solo flying opportunist. The steadfast friend is Makhdoom Javed Hashmi and a solo flying opportunist is none other than Shah Mahmood Qureshi. It is a known fact that both compete against each other in the political and the sajada-nasheen space in Multan and are bitter foes. In the 2002 Elections, from their seat in Multan NA-148, Shah Mahmood Qureshi polled 76,606 votes while Javed Hashmi got 44,905 votes. In the 2008 elections, contesting from the same seat, Shah Mahmood Qureshi polled 83,184 votes while Javed Hashmi got 24,578 votes. Going back in time, Shah Mahmood Qureshi won against Javed Hashmi in the 1993 elections, whereas Javed Hashmi beat Shah Mahmood Qureshi in the 1997 elections.
Their animosity is such that when the PPP and PML-N were the combined opposition in the 2002 Assemly from the platform of Alliance for Restoration of Democracy and in the absence of Makhdoom Amin Fahim if Javed Hashmi would chair the meetings of the parliamentary parties, Shah Mahmood Qureshi would not attend the meetings.
It is quite likely, that the animosity will continue between the two of them. Their hatred for each other is based on politics (not principles) and resources! Would Javed Hashmi accept Shah Mahmood Qureshi's joining the PML-N or he will go out, only time will tell. Mian Nawaz Sharif stands to lose big time if he accepts Shah Mahmood Qureshi in the PML-N fold as he may lose a steadfast friend and a real political worker in the form of Javed Hashmi.
Mian Sahab, be careful who you choose!