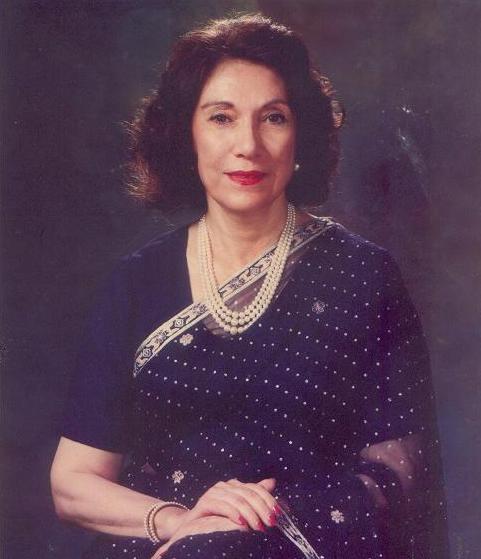 Once again black clouds of sorrow have covered us… Ah! Another doleful moment for Pakistan and political history!! Another chapter of history has been closed… Yeah! The former first lady of Pakistan "Begum Nusrat Bhutto" has been departed…A true lady to the end, the widow of a martyr and the mother of martyrs. The series of memories is spilling from heart via tears. This is another mournful departure from Bhutto family.
A French author has quoted, "One is not born a woman, one becomes one." It won't be wrong if I dedicate this quote to late Begum Bhutto, who is not only recognized as the widow of Pakistan's former Prime Minister Shaheed Zulfiqar Ali Bhutto but also as the first Pakistani lady to speak out for the fundamental rights of women.
She was the one iconic lady who performed as a political hostess along with her husband in golden times. But time never comforts anyone for long… evil eyes snatched her husband and left her in such deep darkness from where she couldn't pay out easily. She faced that unbearable stress along with her innocent children "Benazir, Murtaza, Shahnawaz and Sanam", who were not only innocent but under age too. But it was not the end of Bhutto legacy; it was the beginning/commence, the new rise of the sun of a democratic struggle.
Despite being woman, she challenged herself to fight against evils, she dared to cut the ropes of society and rushed forward to defeat envelops of dictatorship. In 1979, after the execution of Shaheed Bhutto, she was named as successor and led the strongest campaign against a brutal dictator Zia-ul-Haq's regime.
She was been assaulted physically by police numerous times but yet she didn't stop, didn't led down her husband and fought with dictatorship till her last breath. Being a secular-socialist, she contributed to form a major alliance,"The movement for the restoration of democracy (MRD)".
MRD in Sindh was a spontaneous national movement against the injustices due to ill federalism in Pakistan against Sindh.
The judicial murder of Zulfiqar Ali Bhutto became a reason of animosity between the military and civilians in Sindh and rest of Pakistan.
Begum Bhutto served as a prominent leader of MRD. This was the time when Shaheed Bhutto's widow proved herself as an audacious woman and this movement would always remind people about the most courageous/dauntless and selfless female leader of history. She proved herself as Bhutto's successor and strengthened Pakistan people's party.
She stood firmly along with her daughter 'Benazir', trained her and then made her able to put forward and affirm Shaheed Bhutto's legacy. While leading the biggest political party and the biggest platform for "awam", she became more assertive, persuasive and found to be more empathetic and flexible female leader.
Begum Nusrat Bhutto was an "awami leader", she used to handle the PPP 'kaarkuns' not as a politician but as a mother. That is why all the kaarkuns are mourning her death not as workers but as children. Begum Bhutto lost her life partner and sacrificed two young sons but yet she didn't lose her inimitable and peerless courage to defeat evils.
But working day and night selflessly – along with such pain, she lost her health and got so sick mentally + physically that four years ago she couldn't even know about the loss of her heroic child Benazir Bhutto.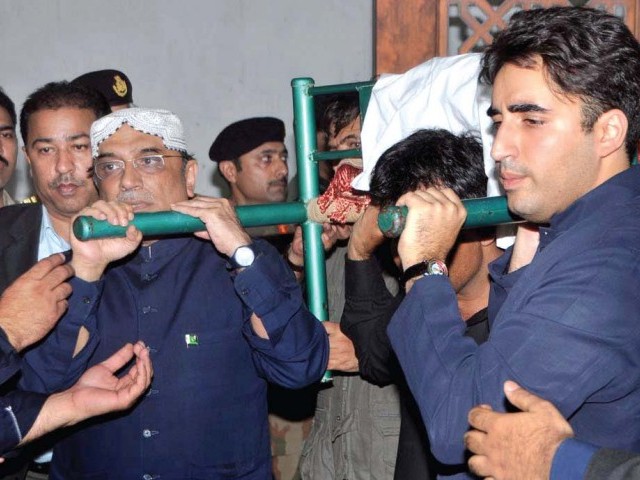 Apart from politics, she was a loving wife, a devoted mother and an affectionate grand mother too. Personally I consider 23rd Oct; 2011 as a mournful day, felt like my own grandmother had gone. My heart split into two when I saw her young grandson Bilawal Bhutto Zardari putting down her dead body into the grave. The sorrow, the grief of losing an incomparable elder could be seen on the face of Bilawal and Begum Bhutto's son in law President Asif Ali Zardari who used to give her the status of a mother and a martyr. My heart falls down when I remember Sanam Bhutto, who had seen the dead bodies of each and every family member. My heart torments when I see Bakhtawar and Aseefa paying visit to Garhi Khuda Baksh and finding there another grave.
While paying tribute to Begum Bhutto, President said.

"When we talk about reconciliation today, in fact, it was Begum Nusrat Bhutto, who pioneered it by bringing together the country's political forces, even those who were adversaries of Shaheed Zulfiqar Ali Bhutto, at the platform of MRD."
Another rich tribute was paid by Bilawal; he said

"When I remember her as a grandmother among all the affection and love she gave us, I recall also her pain as a mother and wife who saw so many members of her family cut down in their prime."
This was the departure of an illustrious grandmother. She was a great lady who had always been thinking of others, while in such affliction.
The political history of Begum Bhutto has been one of relentless struggle to restore democracy. Somewhere out in this audience may even be someone who will one day follow Begum Bhutto's footsteps.
Memory will never fade down; she would always be remembered by us as "Madr-e-Jamhooriat" (The Mother of Democracy). We would follow her footsteps selflessly under the slogan of Madr-e-Jamhooriat;
'ye baazi khoon ki baazi hai ye baazi tum he haaro gey, har ghar se Bhutto niklay ga tum kitnay Bhutto maaro gey'.
We pay her tribute for her imitating struggle and unmatched sacrifices for democracy.
Begum Sahiba will always rule the hearts of people! May she rest in peace…
Jiye Bhutto – Sada Jiye
Regards,
Maleeha Manzoor.