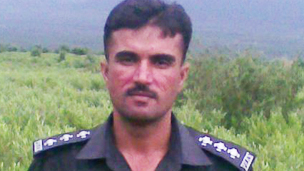 Cross-posted from Pakistan Blogzine
You will not be mourned.
Right wingers hate you because of your operations against the soldiers of Islam (TTP, LeJ, SSP etc).
Urban liberal elites (aka fake liberals) do not consider you worthy of much attention because you are neither urban nor elite. Of course, you are neither a Punjabi, nor an Urdu speaking. You are only a demented Pashtun whose only utility is to serve as a willing partner and tool of the Deep State. You chose a different path and, therefore, opted for your own death.
For the Deep State, you were no more than a worthy collateral damage, someone who was 'foolishly' hurting Pakistan's interests by eliminating the Deep State's best assets.
Ajmeer Shah, you will not be mourned.
No articles will be written on you in Pakistan's English and Urdu media.
International media will keep publishing articles promoting Sherry Rehman, Najam Sethi and Shehrbano Taseer. You have no dedicated network of urban-centric journalists promoting your valuable services to Pakistan or human rights.
No vigils will be organized for you by NGOs and 'civil society' activists.
PPP and ANP leaders will keep serving their own economic and political interests while religiously parroting the Deep State's narratives on Haqqanis and Taliban.
Yet, we the ordinary, oppressed, silent, ridiculed, ignored, 180 million Pakistanis salute you. It is you and other honest police officers who have sacrificed everything to save Pakistan from Islamo-fascists assets of a ruthless military state.
May Allah shower His blessings upon your soul.
May Allah bless your mentor Safwat Ghayur (shaheed) and other daring police officers who are fighting a lost battle against a ruthless military state and its holy warriors.
Brief biography
Hailing from Shabqadr village of district Nowshera, Station House Officer (SHO) Ajmir Shah was on Taliban's hit list after conducting several successful operations in which several prominent militants commanders were either killed or arrested. He had also foiled many terror plots. The SHO had been receiving threats from the militants and had survived several attempts on his life. A suicide bomber killed him in Bara Banda area of Risalpur on Friday 28 Oct 2011. His murder is seen as Taliban's reaction to avenge the capture of their commander Jannut Gul in which Shah played a key role. He also led an operation which resulted in killing of Qari Abdul Basit of LeJ-TTP. For his gallantry, Shah had also received Pride of Performance Award from the President. (Source).

Police Inspector Ajmeer Shah had reportedly infiltrated the ranks of the militants by disguising as a militant and spending time with them some years ago in Mohmand Agency. Celebrated police officer Safwat Ghayur (a loyal supporter of PPP during his student days), who was a mentor to Ajmeer Shah, is said to have encouraged him to undertake the adventure. Safwat Ghayur too was a daring cop and was known to go after criminals and militants. He too took risks and was finally martyred in a suicide bombing while serving as Commandant, Frontier Constabulary. (Source)

It has been reported that the 36-year old Ajmeer Shah wasn't willing to get married as he used to say that he won't be able to live long due to the countless risks to his life. But his parent in his native Charsadda finally prevailed upon him and arranged his marriage recently. Ajmeer Shah was right and now a young widow and old parents are left to mourn his death. (Source)