Related post: Imran Khan's Lahore rally offers no hope to Pakistan's religious and ethnic minority groups
Tomorrow is the DAWN that Faiz Ahmed Faiz, the Islamic Leftist poet used to refer to. Tommorow is the day that the champion of Islamic Welfare Theo-Democracy Caliphate, Hazrat Imran Khan will march in Lahore itself and change the established order. Tomorrow, he will fulfil the dreams of the poor and oppressed Pakistan army which has been especially downtrodden by the Bhutto-Zardari dynasty that has ruled Pakistan since its inception!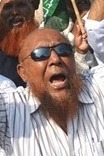 At the point, one must salute our brave comrade, General Pasha, of the underground revolutionary organization, the ISI, for rallying the support for Hazrat Imran Khan.
I also want to take this opportunity to crush the rumour that Rs. 250 has been paid per attendee. That is wrong, the actual figure is Rs. 300.  Mr. Najam Sethi was kind enough to point out that Imran Khan is NOT corrupt. Here are his tweets:
najamsethi Najam Sethi
IK is NOT corrupt. Don't misunderstand me. Funds for flood relief are lying in bank for one year. Shouldn't the poor get them?

najamsethi Najam Sethi
FACT: Public donated Rs 3 bn to Imran's "flood relief fund". Qs: How much was spent? On what? Where is balance? Public has a right to know.
Mr. Sethi, the Rs.300 per attendee  IS  for the FLOOD victims. It will bring a FLOOD of people to the Imran Khan rally tommorrow. Hazrat Imran Khan has to do this. He has to pay cash for his attendance because unlike the CIA-RAW-Mossad-Rafizi Bhuttos who practice Hindu black magic for their rallies, Imran Khan is still nearly a man.
Nearly.  After all, one must never forget that he single-handedly conquered the Vikings in Valhalla or the World Cup in Melbourne as it is known to you, the human race.
While we are on this subject, I would like to crush the silly concerns raised in this article just like Imran Khan, Irfan Siddiqui and Hamid Mir crushed Professor Hoodbhoy in this interview on Capital Talk:
The article says "In impressive crowds, one could see Jamat Ud Dawa, Sipah Sahaba and JUI-S supporters and flags. That makes us all the more skeptical of whom he is supporting and getting support from. Imran Khan has announced stopping Nato supplies from Karachi on 21st may. He claims that this is what 'ghairat' is all about. So many Pakistanis are killed by drone attacks, according to him, but as I write, 87 Pakistanis have been killed in Shabqadr tehseel, Charsadda district on Friday, 13th May. Probably this was the same argument Dr Pervaiz Hoodbhoy was giving in 2009 that caused Imran Khan to call him 'american's security adviser'.Now coming to the drone attacks, Pakistan Tehreek-e-Insaf claims to be a registered political party in the USA. It goes by the name 'PTI NA-USA LLC'and is proud to even declare its annual financial statements on its website, showing their transparency.", Some questions about Imran Khan's PTI NA-USA LLC – by Ahmed Iqbalabadi
What rubbish. First of all, unlike PPP, ANP and MQM, JUD, SSP-LeJ and JUI-S are legitimate political parties whose banning is just cosmetic. They are brave anti-imperialist, Marxo-Khilafatist parties who are the victims of Sindhi-Balochi-Pathan-Seriaki-Hazara-Qadiani-Rafzi-Sabai-RAW-IRA conspiracies. And they are the role models for PTI, you know, poorly and locally funded organizations that use charity for political gains.  This is true nobility that fools like Abdul Sattar Edhi can never comprehend!
Tommorow, weather permitting, I will step out of my 4 canal hut in Lahore and drive down to this rally in my beaten down 2011 Toyota Camry as my son will be roughing it out in the Series 7 Beamer  along with his Sipah-e-Sahaba comrades. Tommorow Lahore will show the world that it is for Imran Khan. This will not be like 1986 when that CIA stooge Benazir Bhutto returned to Pakistan and a few dozen stinking billionaire Jiyalas singing heathen songs came out to greet her. This will also not be like 2007 when once again CIA stooge Benazir Bhutto came to empty streets in Karachi.
http://youtu.be/YDNapBbUKPw
Unconfirmed sources have informed me that Aloo Unday will be the theme for tommorow's rally and this song will be played when the rally reaches its peak numbers of 7 trillion attendees:
http://youtu.be/APIUtKAee7Y
On a closing note, I leave you all with a great dialogue between two of Pakistan's foremost intellectuals, Hazrat Imran Khan and Doctor Shahid Masood. Please see this clip for the manifesto of the great Khan:
Tum kitne Imran pao ge, Har mehel se Imran nikle ga!
My name is Riaz Malik and I endorse Hazrat Imran Khan.
Related posts: Some questions about Imran Khan's PTI NA-USA LLC – by Ahmed Iqbalabadi
Imran Khan's financial credibility? – by Ahmed Iqbalabadi
Links to Hajjaji's pearls of wisdom:
http://pakistanblogzine.wordpress.com/tag/riaz-malik-hajjaji/