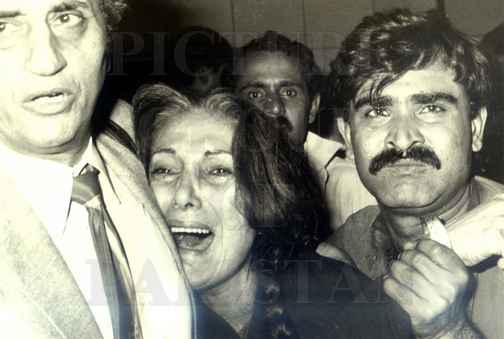 Haji Nazar Mohammad Leghari, born in 1921, was 58 when Mr. Bhutto was executed and brought to be buried in Garhi Khuda Bux. He was working as Estate Manager for Mr. Bhutto's family from Jan 1, 1941. In his interview published in Sadiq Jafri's book, Mr. Leghari reveals details of the first time Begum Bhutto and Benazir Bhutto were allowed to visit ZAB's grave:
On April 6, they brought Begum Nusrat Bhutto and Mohtarma Benazir Bhutto to the grave. I was called from my home. There were army troops and policemen on surveillance. The ladies were accompanied by Begum Fakhri, Begum Sahiba's niece. They were not left alone on the grave. Soldiers were there too. In a haste, they were asked to leave. Later, they were taken to Al-Murtaza, Larkana, for a brief stopover. The ladies were thirsty and they demanded water. The house had been kept closed for a long time and we did not have cold water for them. A servant wanted to go out to fetch ice and milk, but he was not allowed to leave. Finally, the ladies were offered hot water from the tap. They had been brought by a plane to Jacobabad and from there, they drove them to Larkana. On their return, they did not adopt the same route.
Here is an extract from Jauhar Mir's poem on Beghum Nusrat Bhutto depicting her return to Sindh after execution of her husband, Prime Minister Zulfikar Ali Bhutto, by the military establishment.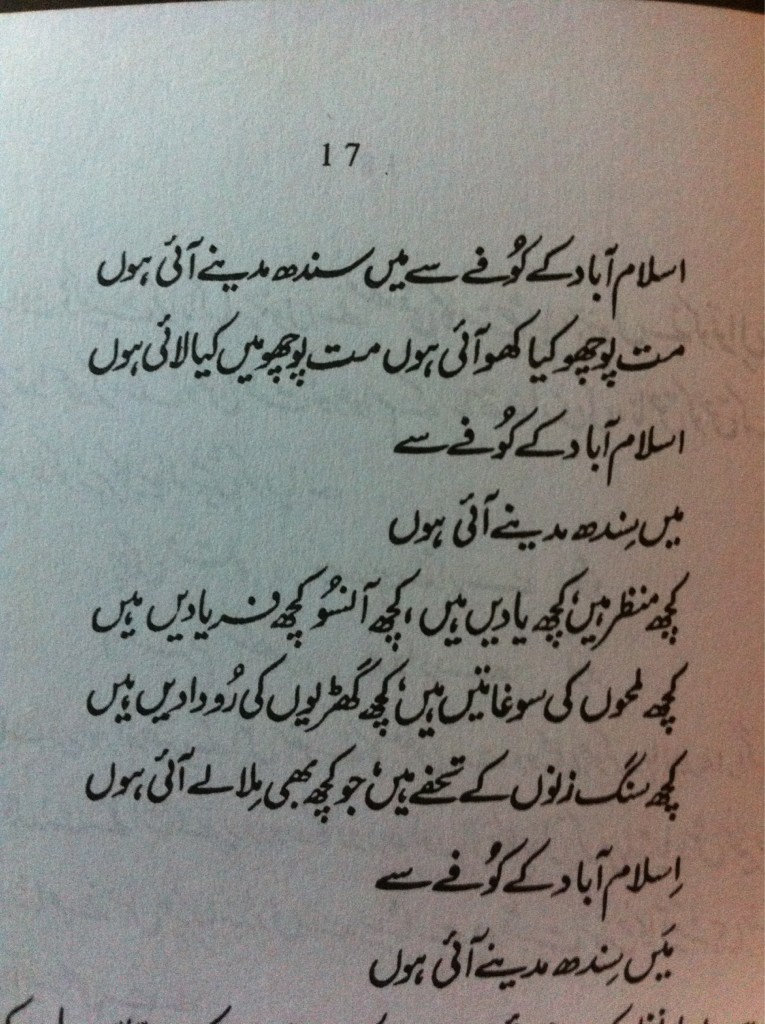 Islamabad ke Kufe se meiN Sindh Madine aai hooN
Mat pucho kia kho aai hooN
Mat poocho meiN kia laaee hooN
Kuch manzar heiN kuch yaadeiN heiN
Kuch aansoo kuch faryadeiN heiN
Kuch lamhoN ki saughaateiN heiN
Kuch ghariyoN ki rudaadeiN heiN
Kuch sangzanoN ke tohfay heiN
Jo kuch bhi mila lai aaee hooN
Islamabad ke Kufe se meiN Sindh Madine aai hooN

(credits: Dr. Taqi, via Twitter)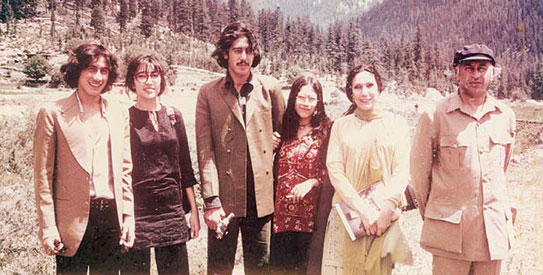 As a humble servant of Imam Hussain (A.S.), Begum Nusrat Bhutto followed the tradition (sunnat) of Hazrat Umm-e-Rubab (R.A.) who not only sacrificed her children (Bibi Sakina and Hazrat Ali Asghar) but also her husband (Imam Hussain) in her family's struggle against a tyrant ruler (Yazid ibn Muawiyah).
na iss tarah koi khaiti hari bhari ujRi
tumhari maaNg bhi ujRi kokh bhi ujRi
Salam on Imam Hussain, Salaam on those who followed the traditions of Imam Hussain and his family.