His community, the people who elected him as their representative in Pakistan's parliament (National Assembly), are being killed like flies in a systematic and ongoing manner. He has been highlighting the mass murders and persecution facing his community for the last four years. He has been delivering speeches in the National Assembly, mosques, press clubs, funeral prayers and has also highlighted the miseries of his people on various media.
However:
This man's life is under direct threat from LeJ-SSp-TTP terrorists who consider him wajibul-qatl (worthy of killing) because of his religious beliefs and also to silence his pro-rights voice.
Despite all these odds, this man remains undeterred, focused on demanding basic human rights for his community.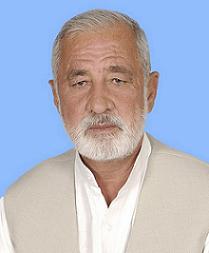 On 6 October 2011, he staged a walkout from the Pakistani parliament in Islamabad to protest the PPP-led government's apparent inability in curbing continuous killing of Shia Hazara people in Balochistan. Later, he was also joined in solidarity by various other members from the treasury and the opposition. He held talks with the Interior Minister Rehman Malik in which he demanded a solid plan to end Shia killings in Quetta and also called for a dissolution of the Government of Balochistan which, according to him, had completely failed to maintain law and order in the province.
The man is Syed Nasir Ali Shah, a Pakistani politician and parliamentarian (MNA) from the Pakistan Peoples Party (PPP) who hails from the city of Quetta in Balochistan and belongs to the Shia Hazara community. Here is how Asia Time describes him:
Middle-aged coal-mine owner Sayed Nasir Ali Shah represents Quetta's Hazara's in the Pakistani parliament. He was elected on the ticket of the governing Pakistan People's Party in 2008, but has since turned into one of its most outspoken critics. These days, his only mission is to try to save Hazara lives by calling for government protection. Shah was undeterred even when he was targeted in a suicide attack last year, which left one of his young sons paralyzed. He says that protests and petitions with senior leaders have so far fallen on deaf ears. "The government is only watching, and I am now tired after constantly shouting to grab their attention," Shah says. "I have been pleading to them to [do something to protect us] for God's sake. Are we humans or insects? We have no confrontation with our [neighboring] Balochi and Pashtun communities. We are targeted because our tormentors believe that we are infidels." (Source, 6 Oct 2011)
[poll id="4″]
The following is a collection of some recent news reports which highlight his activism to protect the life and rights of his community.
News Reports
The government has come in for scathing criticism for its inability to stop attacks on the Hazara community in Balochistan – the latest of which claimed 14 lives on Tuesday in a bus ambush near Quetta. The criticism has come not only from the opposition but from within its own ranks. First it was Pakistan Peoples Party (PPP) parliamentarian from Quetta Syed Nasir Ali Shah, who was then joined by the opposition Pakistan Muslim League-Nawaz (PML-N). The PML-N walked out of the house to express solidarity with Shah, who was protesting against the government's failure to curb sectarian killings. In addition to the PML-N, members from the ruling PPP – former federal minister Ayatullah Durrani and Zafar Ali Shah – also joined Nasir Ali Shah in his protest against the government. Shah called the parliament a "rubber stamp" and a day earlier had called for governor rule in Sindh and Balochistan. Members of the treasury benches should be ashamed of the fact that their party member was protesting against them, PML-N's Makhdoom Javed Hashmi said. Shia organisations including Shia Ulema Council, Azadara Council, Majlis Wahadatul Muslimeen and Hazara Democratic Party have called for a period of mourning. A partial strike was also carried out in Marriabad, Hazara Town and other areas. Provincial Ombudsman Akbar Baloch took suo motu action in the aftermath of the attack, asking the Inspector General Police Balochistan and Commissioner Quetta to provide a report of the incident within a week. The Human Rights Commission of Pakistan (HRCP) has asked President Asif Zardari and Prime Minister Yousaf Raza Gillani to take personal action against sectarian violence in Quetta.
6 October 2011
http://tribune.com.pk/story/267347/police-arrest-100-suspects-in-quetta/
…
The onslaught against the government was led by one of its own – Nasir Ali Shah, of the ruling Pakistan Peoples Party, himself an ethnic Hazara representing Quetta. He said that the brutal murder of over a dozen men from the community reflected a complete collapse of the government's law enforcing machinery in the heart of the province. Shah called for the resignations of Interior Minister Rehman Malik and Balochistan Chief Minister Nawab Aslam Raisani and went on to call for governor's rule in the province. "Hazara people are being targeted just because of their religious beliefs. Where is the government, where are the agencies? Aren't they Pakistanis?" Shah asked before he walked out of the house. Nasir's demand was vehemently backed by Pakistan Muslim League-Q's Riaz Hussain Pirzada who went a step even further and asked the federal government and those of Balochistan and Sindh to resign for their failure to control killings. "Resign if you can't do better," Pirzada advised the government in what appeared to be an indication of changes that might emerge in Pakistan's politics in weeks to come. Bushra Gohar of the Awami National Party (ANP) said somebody had to take responsibility for failing to protect minorities and Raisani and Malik should have enough moral courage to resign. PPP member Nadeem Afzal Gondal sought an explanation from both Prime Minister Yousaf Raza Gilani and Rehman Malik over the killings of Shias.
5 oct 2011
http://tribune.com.pk/story/267089/govt-under-fire-outrage-over-hazara-killings-in-the-national-assembly/
…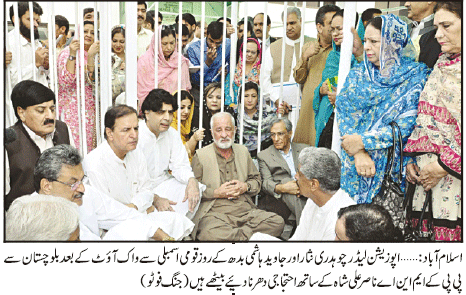 PPP MNA stages sit-in against Hazara killings
ISLAMABAD: Pakistan People's Party MNA from Quetta Nasir Ali Shah continued his sit-in for the second day today outside Parliament House, Geo News reported. Shah is protesting against the target killings of members of the Hazara community. Shah reiterated his demand of the imposition of governor's rule in Balochistan before walking out of the house in a protest. Several treasury and opposition members joined him during the protest and supported him. The PPP lawmakers include former foreign minister Shah Mehmood Qureshi, Ayatullah Durrani and some Awami National Party members also sat with Nasir Shah. All PML-N legislators in leadership of Ch Nisar Ali khan also came out of the House in his support.
October 05, 2011
http://www.geo.tv/10-5-2011/87132.htm
…
PML(N) join sit-in to show solidarity with Balochistan MNAs against sectarian killings. ISLAMABAD: Members National Assembly of Pakistan Muslim League-Nawaz(PML-N) on Wednesday expressed solidarity with Nasir Ali Shah who continued sit-in for the second day, against the killing of people of Hazara tribe in Balochistan. Ch. Nisar, Leader of the Opposition in the National Assembly said each individual irrespective of his or her party's affiliation should play effective role and sit together to work out a viable solution to the problems of the Balochistan. He called called for working out a clear policy with regard to Balochistan issue, loadshedding, law and order situation in Karachi and on the US relations. He said PML-N fully agreed with stand of the Nasir Ali Shah to take solid steps for resolving issues of the Balochistan and added it was concerned about the deteriorating situation in the province. He said the PML(N) members had not gathered for scoring political points rather they were showing solidarity and pressing for resolving problems of Balochistan. Speaking on the occasion, Javed Hashmi another MNA of the PML(N) said the government should take solid steps for resolving issues in order to prevent people from coming on roads. He was of the view the people just wanted to get their issues resolved. Abdul Qadir Baloch MNA PML(N) said Balochistan issue was not a problem of a single individual or party rather it was a national issue which should be resolved on priority basis. He called for imposing Governor Rule to overcome deteriorating law and order situation of Balochistan.
05 OCTOBER 2011
http://www.brecorder.com/pakistan/general-news/30572-pmln-join-sit-in-to-show-solidarity-with-balochistan-mnas-against-sectarian-killings.html
…..
Quetta Shias killing: Govt pushed to the wall in NA. ISLAMABAD: The crisis-hit Pakistan People's Party (PPP) government on Tuesday came under fire in the National Assembly from the opposition and its allies on the killing of Shias in Quetta and unbridled load shedding across the country. The treasury particularly faced embarrassment when its own party members and even a federal minister criticised the unabated target killing of the Hazara Shia community members and made a strong call for imposition of 'governor's rule' in Balochistan. They believed that the province is being run by a 'puppet government' and has miserably failed to bring the house in order. Though session was scheduled to discuss the current spell of load shedding in the country, the cold-blooded murder of 14 Hazara Shias early on Tuesday morning led the House to condemn this barbaric crime by blaming the federal and provincial governments for their failure to protect the lives of the community despite the threats posing to it for quite some time. MNA Farah Naz Asfahani, a close aide of President Asif Zardari, though diverted the House's attention to this heinous act at a point of order, the PPP MNAs Afzal Nadeem Gondal and Nasir Ali Shah, the MNA from the Quetta added fuel to the debate by castigating the government for failing to protect the lives of Shias. They also walked out from the assembly to protest the incident and staged a sit-in in front of the main gate of the Parliament House vowing to continue it until governor's rule is imposed in the province. Gondal, a vocal voice from the treasury benches in an emotional tone, remarked that Shias are discriminately being targeted in the country despite the fact that not a single Shia has ever been found to be a terrorist. "The prime minister and the interior minister should respond to these crimes against Shia community," Gondal demanded and warned that if the killing of the community would not stop, they would be compelled to seek help from some other countries. Riaz Hussain Peerzada, MNA from Q-League and a minister in the cabinet sounded more bitter in his words and said that if federal government could not tackle the issue then it should resign. He also demanded for the governor's rule in Balochistan, saying the government had lost its writ there. Riaz said that continued crisis had proved that that current leadership was not worthy of a popular support, confessing that only the vested interests were providing leverage to the government. The Awami National Party's Bushra Gohar sought the resignation of the Interior Minister Rehman Malik and said that the Balochistan government had completely failed to restore peace in the province. MNA from Balochistan Usman Advocate also supported the calls for the governor's rule in the province and alleged that the ministers in the provincial set up were involved in backing the criminal activities in the province. He also raised finger at the federal agencies for target killing and bad law and order situation in the province. The House also turned towards the power crisis following ample time consumed by the Quetta killing when the Pakistan Muslim League-Nawaz (PML-N) MNA Khawaja Saad Rafiq declared that the people's sufferings could not be addressed during the PPP government.
05 October, 2011
http://paktribune.com/news/Quetta-Shias-killing-Govt-pushed-to-the-wall-in-NA-244091.html
….
By Nusrat Javeed: Chaudhry Nisar Ali Khan, the ever-angry leader of the opposition, came in the house only for taking the mike to announce that instead of sitting in the assembly, the PML legislators were walking out to sit with Syed Nasir Shah. This PPP MNA from Quetta has refused to attend assembly proceedings, until the provincial government of Balochistan was dismissed through the enforcement of Governor's rule in his province. The nonstop killing of Hazara community, which now projects the appearances of ruthless cleansing of a definite community, provoked him to announce the said decision. After reaching the parliament house, he sits right in front of its main entrance every morning. After walking out of the house, Nisar and his comrades sat with him in solidarity. They were not alone in doing this. Many from the ruling PPP also marked their presence around Nasir Shah throughout Wednesday. Disregarding these embarrassing happenings, the government preferred to discuss the issue of load shedding in a business-as-usual manner.
October 6, 2011
http://tribune.com.pk/story/267948/the-day-of-the-two-shahs/
…
PPP MNA Syed Nasir Shah said on Friday that he would not end his boycott of the National Assembly session unless he was given a solid roadmap to end sectarian killings in Quetta and return peace to the city whereas Interior Minister Rehman Malik said the government was taking solid steps to ensure peace in Balochistan. Nasir Shah after his boycott of the current session of the National Assembly has been sitting outside the Parliament House in protest against sectarian killings of Hazaras, a largely Shia community, in Quetta. He has demanded the dissolution of the provincial government in Balochistan which, in his view, has failed control law and order situation in the province. The Interior Minister met Nasir Shah and urged him to end his boycott as the government was taking solid steps to control deteriorating situation in the province of Balochistan. Talking to the media, Malik said that anti-Pakistan elements were attacking the Shia community as a part of larger conspiracy. He said they will be dealt with an iron hand. He said he will visit Quetta next week on the direction of President Asif Ali Zardari. Malik said action against all terrorist organizations, including Lashkar-e-Jhangvi, will be taken and the Balochisan Chief Minister and Chief Secretary had been directed in this regard. He added the federal government can only intervene in provincial matters after 18th Amendment on the invitation of provinces. He said security in Shia area had been reinforced and the Zaireen going to Iran are being escorted by security officials, leading to a decrease in targeted killings in Balochistan. Responding to a question about imposing Governor Rule in Balochistan, Malik said while he respected the sentiments of the people of Balochistan, the government will take steps according to the Constitution. Meanwhile, PPP MNA Syed Nasir Shah talking to Pakistan Today said Rehman Malik wanted him to end his boycott of the National Assembly session but he would do so only if he was given a clear and solid roadmap to end sectarian killings in Quetta. "Rehman Malik told me that he is going to Quetta and the situation will improve soon. He wanted me to end the boycott. I cannot do so unless a clear and solid roadmap is not made to end sectarian killings. Can Rehman Malik going to Quetta bring peace?," Nasir asked.
15 Oct 2011
http://www.pakistantoday.com.pk/2011/10/nasir-shah-demands-roadmap-to-end-hazara-killings/
—–
Video archive
MNA Syed Nasir Ali Shah's Speech on Yousafi's murder (point of order) in National Assembly
5 April 2009

Focusing on Target Killing in Quetta at National Assembly
28 Oct 2009

Walk out from NA
5 Jan 2011

Syed nasir ali shah alias Syed Abbas Hazara: A step towards uniting Hazaras
Jun 11 2011

Aaj TV interview 1 2 3
9 Jul 2011

Protest on Genocide of Hazaras in Quetta from 1999 – 2011
6 Aug 2011
http://youtu.be/wRxMt9eXPIk
syed nasir ali shah demands resignation from PM in national assembly
11 Aug 2011

Islamabad calling (Indus TV) – part 1 to 4
11 Aug 2011




At Soyum of Shohada-e-Eid-ul-Fitr Quetta
On first day of Eid ul Fitr in Quetta, an LeJ-SSP-TTP suicide bomber targeted the Eid prayers at the Hazara Eidgah Alamdar road. 13 Shia Muslims embraced martyrdom including women and children. On the Soyem of the martyrs, a protest meeting was held at Imambargah Nichari Alamdar road Quetta.
12 Sep 2011

Syed Nasir Ali Shah at Imambargah Nichari after Youm ul Quds Tragedy. Rehman malik too visited Imambargah Nichari.
15 Sep 2011

Addressing a protest against target killings in Quetta
16 Sep 2011

Interview with Din News after the protest agaist target killing in Quetta
18 Sep 2011

Hotline: Mastung Killing
22 September 2011

Interior Minister Rehman Malik assures Nasir Ali Shah of stern action against militants
15 Oct 2011

syed nasir ali shah and his protest
19 Oct 2011

Impose Governor's rule in Balochistan: PPP MNA
4 Oct 2011
Nasir Shah says he will continue to boycott National Assembly sessions until governor's rule is imposed in Balochistan. He said this while protesting outside Balochistan Assembly against target killings of Hazaras.

Nasir Ali Shah (PPP) addressing front of president's house
6 Oct 2011
http://youtu.be/8yM3yfRfYyo
Syed Nasir Ali Shah's speech on 21 Oct 2011 (Pt 01 to 06)
23 Oct 2011






Here is my request to Pakistani and international media, social and human rights activists. Please do all you can to highlight Syed Nasir Ali Shah's services to save Shia Muslims of Balochistan, including Shia Hazaras, from further slaughter by the LeJ-SSP-TTP terrorists. He may not be well versed in English and may not have a whole network of urban-centric media persons promoting his activism, yet his struggle and cause is much more noble, substantive and urgent than many other struggles and causes around.