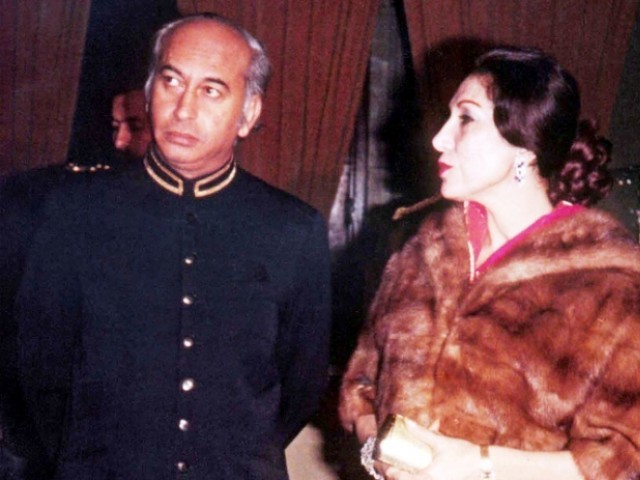 DUBAI: Nusrat Bhutto, widow of former prime minister Zulfiqar Ali Bhutto and mother of assassinated former prime minister Benazir Bhutto, passed away in Dubai on Sunday.

The federal government to announce one day of mourning due to her demise. The Pakistan People's Party (PPP) has announced the suspension of all political activity in the wake of the former First Lady's death.

Begum Nusrat Bhutto was 82 years old at the time of her death.
She outlived three of her children Murtaza, Benazir and Shahnawaz Bhutto. Of the immediate family, only Sanam Bhutto, daughter of Nusrat and ZA Bhutto remains.

Sources said that arrangements are being made to bring her body back to Karachi. Spokesperson to the President Farhatullah Babar said that her body will be taken for burial to Garhi Khuda Bux, the ancestral graveyard of the Bhutto family.

Bhutto had been recovering from a stroke while simultaneously battling Alzheimer's disease.

She had functioned as a political hostess and accompanied ZA Bhutto on overseas visits.

In 1979, after the trial and execution of her husband, she succeeded him as leader of the Pakistan Peoples Party as chairman for life.

In 1982 she was given permission to leave the country by the military government of General Ziaul Haq for medical treatment in London at which point her daughter, Benazir Bhutto, became acting leader of the party and by 1984 Benazir became party chairman.

Source: The Express Tribune
Related news and videos:
PPP leader calls Nusrat Bhutto 'mother of democracy'
Nusrat Bhutto was mother of democracy: Kaira
Nusrat Bhutto was a legend for democracy: Firdous Ashiq Awan
Fauzia Wahab lauds Nusrat Bhutto's struggle for democracy
Nusrat Bhutto is shaheed: Farahnaz Ispahani
Nusrat Bhutto inspired many women: Abida Hussain
Nusrat Bhutto, a lioness who held PPP together: Sherry Rehman
Various political leaders from across the board have expressed sorrow and condolence over the sad demise of Nusrat Bhutto while the PPP has suspended all political activities to mourn the death.
Profile: Begum Nusrat Bhutto
Nusrat Bhutto leaves behind legacy of political struggle

Begum Nusrat Bhutto waged almost a decade long political struggle for revival of democracy, restoration of Constitution and upholding of fundamental rights of Pakistani people in the face of brutal dictatorship.Begum Nusrat Bhutto was born on September 21, 1929, former first lady of Pakistan, widow of Shaheed Zulfikar Ali Bhutto and mother of Pakistan People's Party (PPP), Shaheed Mohtarma Benazir Bhutto.

As First Lady from 1973-77, Nusrat Bhutto functioned as a political leader and accompanied her husband on a number of overseas visits.

In 1979, after the trial and execution of her husband, she and her daughters were imprisoned and placed under house arrest by the then regime of late dictator Zia-ul-Haq. However, due to health concerns she was later permitted to leave the country for London, where she was later joined by her daughters Benazir and Sanam. She became leader of the PPP during her London exile and although she was chairperson of the party for life, her daughter Shaheed Mohtarma Benazir Bhutto later replaced her.

After returning to Pakistan in the late 1980s, she served several terms as an MP to the National Assembly from the family constituency of Larkana in Sindh.

Also, during the administrations of her daughter Benazir, she became a cabinet minister.

As a self-less member of the Womens' National Guard, she rendered herself day and night into the relief operation of the millions of the uprooted refugees, feeding them, providing them shelter and succour.

She had been proud of Pakistanis by representing her country at various international forums and her contribution as the chairperson of the Red Crescent had gone a long way in improving the country's image. She has also received various international awards for her immense contribution to the greatest good of the largest number especially workers, women and children.

Begum Nusrat Bhutto had always been a fighter. She fought the battle for the empowerment of the people in the streets against dictatorship.(APP)
Nusrat Bhutto: Another Bhutto gone
A tribute to Nusrat Bhutto
Note: We will keep update this post with more details.