Homes of around 800 Christians living in slum situated along Rohi Nullah demolished by Nishtar Town TMA; Model Town AC says operation was carried out after residents ignored notice to vacate land.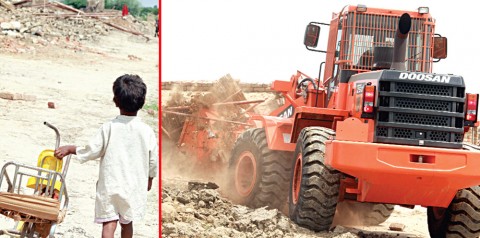 LAHORE – Over 800 poor Christians from 104 families living in the Ittehad Colony slum along the Rohi Nullah have nowhere to go after the Nishtar Town administration demolished their homes early on Saturday morning to make way for an alternate road to the new fruit and sabzi market.
The poor residents of the slum, situated beside Ferozepur Road, told Pakistan Today that the administration had given them only a day's notice to vacate their homes. "We were in the process of dragging out our belongings when the bulldozers arrived…the authorities did not even give us time to pack our stuff properly and started demolishing our homes," a resident said. However, army bunkers and a church located in the area were not demolished after the residents said they would not tolerate desecration of their church.
"We let them destroy our homes but they will have to demolish the church over our dead bodies," Rani, a resident, told Pakistan Today. "We built the church with our own hands over the last seven years. It is the pride and centre of our community," she added. As the bulldozers tore down houses and moved towards the church, some women gathered in front of the building while others took shelter inside, weeping and chanting slogans. Their protest forced the authorities to postpone the demolition of the church, at least for now.
Police officials present on the scene told Pakistan Today they had been instructed to protect the church and assured that it would not be demolished. Residents said Ittehad Colony was settled when residents shifted from Sabzazar 13 years ago when the same families were rendered helpless in another anti-encroachment operation ordered by the Sharif brothers. Another resident, Hakim Naseer said, "They should have stopped us from settling here in the first place or relocated us, but they did no such thing and we are undergoing the same process again."
After the operation, residents sat on their salvaged possessions with tears in their eyes. Sitting on a small stool, a young girl, Fauzia said, "We are Pakistani, and are loyal to it, but if they don't want us here they should just throw us out of the country." Residents expressed their helplessness as they slept without cover last night, and look forward to these nights continuing since most cannot afford rents. Hakim said, "If we had been given a month or two's notice and been allotted an alternate location, we would have been able to make alternative arrangements."
Ittehad Colony President Salamat Pardesi said, "A meeting with the AC was scheduled on Friday but we were later told he was out of city. We asked for time but an official came to the colony the same day and told us our houses would be destroyed at 8am on Saturday." He said, "We had no forewarning and would have asked for more time and an alternate location. We were already relocated from Sabzarar under similar pretexts." Kahna Police Sub-Inspector Saeed said they had been officially assigned to provide security to the bulldozers and TMO staff.
He claimed that the residents had been warned to vacate the area a few weeks ago. Residents, however, deny that they had been issued any official notice other than the one-day warning. "They are lying…if we had received the notice a week ago we would have surely made alternate arrangements," Pardesi said. Usman Liaqat, revenue officer of Nishtar Town, said he was not aware of the status of the residents, adding that he had only carried out the instructions of the Model Town AC.
Model Town Assistant Commissioner Irfan Memon said the operation was conducted to clear the Rohi Nullah of illegal settlements to construct a road from Ferozepur Road to Defence Road to aid traffic to the relocated fruit and sabzi mandi at Katcha Kahna. He said the residents had been informed at least three times last month to relocate but they had not heeded the warning. He said the settlement had no legal status and was situated on irrigation land. He also claimed that 30-40 houses were destroyed by the residents themselves.
He said that there was no resettlement plan for the residents since it was an illegal settlement, however, he said residents had been asked to file an application for the consideration of the authorities' concerned. He said further that the Christians had also agreed to demolish the church themselves.
Source: Pakistan Today