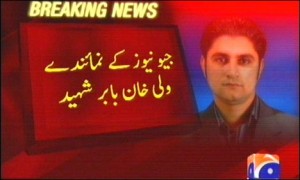 According to recent Terrorist Leaks GEO News Reporter Wali Khan Babar was Murdered by MQM

Confession of Muhammad Shahrukh Khan – MQM(A) Terrorist.
Hidden video released. Watch the video below:
ولی بابرکے قاتل شاہ رخ کا اعتراف جرم
پاکستان کے نجی ٹیلی ویژن چینل جیو سے وابستہ مقتول صحافی ولی خان بابر کے قتل کی ذمہ داری متحدہ قومی موومنٹ پر ڈالتے ہوئے ڈاکٹرذوالفقارمرزا کاکہناتھا"ولی بابر کے قتل کے بعددن گنے جاتے رہے اورچینل کی جانب سے گانے چلاکرمجھ سے قاتلوں کو سامنے لانے کاکہناجاتارہا،امریکا جانے سے قبل اپنے ایک دوست کو ٹیلی فون کر کے مشترکہ تحقیقاتی رپورٹ ان کے حوالے کی اورانہیں بتایاکہ ایم کیو ایم کے ٹاگٹ کلرزمحمد علی رضوی،محمد شکیل،فیصل محمود ، محمد شاہ رخ،طاہرنوید عرف نوید پولکاگرفتارکر لئے ہیں جب کہ لیاقت نامی ایک قاتل مفرورہے جسے جلد پکڑ لیں گے"۔
Secret Joint Investigation Report of Muhammad ShahRukh.
Zulfiqar Mirza also said that he captured 5 MQM's terrorists involved in Geo News Reporter Wali Baber killing. One has still missing namely Liaqat of MQM.