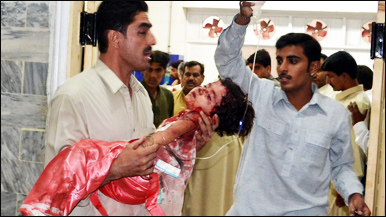 Please sign this petition here: http://www.petitiononline.com/PakBlogz/petition.html
To: Human Rights Watch, Amnesty International, Human Rights Commission of Pakistan, United Nations Human Rights Commission, European Union, Governments of Pakistan, USA, UK and other countries
Silence of Human Rights Organizations on Shia Genocide in Pakistan
This is our appeal to international directors of all human rights organizations including but not limited to Human Rights Watch (HRW), Amnesty International (AI), Human Rights Commission of Pakistan (HRCP) and the United Nations Commission on Human Rights.
Today 31 August 2011 is Eid (Muslim festival) in Pakistan marking the end of holy month of Ramzan.
Today once against sectarian foot-soldiers of the military state killed at least 20 Shia Hazara Muslims while they were offering Eid prayer in Quetta. More casualties are feared.
The very next day, there was an attack on a van carrying Shia passengers in Kurram agency, killing at least seven of them.
For the last several years, hundreds of Hazara Shias in Quetta, Saraiki Shias in Dera Ismail Khan and Turi Shias in Kurram agency, along with many other Shias in other parts of Pakistan, have been massacred by the jihadi and sectarian extremists belonging to Sipah-e-Sahaba Pakistan (SSP), Lashkar-e-Jhangvi (LeJ), Tehrik-e-Taliban Pakistan (TTP) and other similar groups, which are known to be supported by Pakistan's spy agencies (ISI, MI etc).
Apologists of the murderers are either in state of denial or misrepresent the silent Shia genocide.
Unfortunately, this massacre of Shia Muslims in Pakistan remains: (1) ignored in Pakistani media or/and (2) misrepresented.
In other words, Pakistani media either does not report (or under-reports) the mass murder of Shia Muslims, or it misrepresents the mass murder of Shias by jihadi/sectarian proxies of the military state as Sunni-Shia sectarianism thus creating a false sectarian colour and false symmetries.
Unfortunately, leading human rights organizations e.g., HRW, Amnesty International, HRCP etc too suffer from the same deficiences as evinced in Pakistani and international media. These organizations either ignore or under-report the Shia mass murder or misrepresent it as routine sectarianism between Sunnis and Shias.
For example, HRW and Amnesty have not written a single report on the ongoing genocide of Saraiki Shias, Hazara Shias and Turi Shias taking place in Pakistan for at least four years. Barring one or two very vague reports on sectarian killings in Pakistan, these organisations have not bothered to compile full data on Shia genocide nor made any efforts to inform Pakistani and international audience about this silent genocide which is ongoing.
We, therefore, appeal to the HRW, Amnesty and other organizations to urge their country directors /representatives in Pakistan to urgently publish statistics on Shia genocide in Pakistan.
Instead of issuing vague statements condemning violence against Shia Muslims, we need exact data and reports on how many Shia Muslims have been massacred in Dera Ismail Khan, Quetta, Kurram agency and other areas and under what circumstances. We also need HRW, AI and other organizations to pay attention to each incident of Shia genocide and ensure its adequate coverage in Pakistani and international media.
In our next petition, we will highlight how some representatives of these organizations remain urban and class centric and selective in morality under the influence of pseudo-liberal proxies of Pakistan's military establishment.
Please treat this petition as an SOS to save Shia Muslims of Pakistan from an ongoing massacre.
Sincerely,
The Undersigned
Don't forget to sign this petition on Petition Online: http://www.petitiononline.com/PakBlogz/petition.html
Video Reports
http://youtu.be/EU6IFgWtYv8
Related posts:
Shia Hazaras of Queta: Entrapped in deep state's delinquent and obedient proxies – by Farrukhzad Ali
On Ejaz Haider's ISPR press release on Hazaras of Balochistan
Wahabi-ISI fitna celebrates Eid in Quetta by killing Shia worshippers
SOS from Quetta: Systematic killing of Hazaras / Shias by the Taliban/Sipah-e-Sahaba Terrorists