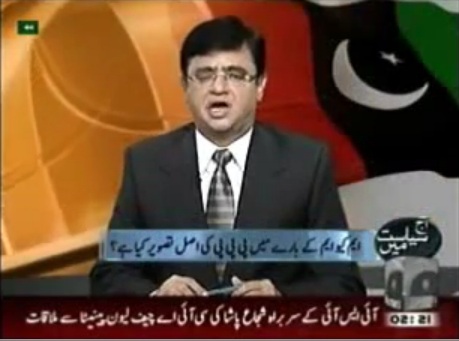 The Washington Post's Islamabad correspondent Karin Brulliard reports on Pakistani leading media group's bias, irresponsible reporting, negativity against modern liberal concepts, anti American views, it's pro religious extremist approach and anti democratic agenda.
KARACHI, Pakistan — In a nation that often appears engulfed by religious radicalism, a hit Pakistani film endorses ideas that are by local measures boldly liberal — inter-sectarian marriage, women's rights and population control.
Yet the movie has what might seem an unlikely distributor: Pakistan's largest media company, commonly referred to as the Geo-Jang Group, which is regularly criticized for using its four domestic television stations and two top newspapers to promote some very different ideas, including Islamist extremism, anti-Americanism and government loathing.
The ruling party of President Asif Ali Zardari, whose alleged corruption is obsessively chronicled by Geo Television, officially boycotts the group and portrays it as an enemy of democracy. The U.S. Embassy has accused it of fueling conspiracy theories.
But Geo — the group's signature property — continues to thrive on a blend of rumor-filled talk shows, sensationalist breaking news and dashes of progressive programming. Its successes — and mixed messaging — serve as a barometer of the evolving tastes of Pakistan's growing urban middle class and the power of private television in a country where the military and the mullahs often seem to drive the agenda.
So broad is Geo's reach that the United States, despite its misgivings, subsidizes it. Geo is paid to broadcast a segment four nights a week from the U.S. government's Voice of America, an arrangement that the U.S. Embassy sought to end in 2008 because of what it called the group's "blatant hate speech and intentionally inaccurate and irresponsible reporting," according to a cable obtained by WikiLeaks. That plea fizzled, U.S. officials said.
"We recognize them as . . . the biggest and most influential media outlet in the country," said U.S. Embassy spokesman Alberto Rodriguez. "How can we not engage with them?"
Geo pioneered the television revolution in Pakistan, which had one state-owned broadcaster until media laws were relaxed in 2002. Today, one-third of Pakistan's 180 million people have access to about 100 private channels via cable and satellite. Geo claims to broadcast 70 of the top 100 programs and, with Jang's various publications, to have one reporter stationed nearly every four miles.
A May survey by the Washington-based Pew Research Center found that 76 percent of Pakistanis said the media positively influence the country, while only 20 percent said the U.S.-backed civilian government does. The ruling Pakistan People's Party says that is partly the result of a Geo campaign to demonize it.
"They are soft on Islamists and tough on liberals," said Farahnaz Ispahani, a spokeswoman for Zardari, the secular party's co-chairman.
Geo and Jang executives dismiss such comments as stale criticism from people who can't handle scrutiny. At his office on the edge of a buzzing newsroom in this southern metropolis, Geo chief executive Mir Ibrahim Rahman insisted the network supports tolerance and would gain nothing by scuttling democracy. The initial years of free debate in any country always magnify conflict and corruption, he said, illustrating his point with a graph he studied in a statistics class at Harvard, where he earned a master's degree last year.
"Eventually, the dust will settle and we'll have a cleaner room — a cleaner country," said Rahman, 33, whose grandfather founded Jang.
Geo burnished its image as a populist crusader in 2007 when Pervez Musharraf, then Pakistan's president, shut the network for two months as it avidly covered protests that eventually led to his ouster.
Today, it has cast itself in a starring role in Pakistan's political theater by covering its own battles with the government. Geo accuses authorities of pulling the network off the air on various occasions — including after its coverage last summer of a Pakistani who threw a shoe at Zardari in London.
Government officials and the 2008 U.S. diplomatic cable allege that Geo stages blackouts so it can condemn state censorship. Geo officials deny that, although they acknowledge that the clashes help business.
"Every time we are shut, our ratings go up, our credibility goes up, and we are able to charge higher rates," Rahman said.
That has remained the case despite scandals that critics cite as evidence that Geo fans intolerance. In 2007, Geo played mediator between militants holed up in an Islamabad mosque and the army forces surrounding it. In 2008, the assassinations of two leaders from the Ahmadi minority sect were widely blamed on hate-laced comments by guests on a religious talk show aired by Geo.
Last year, a recording allegedly captured Hamid Mir, the host of a popular Geo program, giving information to a Taliban militant about a former spy who was then in Taliban custody. Mir said the tapes were doctored by intelligence officers angry at him for reporting on state-sponsored abductions; Rahman said an internal investigation supported that account.
Some Geo-Jang Group editors say privately that Mir should have been fired. Imran Aslam, Geo's president, said efforts have been made to hire more "rational and reasoned political analysts," including Najam Sethi, a prominent left-wing journalist who hosts a new program.
"From the news business, it went to show business. It needs to go back," said Mohammad Malick, a Geo talk show host and editor of the group's English-language daily, the News.
Geo has, at times, taken on progressive issues that few politicians are willing to touch. In 2006, the network campaigned against Islamic laws equating rape with criminal adultery, a project that even critics acknowledge led to the laws' amendment. One current initiative urges people to pay taxes; another promotes peace with Pakistan's arch-foe India, which could vastly expand Geo's market. "Bol," the summer's hit movie, promotes family planning, an explosive idea among conservative Muslims.
Pakistani liberals say those campaigns, while positive, skirt scrutiny of the institution most responsible for stoking religious intolerance and hyper-nationalism: the powerful military. The army is widely believed to be tainted by corruption and supportive of some Islamist militant groups, but Geo, like its competitors, avoids deep probes.
"The private media in general is polishing the military's boots," said Aasim Sajjad, an assistant professor of political economy at Quaid-e-Azam University in Islamabad.
That changed somewhat after the U.S. raid that killed Osama bin Laden in May, which prompted even some of Geo's most jingoistic anchors to lambaste the military. Jang editors contend that the group holds little favor with the army, and some admit they tread carefully after decades of military rule.
"Tomorrow, the civilian government may be rolled up," said Rana Jawad, Geo's bureau chief in Islamabad. "There may be no courts to hear your plight."
The 2008 U.S. Embassy cable concluded that the Jang Group's reporting was driven by one agenda: ratings.
Three years later, Rahman said, such considerations are prompting Geo to question the partnership with Voice of America. As anti-Americanism and outrage over CIA drone strikes rise, the network might be labeled a U.S. ally, he said.
"It's just too risky for us," Rahman said of airing American content. "It's a perception issue."
Special correspondent Shaiq Hussain contributed to this report.
Source: The Washington Post