Related posts: https://lubpak.net/archives/tag/matiullah-jan
TV Anchors and journalists of Pakistan's media corporate industry always give lectures on "accountability" and ethics, moreover, miss no opportunity to malign civilian elected representatives of pakistani people. Talk shows and their howling and yelling anchors talk about accountability for government officials, politicians and especially about head of the state, but when question comes of eliminating black sheeps from the media industry, they usually turn their back and run away.
Some couragous voice for self accountability from Journalist's community did come about few months ago, when Matiullah Jan of Dawn News has started program called "Apna Gareban" the program was mainly exposing corruption of journalists. But corrupt media mafia ganged up against him and now this show has been shut down.
Well Down Azad Media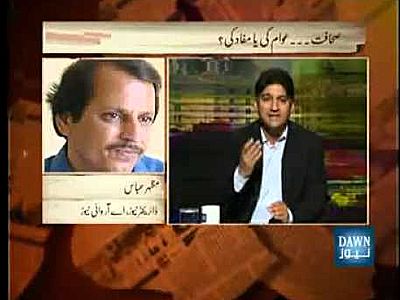 صحافیوں کا'گریبان' پروگرام بند

اپنے گریبان میں جھانکنا کتنا مشکل ہے، یہ بات مطیع اللہ جان اچھی طرح جان گئے ہیں۔ ڈان نیوز کے اینکر پرسن نے اس عنوان سے اپنا پروگرام شروع کیا تھا جس میں کسی اور کی نہیں بلکہ اپنے ہی طبقے یعنی صحافیوں کا احتساب کیا گیا۔ لیکن یہ پروگرام زیادہ دیر نہیں چل سکا اور بقول مطیع اللہ جان کے اس کے ایک پروگرام کی ریکارڈنگ جاری تھی کہ اسے بند کرنا پڑا۔ اسلام آباد سے آصف فاروقی کی رپورٹ: