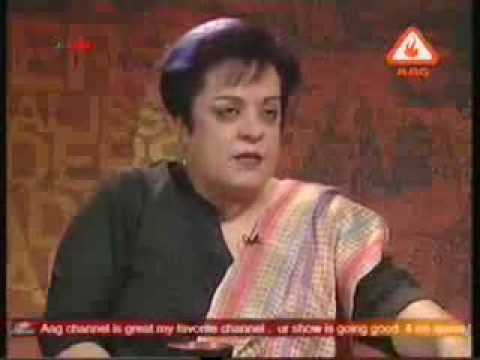 One thing is certain about Pakistan these days: If you are following all the news coming from Pakistan, you're not going to have a dull moment in your life. Either they will make you cry by shooting innocent people down, and then letting them bleed to death on the road, or they will have hilarious episodes of different politicians' melt down.
What Dr. Shireen Mazari did in that restaurant to that American was sad and hilarious at the same time. I would call it a petty revenge.
What else was it?
"You hit my chair you filthy American and did not apologize, I am going to hit your chair back and guess what, I am not going to apologize either." Dr. Shireen Mazari truly believes in 'Jo bakray nay mara hay bakree ko seeing / to bakree bhee maray gee bakray ko seeing'.
You send drones to us, what if I can not send drones back, I sure can hit your chair back.
I have no doubt in my mind that Dr. Shireen Mazari and Imran Khan are ultimate patriots. They are. They just don't know politics. I am not a political analyst, but every political analyst that I know and trust, seem to have the same opinion of both Imran Khan and Dr. Shireen Mazari; They have no understanding of the current situation in Pakistan.
It's displaced emotions, it's anger, and it's rage that made Dr.Shireen Mazari to hit that American's chair back in revenge. As legend
has it, an American diplomat; one of those killers lose on the street with diplomatic immunity (or the power to buy us) pushed his chair back in a restaurant in Islamabad and that chair hit Dr. Mazari's chair.
Dr. Mazari waited patiently for him to apologize. But apparently, people with license to kill and then with money to buy you later, do
not apologize, Dr. Mazari felt.
Being a modern women of 21st century, She decided to teach him a lesson. She too pushed her chair in to that American's chair when she got up.
And then of course all that led to a big drama. I wonder if there was a slight, let's say a tiny bit possibility that the American guy did not indeed hit his chair in Dr. Mazari's chair on purpose and then did not realize that he had, so he did not apologize.
I throw in that random theory because I live among a lot of American people. They are everywhere here where I live in USA. And there is one thing they never fail to do.
They never fail to say 'excuse me' when passing through or passing by, and also they never fail to say 'I'm sorry' if they accidentally hit you or come in your personal space in anyway. They do it so much that it is a reflex to them. Just like if I put my hand on a burning stove, I would lift it up immediately; the second any American enters in two feet of your personal space, he/ she apologizes immediately. At work, when myself and any of my colleagues enter in each other's space, it's always them who say, "excuse me" first.
So, in my opinion, this American fellow deserved benefit of doubt. It is highly unlikely that he hit Dr. Mazari's chair on purpose to teach her a lesson for speaking against USA, as Dr. Mazari seems to believe. Besides petty revenges are only for the weaker.
The problem is that the beautiful land of ours make us all cry.
Situation is devastating. Every Pakistani heart weeps when innocent die in drone attacks. Every Pakistani heart weeps when innocent die in Taliban suicide bombing. Imran Khan and Dr. Mazari are convinced that if drones stopped, so would Taliban suicide bombing, since Taliban are actually taking revenge from Americans by killing innocent Pakistanis. Would that not be the best thing in the world if both drones and suicide attacks stopped?
Which Pakistani in his right mind would not want that? But sadly, the majority of country's political analysts and intellectuals believe that it is not going to happen that way. They feel that Imran Khan's vision is shallow. Sure Taliban want revenge from USA, but they have another goal, a goal that is a lot bigger than 'Death to America', and that goal is to bring their version of Sharia in the whole world, and what better place to start but Pakistan?
Taliban want to bring that kind of Sharia to Pakistan in which girls will be kept in the houses, girls schools will be closed, women would be stoned and flogged, no women would be allowed to leave their houses with out a mahram (chaperone), music will be banned and media will not be free. Taliban want to take Pakistan, and eventually the whole world, back to dark ages. They want to create a society where individual freedom would not exist and personal happiness will have no value.
This is why most Pakistanis have never voted for Imran Khan. He does not understand the consequences of letting Taliban loose. One thing is for sure, if Taliban took over, Dr. Shireen Mazari would not be sitting in that resturant with no hijab picking fights with Na-mehram.
Most intellectuals and analysts in Pakistan believe that once USA leaves, Taliban are not going to get settled in their small village
far far away and live happy lives. Taliban's vision of Islam is a little different than modern Pakistanis'. Once USA leaves, Taliban are
going to try to create a state with in the state again, like they did in swat when peace deal was made. They will keep spreading terror and will keep killing Pakistanis until a Sharia state of the kind they made in Afghanistan is created in Pakistan.
So, sure, demand that drones should be stopped, but please also share with us your plan to get rid of Taliban, who have killed 30,000 Pakistanis in suicide attacks so far.