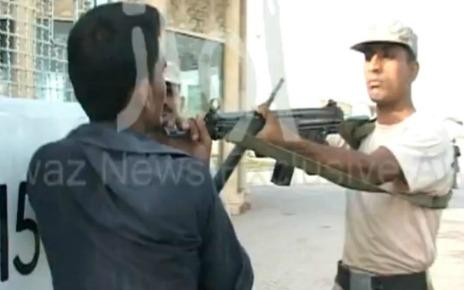 Pakistan's military removed the chief of the paramilitary Rangers on Tuesday over the filmed killing of an unarmed man in a public park that shocked the nation.
Security forces shot dead Sarfaraz Shah, 22, in a Karachi park on Wednesday last week over the robbery accusations. His family has demanded justice, insisting he was an innocent student.
The supreme court demanded on Friday that the government remove within three days Major General Aijaz Chaudhry, head of the paramilitary in Sindh province, and Sindh police chief Fayyaz Leghari, over the killing.
"In compliance with supreme courts orders Major General Aijaz Chaudhary, Director General Pakistan Rangers (Sindh) has been posted out," the military said in a statement.
Police have arrested six paramilitary soldiers who will be tried in an anti-terrorism court in connection with the killing, officials said.
The soldiers were remanded into police custody for two days on Monday along with a civilian named Afsar Khan.
The Rangers staff were named as Shahid Zafar, Mohammad Afzal, Bahadur Rehman, Manthar Ali, Liaquat Ali and Mohammad Tariq.
Khan was seen dragging the victim over to the paramilitary personnel in television footage and accusing him of robbery.
Widely aired footage of the killing showed a clean-shaven man wearing black trousers and a navy shirt pleading for his life as a soldier cocked his rifle at his neck, then shot him twice in the hand and thigh.
As his blood poured onto the ground, the man begged for help from soldiers — who appeared to do nothing but watch — until he fell unconscious.
Last week, the Supreme Court had ordered the removal of Sindh province police chief Fayyaz Leghari and Maj. Gen. Ijaz Chaudhary, the director general of the Rangers. The two were accused of giving incorrect details after the shooting of Sarfraz Shah in Karachi.
In the following video from Al Jazeera, Shah's brother claims Shah was simply strolling in the park because there was no power at their house:
A military statement Tuesday said Chaudhary was transferred from his post. State-run Pakistan Television said Leghari also was removed.
Neither statement gave details about whether the officials would be given new positions.