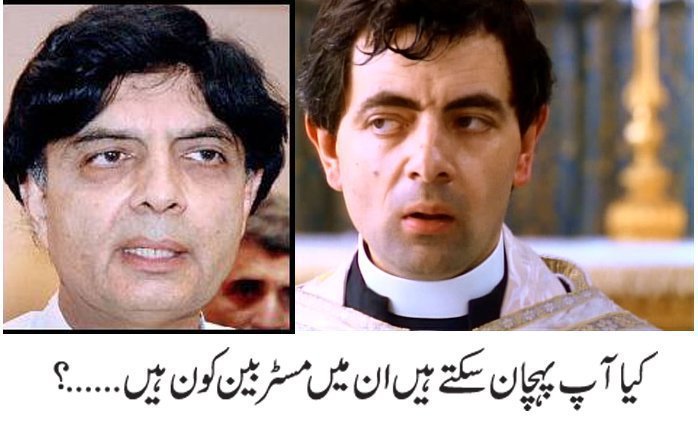 Media was showing as if Mr. PML-N Chaudhry Nisar took generals to task but it appears generals took air out of Mr. PML-N's balloon. So much for fiery speeches of Nawaz, Shabaz, Nisar & their media touts. Chaudhry Nisar Ali Khan and his company has always been at the mercy of generals but this time around they are not finding any space for themselves that is why they are trying to dish their anger on them.
PML-N's anger towards army should not be seen as their love for the country but act of desperation for their sympathy towards their god father Osama & company. Nawaz, Shabaz, Nisar and company have been keeper of Zia's legacy.
They are the men who used to pray on Zia's grave every 17th of August that they will carry on with his mission till death.
In recent times army has changed their ideological stand of not favoring Jihad mentality any more but Lahori gang is not willing to change their ideology. This dumb idiot Nisar used to have late night meetings with army chief along with Shahbaz Sharif, I wonder what favour he asked of them.
I am gonna miss the patriotic speeches of Choudhry Nisar. Mr. Nisar you missed out once again, you have fallen and need to get up and come up with new strategy.
You were responsible for the down fall of Nawaz's 97-99 government and you are once again bringing Nawaz down with you. We havent forgotten your brother Gen Iftikhar who was defence secretary who warned you of any mischievious expedition against army.
And also remeber the appointment letter that you guys released of General Zia ud Din butt's appointment as COAS by firing Musharraf did not have necessary signature of Defense secretary, mysteriously his car got stuck in traffic when you guys were playing drama in PM house. (Fawad Manzoor)
In-camera session : ISI chief shot back at 'favour-seeking' Nisar
By Rauf Klasra
Published: May 15, 2011

ISLAMABAD: Though he spent a large chunk of the marathon session on the back foot, besieged by politicians, the chief of Pakistan's premier intelligence agency did come out of his shell to silence fiery Leader of the Opposition in the National Assembly Chaudhry Nisar Ali Khan.

Details of Friday's closed-door session of a special joint sitting of Parliament continue to trickle out – with some interesting nuggets of information being narrated to The Express Tribune regarding an exchange between Director-General of the Inter-Services Intelligence (ISI) Lt-Gen Ahmad Shuja Pasha and Chaudhry Nisar.

Reported yesterday was a fiery speech by Nisar against the military establishment – but it emerged, through fresh information, that the DG ISI did not just stand there and take the tirade.

Pasha, who has been at the receiving end of a number of fiery speeches by the PML-N leader over the last few weeks, is said to have shocked Nisar by replying in the same token.
Nisar is said to have risen out of his seat for his speech right as the question and answer session was to begin. But a "visibly angry" Pasha snubbed Nisar in front of a full house.
Pasha claimed that he 'knew' why he was being targeted by the leader of the opposition as of late – alleging that Nisar had asked him for a personal favour, which he, as DG ISI, refused to extend.

Since then, said Pasha, Nisar had launched a number of tirades against him in particular and the military in general. However, Pasha said he would not reveal what the favour was on the floor of the august house – but would if asked outside.

An embarrassed Chaudhry Nisar was said to have been taken aback as Pasha continued with his 'counter-attack'. The DG ISI kept on grilling Nisar, asking the PML-N leader if he knew what the effects of his recent tirades had been. Pasha told the house that on a recent trip to the US he was told by CIA chief Leon Panetta in an important meeting: 'Look, General Pasha – how can we trust you when your own country's opposition leader is saying that you cannot be believed?'

Pasha said that, despite having answers to all questions during that session, he did not have an answer to that question by the CIA chief.
"What should I tell the Americans?" the DG ISI asked in a bitter tone, addressing all the parliamentarians.
Pasha's frustration seemed to be born out of an awkward moment. Pasha, besieged by the politicians, had offered to resign – and upon this offer, some members from the opposition benches shouted, "Please accept his resignation."

The tension grew palpably when Pasha finished his counterattack. It was expected that Chaudhry Nisar, known for his hard stance and fiery speeches, would retaliate and at least refute the wild charges. But he remained seated.
It got worse for Nisar when his fellow party member, Javed Hashmi, who spent five years in jail during the Musharraf regime, got up to shower praise on the army
Interestingly enough, Chaudhry Nisar later praised the efforts of the generals.

A reality check

Lt-Gen Pasha was not the only serviceman to have his moment.
Pakistan's deputy air chief was said to have deflated the prevalent nationalistic fervor in an emotionally-charged house as the parliamentarians were discussing the prospects of shooting down trespassing US drones.
The deputy air chief had been bombarded with constant questions by charged politicians whether or not the Pakistan Air Force was capable of shooting down intruding unmanned US aircraft.

Finally, the deputy air chief interjected: They have the capability of doing so, if asked. But, the leaders should understand the repercussions before debating this, such as a US attack.

After this analysis, when deputy air chief sought the permission of the parliamentarians to shoot USA drones, he found no takers. Sources said that, afterwards, the parliamentarians did not press the issue of shooting down drones.

CIA agents in our midst
The DG ISI also claimed in the session that the CIA was paying many important Pakistanis to protect their interests – and that the ISI had all the details of these people. However, sources said, Pasha did not identify anyone.

Where was the army chief?

There was no news of what Chief of Army Staff (COAS) General Ashfaq Parvez Kayani was doing during the session. According to sources in attendance, the army chief was not asked a single question by charged parliamentarians during the marathon session.

However, given the length of the session, Gen Kayani, known to be a chain smoker, was seen heading to the exits at regular intervals for a quick smoke.

Published in The Express Tribune, May 15th, 2011.