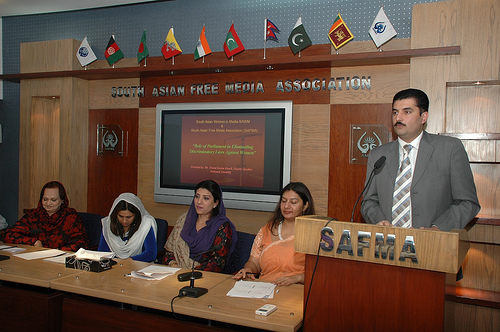 Mr. Faisal Karim Kundi
Deputy Speaker
National Assembly of Pakistan
Parliament House
Islamabad
Subject: Non-Compliance and Breach of Protocol by GEO News on May 9, 2011
Honorable Sir:
Please refer to the proceedings of the National Assembly dated May 9, 2011.  Pakistan Television (PTV) is the only channel allowed to live telecast pictures of the national Assembly's sessions. We have witnessed that the "Question Hour" is shown live, whereas any speech of the Prime Minister is also relayed live by PTV. Usually, other private channels also broadcast the same especially when the Prime Minister is speaking on an important matter; however, as soon as the Prime Minister ends his speech, the live broadcast is terminated. It is also a fact that due to the privilege of the House and security requirements, no visitor is allowed to take a camera, cellular telephone or any other broadcasting device inside the Assembly Hall.
When the Prime Minister ended his speech on May 9, 2011 giving his policy statement on the "Abbottabad Operation", PTV ended the broadcast; however, to our utter surprise GEO News continued to relay the audio of the speech of Chaudhry Nisar Ali Khan, Honorable Leader of the Opposition. It was quite evident that the relay took place through a cellular phone which either a member was using to give GEO News the feed or a GEO News reporter sitting in the hall inside the Press Gallery was capturing the speech of the Leader of the Opposition and relaying the same to his channel.
In our opinion, this was a serious breach of security as well as non-compliance of Parliamentary Rules by a non-compliant channel.  We request your office to take notice of this security breach and bar relaying of the proceedings of the National Assembly in this manner and instruct PEMRA as well as the Security department of the National Assembly to investigate the incident. Last thing we want is to have security threat to our Parliament because of such breaches.
Sincerely yours,
Let Us Build Pakistan Blog
email: editor@lubpak.com