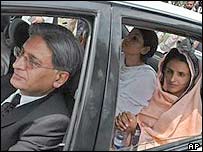 Chief Justice Iftakhar Chaudhry's party, Supreme League of Pakistan (SLOP) has proved all rapists in Mukhtara's case as honorable citizens and innocents. After six years, SLOP reached a consensus that suo moto against Punjab's SLOP was a non-political decision and it was done in haste.
SLOP alleged to be a political wing of ISI,   was founded through a coup wihin a state paid institution which was once known as the Supreme Court of Pakistan. The  ISI, nother self reliant, paid and armed organization did that coup in the name of restoration of judiciary and  to transform that institute as its political wing.  SLOP has support from all corners which  right wing political groups (PTI/Imran Khan, PML N)  and from advocates, journalists, writers and Mullas. Its creator, the  ISI,  named it as the Civil Society of Pakistan and LUBP renamed it as Fake Civil Society (FCS).
ISI has supported SLOP continuously on quid pro quo basis.  ISI successfully got Raymond Davis out from the jaws of the right wing's  and was ably assisted by  by SLOP. Nowadays,  the Chief of Choudhris (CoC) or Chief of SLOP is asked by the clever think tank in ISA and FCS to play a very wise political game.
CoC has shown his interest in ZAB's judicial murder case which is due to Jiyalas' pressure. I was amazed about his remarks on ZAB's reference. His think tank was not happy to hear those remarks. His think tank comprised of the  FSC and the ISI is anxious to get him out from PPP's political net which compelled him admire ZAB.  His think tank wishes him not to act like Chief Justice of Supreme Court but as Chief of Choudhris or Chief of SLOP.
http://www.dawn.com/2011/04/21/supreme-court-upholds-lhc%E2%80%99s-verdict-in-mukhtaran-mai-case.html
SLOP is managing politics to convert Pakistan into a full Militant Islamofascist State.  Today's verdict in favour of 14 rapist landlords is message for all of us. Their verdict against a low caste marginalised raped woman can create confusion for some of SLOP's liberal supporters. Aitzaz Ahsan was advocating in favour of raped woman Mukhtaran but he failed to defend  her and get justice from those people from whom he was accepting change in the state as Maan Kay Jaysee state.
I think the civil society including a new political party CFD sponsored by FSC elite will take this issue. I don't know at what level the FCS will voice against SLOP because FSC including Aitzaz are part of the SLOP's think tank.
FCS never came out and supported in favour of ZAB's case reference filled in court of SLOP or so called Supreme Court of Pakistan. It is because this reference is filed by the sitting president of Pakistan and a leader of PPP. For FCS, ZAB wasthe  leader of illiterate and uncivilized civil society of Pakistan. 
FCS has to come on carpeted roads to light candles in favour of Mukhtaran Mai but demos, protests, strikes against their supreme leader and his  full bench of 16 othesr, cannot be accepted. However at this stage SLOP and its think tank ISI and FSC have to play many  new tricks to kill off the elected PPP-lead Government's political moves such as, 18th amendment, ZAB's reference, reconciliation with PML (Q), foreign policy, fight against the Taliban etc.
Whatever new political trick SLOP is being designing, PPP's leadership and their voters have to and certainly will face it. But I think we should continue condemning Supreme Court's verdict against women victims and we should continue support women like Aasia Bibi and Mukhtaran Mai.