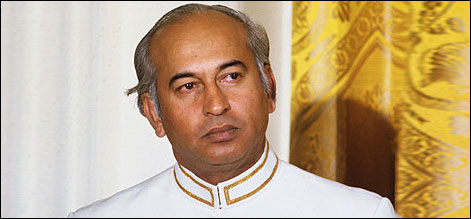 Democracy in Pakistan is a legacy of Pakistan People's Party (PPP) founder Zulfiqar Ali Bhutto, who sacrificed his life for democracy instead of bowing down to a military dictator.
We have created this post containing videos documentaries on Shaheed Zulfikar Ali Bhutto, to pay tribute a man who strengthened the federation in real manner and ensured inter-provincial harmony besides flourishing real democracy in the country, a real democrat who raised political awareness among the people and rose against the dictatorship, highlighted national pride and ensured the country's integrity, a great visionary leader who still symbolizes Pakistan's democracy and modern political thoughts. Moreover, the Constitution of 1973, passed unanimously, is yet another lasting legacy of Zulfiqar Ali Bhutto.
Aik Roz Lahoo Pukaray Ga (Zulfikar Ali Bhutto Special Documentary)
Shaheed Zulfikar Ali Bhutto's Documentary film(Sindhi Language).
http://www.youtube.com/watch?v=ydLJW_MP-5E
A documentary on Zulfikar Ali Bhutto
Documentary on Zulfiqar Ali Bhutto'Aik hi Raasta', available online, here