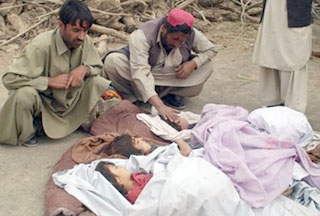 Related articles: LUBP Archive on Shia genocide
At least eighteen persons were killed and several others wounded in armed persons' firing on passenger vehicles besides 45 persons were also abducted along with the vehicle.
Unknown armed persons opened fires on a caravan of vehicles on way to Parachanar from Tul at Bugan area of lower Kurram Agency. Two vehicles were set on fire by the armed persons, report said. The injured have been shifted to Sada Hospital of Kurram Agency.
Following the incident, the forces cordoned off the area and started search operation. More than twenty Shias have lost their lives in four attacks on passenger vehicles since the peace agreement made one and a half month ago.
It is a case of two separate attacks by pro-Taliban militants on two convoys of vehicles carrying members of the minority Shia community in the tribal belt of northwest Pakistan today, officials said.
In the first incident, militants ambushed a convoy of vehicles in the Kurram tribal region. The vehicles, which were coming from Kurram Agency to Khyber—Pakhtunkhwa capital Peshawar, were attacked in Bagan town. The 13 people killed and eight more injured were all Shias, officials said.
Another five are reported to have died in hospital. The attackers set two vehicles on fire before fleeing. Security forces cordoned off the area and launched a search for the attackers.
In the second incident, militants targeted another convoy at Medani Dam in Kurram Agency at noon and hijacked a vehicle with people in it. The vehicle was taken to an undisclosed location in the restive tribal region. Three persons injured in the attack were taken to nearby hospitals.
There were reports that the militants kidnapped 45 people and took them away in three vehicles but this could not be independently confirmed.
No group claimed responsibility for either attack, however, extremist Deobandi group Taliban (also known as Sipah-e-Sahaba) has in the past claimed responsibility for attacks on Shia Muslims.
There have been four attacks within a fortnight on Shias, who travel to and from Peshawar in convoys escorted by security forces due to fears of assaults by the Taliban.
About 20 people were killed and 15 injured in the two previous attacks.
Kurram Agency and the adjoining Hangu district of Khyber—Pakhtunkhwa province have witnessed numerous incidents of sectarian attacks on minority Shia Muslims by the Takfiri Taliban / Sipah-e-Sahba militia which are considered closed to Pakistan Army / ISI.
Shia leaders condemned today's attacks and said the security forces had failed to protect the convoys.
All main roads to Kurram Agency were reopened in February after being closed for almost four years. The assurance of security came from none other than the Federal Interior Minister, Rehman Malik.