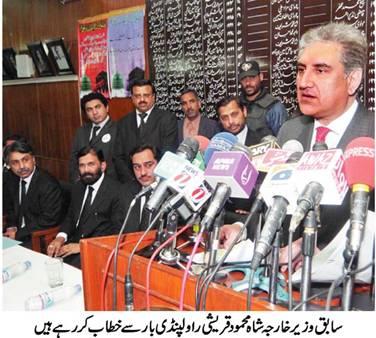 Source: Justice Denied
Note: This post was written in February long before Raymond Davis' release after a settlement between CIA and ISI facilitated through Saudi Arabia and PML-N.
Our history if full of martyrs who have made the ultimate sacrifice for the future of the Ummah. It is however rare for someone in the position of privilege and comfort to give up all their worldly belongings and set upon the path to shahadat. Who could have thought that Shah Mahmood would have joined the likes of Aziz Bhatti Shaheed and become a brilliant star, coruscating in the firmament of martyrdom.
The Ummah is beset with all kinds of dangers. We are facing one deadly Zionist conspiracy approximately every thirty seconds. The CIA is bent upon taking over our minimal strategic deterrent and hand it over to Israel. They are bent upon destroying Afghanistan and use it as a launching pad to invade Riko Dik. They are conspiring against the Kalabagh dam. They are weaving a web of conspiracy, so that Ijaz Butt can be removed from the PCB.
Scores of agent provocateurs such as Raymond Davis have infiltrated our society and are trying to undermine it from within. But he will not be easily let off. He will be brought to justice by the ever vigilant Rana Sanaullah, the indefatigable soldier of the Ummah. He will have to be beheaded in the time honoured Ummah fashion or pay diyat for the 5 innocent people whose lives he has taken; (including Shah Mahmood).
Obama should see the writing on the wall, especially the wall chalking by Jamaat ud Dawa in important strategic places such as Chauburji Chowk. The whole nation stands solidly behind the leader that we have come to love and revere. No no; not Shah Mahmood. It is none other than our beloved Hafiz Saeed. He has suggested that our investigation agencies should play their part by applying electric current to various parts of Raymond Davis. This will make him own up to his role in the heinous crimes that he has committed against the citizens of Lahore and against the International Sensitive Agency.
As Shah Mahmood has pointed out, our national honour is at stake. The spirit of 1965 has come alive once again. The nation stands united when the national honour is involved. We will eat grass but defend the national honour. By the grace of God, half of the nation is already eating grass. The other half will soon join them. Classy restaurants will soon be serving grass, a la carte.
If you ask us, the case has already been decided in the court of public opinion. The Ummah has taken great strides in law and jurisprudence. We have the example of Sialkot and Dera Ghazi Khan where public trial by lynch mob has been pioneered. This inspires international confidence in our fair, transparent and equitable justice system. Undue interference in these judicial proceedings would be a breach of our sovereignty and will be resisted with our minimal strategic deterrent.
PS: Abdul Basit has become the sixth victim of Raymond Davis. May his soul rest in peace.
Shah Mehmood Qureshi's Press Conference