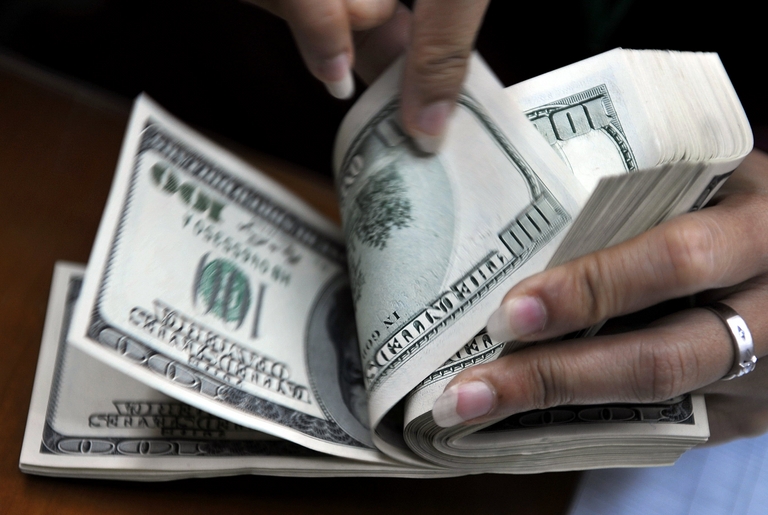 If one reads the newspapers, watches the news, listens to our right wing media anchors and follows the proceedings in the courts, it seems that Pakistan is sliding on fast pacing downhill slope. On the other hand, there is consistency of healthy financial data coming in which is good enough to confuse the pessimists into a conclave. On March 10, 2011, the State Bank of Pakistan released the monthly and 8 months of the current fiscal's remittance figures.
Looking at the figures, the remittances touched USD 6.96 billion during July 2010 and February 2011 up 20% compared to the same period last year. Similarly, during February 2011, USD 845 million was sent. Based on the current receipts, we can expect the remittance figures to touch USD 10.45 billion during the fiscal which will end in June 2011.
With all the propaganda taking place, why are the overseas Pakistanis sending their money to Pakistan? Maybe they love their families that's why they remit or maybe they love their country as well, but there has to be a solid reason for that!
Some supporting points are as follows
During the eight months, the Karachi Stock Exchange gave an overall return of 16.13% (June 30: 9721 and February 28: 11289). This does not include the dividends our companies have paid out. It is estimated that our dividend yield of the market is close to 8%.
Relatively high interest rates with KIBOR (Karachi Interbank offered rate) at 13.5% and above.
National Saving Schemes paying 12.5 to 13.55% per annum. The principal and profit is guaranteed by the State of Pakistan
Foreign Portfolio Investment measured through Special Convertible Rupee Accounts at USD 252 million.
Can we ask our naysayers why are statistics not as bad as they make us believe? What exactly do they want by giving incorrect figures to the public and confusing them.
What we need now is to give our public the confidence in their country and state. Stop the propaganda and see the writing on the wall.
Source: SBP Remittance Figures
By Ghazanfar Ali

Published: March 11, 2011

KARACHI:

Remittances sent home by overseas Pakistanis soared 20 per cent in the first eight months (July-February) of the current fiscal year, in the wake of a tightening of noose around illegal channels, a stable rupee and contribution of charity money after flood ravages.

Remittances totalled $6.96 billion in July-February 2010-11, compared with $5.79 billion in the corresponding period of the preceding year, according to the State Bank of Pakistan (SBP) on Thursday.

In February alone, $845.28 million was sent home by overseas Pakistanis, up 43.5 per cent or $256.25 million, compared with $589.03 million in February 2010.

BMA Capital Head of Equity Research Hamad Aslam said that tightening of rules and a government crackdown on illegal Hundi and Hawala money transfers over the last two to three years have diverted the flow of remittances towards legal channels. "Earlier, around 50 per cent of remittances were coming from illegal channels, but now the figure has come down to around 30 per cent," he said.

Aslam said that a stable rupee against the dollar in the current fiscal year has also caused an increase in remittances as earlier the overseas Pakistanis were holding back the transfer of money to their relatives back home in anticipation of a depreciation in the value of rupee. "In fact, the rupee has appreciated in the last three months," he said.

Aslam said the flow of charity money from Pakistanis working abroad for relief and rehabilitation following floods in July-August last year also supported the increase in remittances.

An initiative called Pakistan Remittance Initiative, undertaken by the State Bank, Ministry of Finance and Ministry of Overseas Pakistanis more than a year ago, is also facilitating the flow of remittances through formal channels.

The inflow of remittances in July-February 2010-11 from the United Arab Emirates (UAE), Saudi Arabia, USA, Gulf Cooperation Council (GCC) countries (including Bahrain, Kuwait, Qatar and Oman), UK and EU countries amounted to $1.63 billion, $1.56 billion, $1.3 billion, $820.02 million, $770.91 million and $220.24 million respectively.

Remittances from Norway, Switzerland, Australia, Canada, Japan and other countries during the period amounted to $663.73 million.

Published in The Express Tribune, March 11th, 2011.