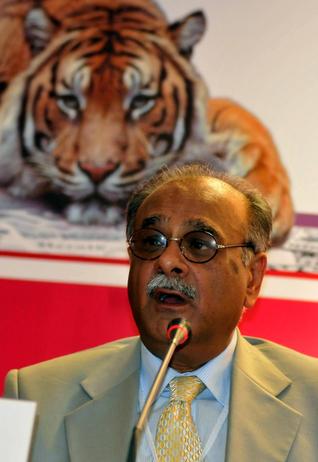 Related posts: Najam Sethi against Najam Sethi
Geo TV gets censored…by Geo TV: Najam Sethi's show and the out of bound topics
While not unlike other liberal Pakistanis, I too appreciate Najam Sethi's (carefully packaged) liberal learnings, however, often I notice he does tend to balance the equation in the favor of a change from the current democracy.
Here are my quick reflections on Sethi's recent editorial in The Friday Times.
Revolution or anarchy?
http://www.thefridaytimes.com/04032011/page1.shtml
Najam Sethi's Editorial
In most of the above referred article, Sethi is all critical of politicians and democracy, only to write in the end that "liberal-secular democracy must work"!
Some nuggets
"The third popular revolt was only three years ago when young lawyers and a free media swept the moderate government of General Pervez Musharraf from power."
It is intellectually dishonest or naive to term the removal of Pervez Musharraf as a result of movement of lawyers and media! The political parties are not given credit.
Further, Sethi is completely off the mark (but true to his brief?) here:
"But the growing tragedy is that this sentiment is anti-democracy, anti-secularism, anti-liberalism and anti-pluralism because the system of political democracy a la Westminster has only served to sustain a game of musical chairs for corrupt politicians and grasping soldiers who have been living off economic rents and military handouts from the United States in pursuit of its foreign policy objectives in South and West Asia. Pakistani democracy is characterized by 3 Ds: dynastic, dysfunctional and discredited."
Here Sethi completely ignores the fact (which should be seen in the context of his links with a powerful institution) that the particular institution has systematically ensured that democracy in Pakistan remains dysfunctional and discredited and that the corrupt politician mantra remains prevalent.
He writes:
"Nor is a technocratic regime a long term option because the media and judiciary will tire of the arrangement and challenge it."
Here he is giving undue credit to media and judiciary ignoring that both of them are hand in glove with the other member of the three Jeem mafia (Teen Jeem). Also notice he uses 'long term option' but does not rule out short term option. This should be seen in the context of the short term option he supported in shape of Leghari's revolt against Benazir Bhutto.
Here is yet another lie:
"Foreign policy is based on passion rather than interest."
How conveniently he ignores that Pakistan's foreign policy is made in the GHQ purely based on their economic and political interest instead of passion.
"The economy is wilting under the strain of corruption, debt servicing and defense spending."
Here Sethi ignores that army is the single largest strain on economy and that army generals' corruption (both financial and political) is far greater than that of the political class.
" Increasing religiosity and anti-Americanism are keeping foreign investors at bay."
Sethi finds it hard to admit that the increasing religiosity is artificially manufactured by the Aabpara mafia and their proxies in madrassah and media. Deprive it from the GHQ's support and the religious intolerance and anti-americanism will die because of the oxygen shortage.
Sethi writes:
" The mad scramble to stockpile nuclear weapons is ringing alarm bells everywhere. The proliferation of armed jihadi and Taliban groups is posing severe problems for installing liberal democracy, building peace with India and doing business with the West. If a war with India is provoked or there is conflict with the US, then all bets will be off."
Will Sethi consider the fact that the above provocations are a part of the GHQ's strategy?
Also, there are some factual errors in his piece. e.g.,
"Iran is ethnically united".
Iran clearly is not ethnically united as it has a significant number of Azeris, Kurds, Baloch, Turks and Arabs in addition to the Persian majority. According to the Encyclopedia of Islam (Leiden) Iran's ethnic groups are as following: Persians 65%, Azeris 16%, Kurds 10%, Lurs 6%, Arabs 2%, Baloch 2%, Turkmens 1%, Turkic tribal groups (e.g. Qashqai) 1%, and non-Persian, non-Turkic groups (e.g. Armenians, Assyrians, and Georgians) 1%.