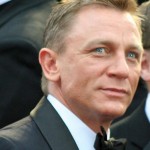 Current James Bond, 007, Daniel Craig is under immense threat from superman, super spy, triplicate agent, Raymond Davis as the producers of the very popular series, the Broccoli Family and EON Productions are contemplating the current blonde Bond with a super and real life agent. Incidentally, Raymond Davis is well built, has a better height and is also a blonde.
Raymond Davis has shot to fame amongst the pride seeking Pakistanis in and out of Pakistan and has caused a lot of embarrassment to the government of Pakistan and the USA for killing two innocent Pakistanis in broad daylight in Lahore. According to sources at EON Productions who chose to speak on account of not being disclosed said "Raymond Davis is James Bond, Ethan Hunt and Simon Templar combined. He has all the ingredients to play a spy in reel life. Daniel Craig has been very good in Casino Royale and Quantum of Solace, however, what Raymond Davis has done on Mozang Chowk in Lahore is something none of the screenplay writers could have imagined. The public have gotten tired of stuntsmen doing computer animated and special effects laden fight sequences. They need real action. We are confident that we will be able to sign up Raymond Davis for at least 3 Bond movies".
EON Productions executives are sending their representatives to Pakistan specifically to Lahore to meet Raymond Davis in Kot Lakhpat Jail to sign him up. One of their representatives has been camped outside the Pakistan Consulate located at 10850 Wilshire Blvd, Suite 1250, Los Angeles.  Apparently the Pakistan Consul General is reluctant to issue him a visa as there is no security clearance. The EON executives are trying to get an introductory letter from a credible Pakistani so that they can visit Pakistan. "Official, Business, Official Business, Visit or Transit visa. Give us anything. We are desperate to get to Lahore." It is also come to light that in EON Productions, they have been using Google Earth excessively to search for Mozang Chowk and Kot Lakhpat Jail. Even if they are unable to meet Raymond Davis and ascertain the reasons behind what he did, they are confident that they will be able to eat Nihari at Muhammadi  Nihari House, which is located at Mozang Chowk.
Daniel Craig couldn't be contacted to seek his comments, however, TMZ.com is on his tail to seek his reaction to such rumors.
Please stay tuned on this breaking development.