There has been a lengthy debate on role and formation of civil society in electronic media of Pakistan. Raza Rumi, a very respected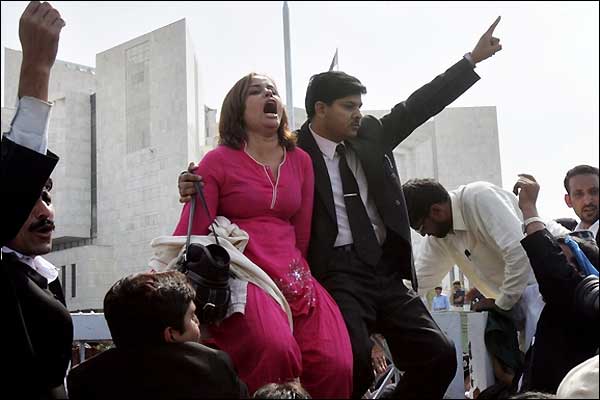 and insightful Pakistani scholar and writer, recently stressed on close cooperation and engagement between 'Civil Society' and moderate political parties.
In order to further his thesis, we need to understand the formation and character of 'Civil Society' in Pakistan.
Civil society is composed of the totality of voluntary civic and social organizations and institutions that form the basis of a functioning society, as distinct from the force-backed structures of a state (regardless of that state's political system) and commercial institutions of the market (Wikipedia).
According to above definition of 'Civil Society', we can identify major civic and social organizations in Pakistan, which include but not limited to:
Lawyers' bodies (Bar Councils and Bar Associations)
Labour Organizations (Trade Unions of workers)
Journalist's Organizations (Print and Electronic Media workers)
Rights Groups (NGOs and civic groups)
Traders groups
Youth, Professionals, teachers and Students Organizations
Minorities Organizations
There and some other Individuals and small groups working for various issues ranging from moderation to Urban planning and regional rights.
Now let us examine, where does Pakistan Peoples Party (they only nationalist party with moderate credentials) stands in terms of engaging with above mentioned groups and individuals.
1. Lawyers' bodies:
Historically, the lawyers bodies around the countries have been moderate and progressive and dominated by PPP affiliate People's Lawyers Forum. They were a vibrant platform for democrats and rights groups during lengthy dictatorships. However, the relations between PPP and lawyers were strained on issue of restoration of present Chief Justice Iftikhar Chaudhary. While PPP argued that Iftikhar Chaudhary has become political and pro-extremists, lawyers demanded his restoration as he was sacked unconstitutionally.
After the restoration of Iftikhar Chaudhary ans his visible sympathy towards extremist groups and selective 'accountability campaign' against PPP leadership has made lawyers realize their mistake. The most prominent leaders of lawyers movement and people with credibility like Asma Jahangir, Ali Ahmad Kurd, Justice Tariq Mehmood and several others has confessed: 'this is not the judiciary – they wanted'.
As a result of that realization, despite all hoo haa of 'Chief tere janisar', PPP affliate lawyers have won 2010/2011 elections in every Bar Association of country. That includes the sub-divisional, district, provincial and national Bar association. The group supported by Iftikhar Chaudhary and right-wing groups of PTI, JI and PML has badly lost much glorified slogan of 'lawyers will get judgments implemented.
However, a small and noisy groups of right-wing lawyers backed by judges and Iftikhar Chaudhary is showering flowers on Qadri, the assassin of PPP governor Salman Taseer. By no stretch of imagination, it can represent the lawyers community which is pro-democracy and moderate, dominated by PPP supporters.
2. Lab our Organizations:
Lab our Organizations in Pakistan are dominated by affiliate of PPP. That ranges from the Pakistan Steel Mills to PIA, State Owned corporations to private industrial groups. Even during Zia dictatorship it has been PPP affiliates who had always won Lab our Unions Elections. At present all major trade unions are either represent by PPP affiliates or its allies.
PPP has engaged itself with workers and implemented 'Benazir Stock Options Programme', giving workers 10% share in state owned corporations. This has been described the most significant workers welfare initiative outside communist world. At the same time PPP has restored thousands of workers sacked discriminately during dictatorships, although the restored judges preferred a shameless silence on their cases.
3. Journalists Organizations:
This is the most tricky segment of 'civil society'. We do know that during 'Afghan Jihad Project' backed by USA and 'friends' in Middle East, a huge number of right-wing JI activists was inducted in media. Even of today, they continue to paddle the establishment's narrative of Jihadism. They dominate media organizations and speak for military and judicial establishment. However  a significant number of moderate journalist do support PPP and is its ally.
Pro-establishment group of right wing journalist does not fulfill the criteria of being called 'civil society', as the basic requirement of 'distinct from the force-backed structures of a state' remains missing.
First time in history of Pakistan, PPP has recognized the struggle of journalist for democracy and awarded 'National Awards' to journalists who spent their lives behind bars. In fact it is an honor for PPP itself to reward impartial and respected writers like Hamid Akhtar.
4. Rights Groups and NGOs:
A number of NGOs and activists are funded by foreign donors and works for international masters. As the saying goes that 'a dog never bite the hand which feeds it', they are loyal to their masters and protect their interests.
However, a large number of rights groups including Women, Children rights, Social Equality and Human rights groups work in close association with PPP. Human Rights Commission of Pakistan (HRCP), one of the most vocal critic of PPP and perhaps the largest NGO in country works closely with the party. Asma Jahangir, its former head, after being dumped dumped by right-wing and opportunist Chief Justice supporters, managed to win top lawyers body elections with support of PPP lawyers wing.
5. Trader Groups:
This is the second group where PPP lacks support. The animosity is based on historical and economic reasons. PPP is dominated by lower and lower middle class workers. The conflict of interests between poor and wealthy traders makes this group a major anti-PPP and pro-establishment group. However there are some smaller groups affiliated with People's Traders Wing.
6. Youth and Students organizations:
Whenever there had been elections of Students Unions, it was always People's Students Federation (Student Wing of PPP), which has swept election, even during dark regime of Ziaul Haq. As a matter of fact students unions were banned by Zia, when JI's student wing lost elections around the country, despite military support. Similarly, doctors, teachers and professional organizations are dominated by PPP affiliates and in every election of their bodies, they win with remarkable margin.
The major youth organizations in country People's Youth Organization (PYO), is a youth wing of PPP. Other major youth groups work closely with the party. However Madrassh graduates and Urban Middle Class confused youth which is anti-West but never refuses the Western money in scholarships remains loyal to establishment and actively paddle military's hate campaign against political parties. In mainstream politics they are non-entity.
7. Minority organizations
As a matter of fact, PPP is the last ray of hope for minorities which face oppression in hands of establishment's backed religious extremists. Minority groups always feel comfortable to work with tolerant and moderate PPP which respects their respective faiths. Their existence and security are subject to the existence and strength of PPP.
8. Other Rights Groups:
Smaller Nationalist and regional parties are biggest allies of PPP. So are the Women and Children Rights groups. First time in history of country, PPP helped out to introduce 'Women Protection Bill' and Child welfare legislation.
After examining the formation and presence of 'civil society' in Pakistan, it is evident that either it is part of PPP, or works in close association with the party. Although these groups form core support base of the party, the relationship needs to be further strengthened
There is a great confusion among moderate groups and individuals regarding the very formation of 'civil society'.
We would very respectfully question Raza Rumi, as to what 'civil society' he is referring to, while arguing for 'engagement'. Does he agrees on above mentioned segments of society to be 'civil society' and their close association with moderate PPP? And if he does not, then he should guide us to understand as to which other groups of civil society do exist and how to engage them in a political alliance.
The right-wing pro-Iftikhar Chaudhary lawyers and activists of extremist organizations showering rose petals on Taseer's murderer and urban middle class activists can not be included in to 'civil society', as they does not fulfill the basic requirement of 'distinct from the force-backed structures of a state'. As they are an extension of powerfull judges-generals-mullah alliance of establishment, they do not qualify to be 'civil society' as per the very definition.