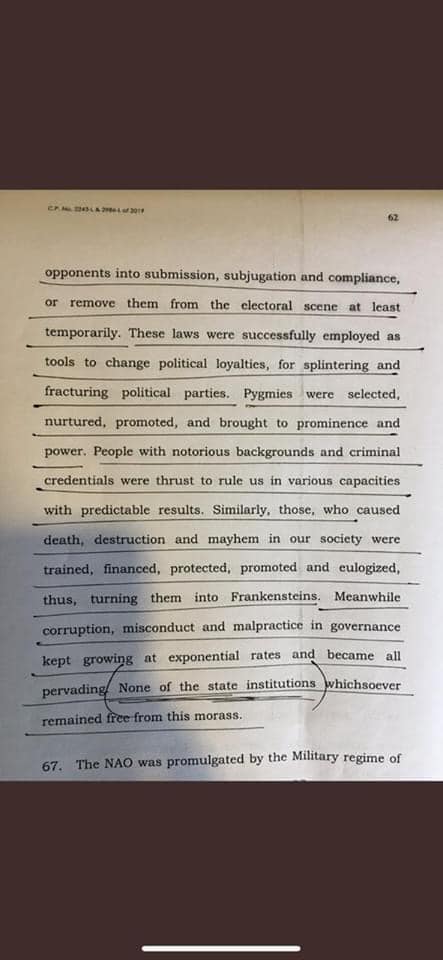 There are ample reasons to be critical of Pakistan's judiciary. It is one of the most corrupted, compromised, tainted and prejudiced public institutions of Pakistan.
Pakistan's judiciary has a terrible record of collaborating in palace coups with military dictators and generals. It has often supported the most obscurantist and revanchist elements and causes in society. It's primary function, for the most part, is to thwart and undermine elected #PPP governments while doing dirty favours for #PMLN, #MQM and now #PTI.
Pakistan's judicial institute has been disgraced by characters like #IftikharChaundry, Saeed uz Zaman Siddiqui, Moulvi Mushtaq, #Ramday, Anwar ul Haq, Munir, Saqib Nisar etc etc etc
This is an abridged list of racists, chauvinists, bigots and petty men who lacked both courage and moral will. The darkest chapter was the judicial murder of Pakistan's elected prime minister, #ZulfiqarAliBhutto by the cabal of 4 Supreme Court Judged lead by Anwar Ul Haq.
"Former U.S. Attorney General, #RamseyClark called it a mock trial fought in a #Kangaroocourt.[citation needed] Having witnessed the trial, Clark later wrote:
The prosecution's case was based entirely on several witnesses who were detained until they confessed, who changed and expanded their confessions and testimony with each reiteration, who contradicted themselves and each other, who, except for Masood Mahmood… were relating what others said, whose testimony led to four different theories of what happened, absolutely uncorroborated by an eyewitness, direct evidence, or physical evidence.[105]" (Source Wikipedia)
Few Pakistanis have military officers as father like Farrukh Pitafi did, when he used to write hagiographies for the corrupt Iftikhar Chaudry.
Amongst this detritus of clowns and incompetents, there have been a few bright lights.
Justice #Cornelius, Justice Rustum #Kiyani, Justice #DohrabPatel, Justice Safdar Shah, Justice Mohammad Haleem, Justice Najfi (Model Town Report) and Justice #MaqboolBaqar.
Yesterday's decision on NAB by Justice Maqbool Baqar is one of those landmark decisions that will resonate in history.
Justice Baqar exposed NAB and its petty political machinations in the most blunt and clear terms. NAB or National Accountability Bureau was set up by the US-backed, military dictator, General Pervaiz Musharaf. It is an organisation whose mandate was to go after political opponents. After Musharaf, the democratically elected PPP government tried to reform #NAB and institute judicial reforms. They were thwarted by the Zia-ist Nawaz Sharif who, along with Imran Khan, uses State apparatus to victimise political opponents.
Justice Baqar also survived a vicious assassination attempt by the Takfiri terrorist group, #LeJ which is affiliated with #ISIS and #AlQaeda
Here is Justice Baqar's scathing indictment of NAB:
"Pygmies were selected, nurtured, promoted and brought to prominence and power." Justice Baqir on National Accountability Bureau & its role in political engineering."
"The integrity, independence & writ of the judiciary is built slowly through historic judgements such as this." – #BilawalBhuttoZardari – de facto leader of Pakistan's opposition in Parliament and the only current leader to call out obscurantism in Pakistan.
Bilawal is the son of Benazir Bhutto and Asif Ali Zardari and grandson of Zulfiqar Ali Bhutto.