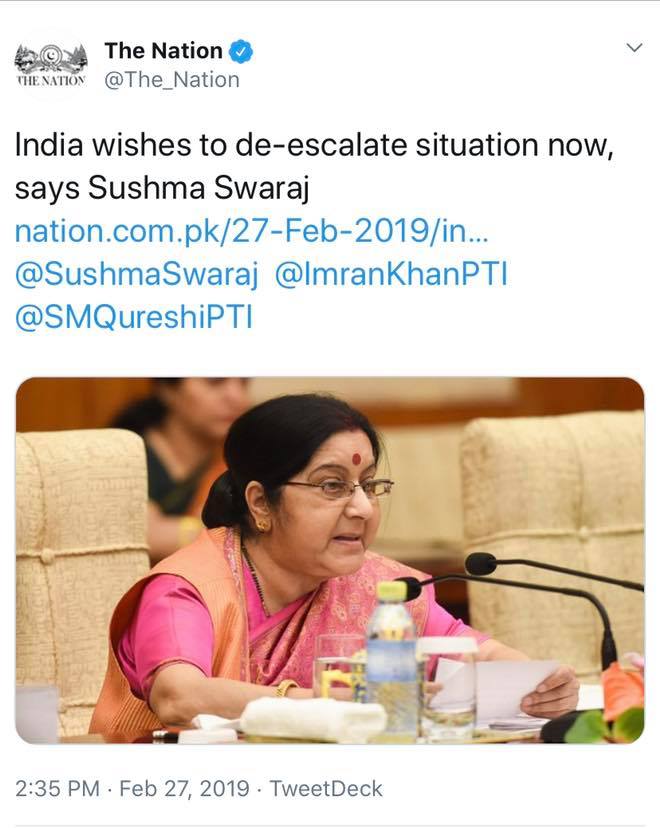 Seems that sanity is beginning to prevail. Both sides need to reflect. India on the fact that Pakistan is no longer as wedded to Takfiri terrorists as a decade ago. Pakistan on the fact that a divorce with the Takfiri nexus is not sufficient. In these times of crisis, we can no longer tolerate Takfiri hate groups like #ASWJ-LeJ and its subsidiaries like #JeM.

On a related note, a giant F—- Y— to right wing Takfiri apologists like Nawaz Sharif, Shahbaz Sharif and Imran Khan. For decades, you were the apologists for Sipah Sahaba/JeM. Look where that got us. Our economy is in the toilet and when even our domestic security establishment wanted to move away from Takfiri terrorists (in 2014), it was apologists like you who kept conceding space to Sipah Sahaba.

To both Insaafians and Patwaris, your love affair with Saudi Arabia (that supports the madrasahs that supply Takfiri terrorists) has been a disaster for Pakistan.

The PPP 2008-13 Government was the only one that tried to steer Pakistan away from this mess but they were consistently thwarted by Zia ul Haq remnants like Nawaz Sharif, General Kiani and Imran Khan who wanted Pakistan to remain connected to Takfiri terrorists.

For their dirty work against Pakistan , both PML N and PTI were supported by these Takfiri forces in the 2013 elections. Shame on both of you and your collection of mostly turncoat and regressive politicians (exceptions not withstanding).

PPP's Hina Rabbani Khar was the most clear on these topics last night. That is more than what can be said for the blathering idiots of PTI and PML N.