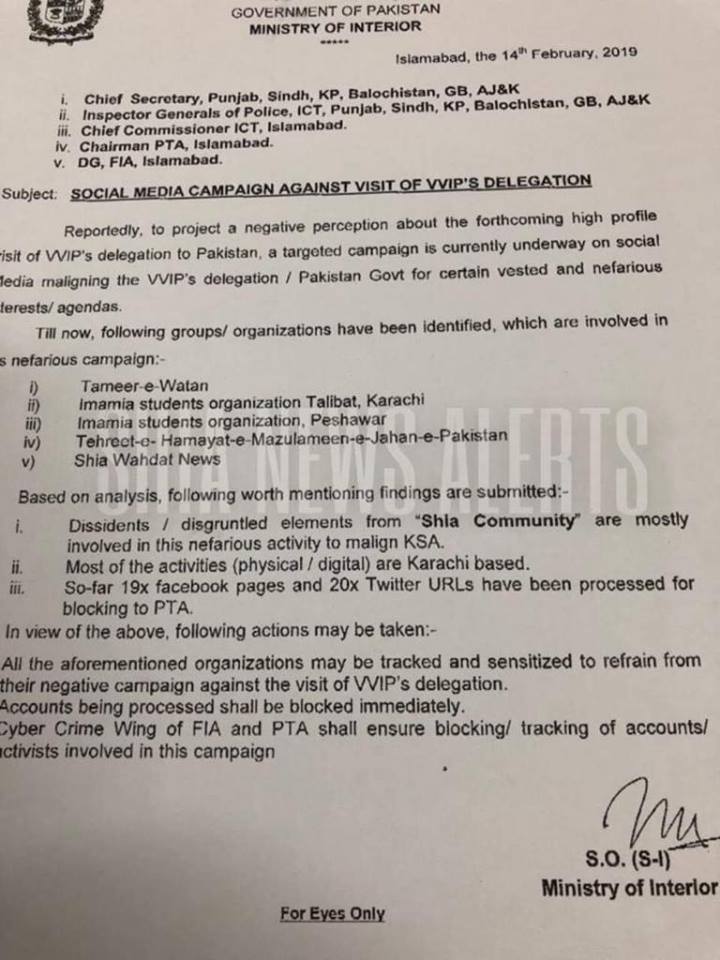 Federal Ministry of Interior Affairs Pakistan has issued a letter dated on 14th February, 2019 under subject ' Social Media Campaign against Visit of VVIP Delegation. In that letter address was to all Chief Secretaries of four provinces, GB, AJ&K, IGs of four provinces, GB, AJ&K, Chief Commissioner ICT, Chairman PTA Islamabad and DG FIA.
In letters all authorities mentioned above has been directed to take actions against all those people who are running allegedly a targeted campaign to malign the VVIP delegation and Pakistan Government allegedly for certain vested nefarious interests or agenda.
The said letter says that such campaign is being run by dissident/disgruntled elements from 'Shia Community'. And most activities are physically or digitally based on Karachi.
In this letter Interior ministry directed Cyber Crimes Wing of FIA to ensure of blocking or tracking of accounts or activists involved in this campaign.
I didn't understand, why Federal Interior Ministry choose words ' VVIP Delegation' instead of 'Saudi VVIP' delegation led by Crown Prince of Saudi Arabia MBS?
Here one thing more is disturbing and this is discriminatory mentioning of #ShiaCommunity .
Is it crime to criticise Saudi Arabia or its Crown Prince MBS due to bad reputation in the context of democratic and human rights?
Is it not reality that Saudi Arabia has committed War Crimes against the people of #Yemen ?
Is it not fact that a former comrade Saudi Journalist was slaughtered in Saudi Embassy in #Turky and whole world blames #MBS for this brutal murder?
What is nefarious thing in revealing that 8 human rights activists women are behind the bars in Saudi Arabia and their lives are in serious danger?
Is it not truth that Saudi Arabia is violating basic human rights of its citizens and there is no freedom of speech and even people have no right to criticise the ruling family Al-Saud?
Is it not reality that in the province of Awamiyya in Saudi Arabia Shia majority is living under oppression and suppression of Saudi monarchy?
Criticism on Saudi Arabia is not coming just from Shia community but every person who respect human rights and humanity is critique of Saudi Regime.
Pakistani progressive democratic forces always showed their solidarity for those who fight against monarchs of Middle East or who are ruling in other areas.
Saudi ruling class, autocratic and theocratic Sarkari Mullahs of Iranian regime are not holy cows and neither they are beyond the criticism.
Circulation of such letter is against the spirit and soul of Constitution of Pakistan and our democratic tradition.
This is clear attack on freedom of speech and right to disagree. PTI led government should immediately withdraw this letter.
If people record their protest and express their anger against MBS and they show the mirror to Saudi Prince over his arrival at Pakistan, that is their right and Government led by PTI has no right to block the tweet and Facebook acounts those are criticizing the Saudi Arabia and its crown Prince.