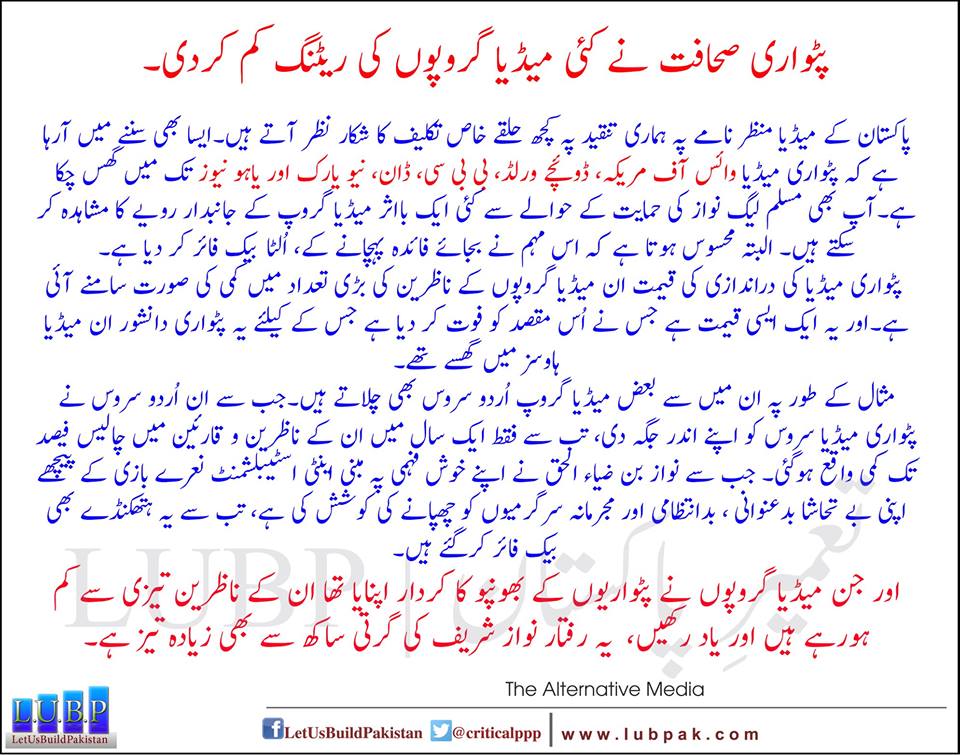 Seems like Alternative Chirriyas are chirping to us about Pakistan's media scene. There are growing whispers of how Patwari Media has infiltrated VOA, DW, BBC, DAWN, Yahoo News and the New York Times. One can see a clear PML N bias within these influential media outlets. And the whispers are telling us that this infiltration has backfired spectacularly.
The Patwari infiltration has come at an ultimate cost. The audience for some of these media outlets has plummeted – a cost that defeats the very purpose of infiltrating these media outlets.
For example, some of these outlets run an Urdu service. Even since they decided to go full on Patwari, they have lost close to 40% audience in just one year!
So ever since Nawaz Bin Zia ul Haq starting spouting wishy washy (but ultimately harmless) "anti establishment" rhetoric to hide and deflect from his massive corruption, mis governance and criminal activities, the tactic has backfired. And those media outlets who are acting as Patwari mouthpieces are now loosing audience faster than Nawaz Sharif's credibility.
پٹواری صحافت نے کئی میڈیا گروپوں کی ریٹنگ کم کردی۔
پاکستان کے میڈیا منظر نامے پہ ہماری تنقید پہ کچھ حلقے خاص تکلیف کا شکار نظر آتے ہیں۔ایسا بھی سننے میں آرہا ہے کہ پٹواری میڈیا وائس آف مریکہ، ڈوئچے ورلڈ، بی بی سی، ڈان، نیو یارک اور یاہو نیوز میں گھس پیٹھ کرچکے ہیں۔کوئی بھی آدمی مسلم لیگ نواز کے حوالے سے کئی ایک بااثر میڈیا گروپ کے جانبدار رویے کو دیکھ سکتے ہیں۔اور یہ بھی بتایا جارہا ہے کہ پٹواری میڈیا کی گھس پیٹھ بیک فائر کرگئی ہے۔
پٹواری میڈیا کی دراندازی کی آخر کار ایک قیمت بھی چکائی جارہی ہے۔ان میڈیا گروپوں کے ناظرین کی بڑی تعداد میں کمی آئی ہے۔اور یہ ایک ایسی قیمت ہے جس نے اس دراندازی کے مقصد کو فوت کردیا ہے۔

مثال کے طور پہ ان میں سے بعض میڈیا گروپ اردو سروس بھی چلاتے ہیں۔جب سے ان اردو سروس نے پٹواری میڈیا کو اچھے سے درانداز کیا تو ان کے 40 فیصد ناظرین صرف ایک سال میں ان کو چھوڑ چکے ہیں۔
جب سے نواز بن ضیاء الحق نے اپنے خوش فہمی پہ مبنی اینٹی اسٹیبلشمنٹ نعرے بازی کے پیچھے اپنی بے تحاشا بدعنوانی ، بدانتظامی اور مجرمانہ سرگرمیوں کو چھپانے کی کوشش کی ہے تو یہ ہتھکنڈے بھی بیک فائر کرگئے ہیں۔

اور جن میڈیا گروپوں نے پٹواریوں کے بھونپو کا کردار اپنایا تھا ان کے ناظرین تیزی سے کن ہورہے ہیں اور یہ رفتار نواز شریف کی ساکھ سے بھی زیادہ تیز ہے