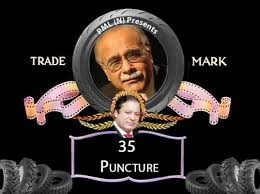 After military dictator General Zia ul Haq was blown off, his remnants remained in the form of Nawaz Sharif, Javed Hashmi, General Beg, General Hamid Gul, Hussain Haqqani, Justice Nasim Hasan Shah etc.
Now that Nawaz Sharif is likely to be cast in the dump heap, why are his remnants like #NajamSethi still getting lucrative contracts to manage Pakistan's cricket board?
As a refresher, since 1976 when his #LondonGroup colleagues were incarcerated by the military for supporting Baloch nationalists, Sethi was flying around in a military helicopter. In 1996, he was one of the major collaborators and intriguers against the democratically elected government of Benazir Bhutto and cooked up many of the malicious False charges against her. In semi public gatherings, he used abusive and misogynist language against #BenazirBhutto even as he conspired with Nawaz Sharif, Farooq Leghari and General Karamat to derail her government.
During 2010-12, Najam Sethi was the first loudmouth at the War (JANG) media group to conduct a softball interview of #AhmadLudhyanvi, hate monger and terrorist leader of ASWJ-LeJ. ASWJ-LeJ is the leading affiliate of Al Qaeda and ISIS in Pakistan. Sethi's admission was that he was doing this for the establishment – of which he is an essential cog.
A few months later, Najam Sethi gave another soft, interview opportunity to ASWJ-LeJ in his Friday Times blog. In that unchallenged softball interview, the LeJ chief was allowed to get away with equating his gang's hate chant, "Kafir, Kafir…." with a political slogan for economic rights! When mildly confronted on social media for promoting Al Qaeda's sectarian hate, Najam Sethi's pathetic response went along the lines of
"why don't you do another interview (and leave me alone)" (refer to "Criticism on Ludhianvi's interview in TFT: Najam Sethi & co shoot the messenger")
In 2013, his Caretaker government released scores of violent ASWJ-LeJ terrorists affiliated with #ISIS. Will this rat ever be held accountable by the law for his dirty collisions and tactics?